Two new polls confirm a close race for governor in Florida. PPP gives Democrats heartburn in Alaska and Arkansas. And we've upgraded our U.S. House 'generic' vote chart. This is HuffPollster for Wednesday, September 24, 2014.
POLLS SHOW COMPETITIVE RACE BETWEEN SCOTT, CRIST - Quinnipiac University, on a survey released Wednesday morning: "The Florida governor's race is too close to call, with 44 percent of likely voters for Republican Gov. Rick Scott and 42 percent for former Gov. Charlie Crist, and 8 percent for Libertarian candidate Adrian Wyllie, according to a Quinnipiac University poll released today….In the three-way matchup, Scott edges Crist 44 - 37 percent among independent voters, with 11 percent for Wyllie. Scott leads 80 - 11 percent among Republicans, with 7 percent for Wyllie and Crist leads 83 - 7 percent among Democrats, with 6 percent for Wyllie….Florida likely voters do not like or do not know the candidates for governor, as Crist gets a negative 41 - 49 percent favorability rating and Scott gets a negative 42 - 48 percent favorability. For Wyllie 86 percent don't know enough about him to form an opinion." A second new poll, from SurveyUSA, finds similar results, with Scott taking 43 percent to Crist's 42 percent. Seven other polls conducted in September have also shown a close race, with five giving a nominal advantage to Scott and two to Crist. The Pollster model gives Scott an edge of just over 2 points, and about a 56 percent chance of winning. [Florida chart, Quinnipiac]
THE REST OF THE LATEST POLLS
Massachusetts governor - A MassINC/WBUR poll finds Martha Coakley (D) hanging on to her lead over Charlie Baker (R), 46 percent to 36 percent. Other surveys show a closer race: a Rasmussen poll this week found the two tied, while the Boston Globe/Socialsphere tracking poll has also found Baker more competitive. The Pollster model gives Coakley a lead of about 8 points, and a close to 80 percent chance of winning. [Massachusetts chart, WBUR]
Arkansas Senate - A PPP (D) poll gave Tom Cotton (R) a 5-point lead over Sen. Mark Pryor (D), his best showing yet in their surveys. The only surveys to show Pryor ahead this month are two polls released by the DSCC. The Pollster model gives Cotton an edge of just below 3 points, and a 57 percent chance of winning -- larger than previously, but still only marginally better than a coin toss. [Arkansas chart, PPP]
Alaska Senate - A second PPP survey found Dan Sullivan (R) ahead of Mark Begich (D) by 2 points, 43 percent to 41 percent. PPP's last poll of the race, in early August, had Begich up by 6. That change is enough that our model now gives Sullivan the edge, by less than point, but continues to project the race as a 50/50 tossup. [Alaska chart, PPP
Michigan Senate - Rasmussen is the fourth pollster this week to find Gary Peters (D) leading Terri Lynn Land (R), although by just a 2 point margin, narrower than other recent polls. Our model gives Peters a more than 4-point lead, and a nearly 60 percent chance of victory. [Michigan chart, Rasmussen]
Overall Senate outlook - The current polling snapshot leaves much uncertainty about which party will control the Senate, but the HuffPost Pollster tracking model currently gives the Republicans a 52 to 48 lead in the seat count given the slight edges now favoring Republican candidates in Alaska and Iowa. The total also includes independent candidate Greg Orman in Kansas, who has said he will caucus with whatever party is in the majority. Nevertheless, given the close margins, the percentages still undecided and the time remaining, the model rates all three contests as 50/50 toss-ups (with the win probabilities in Arkansas, Colorado and North Carolina still under 60 percent). The overall probability of Republicans taking the Senate -- 58 percent as of this writing -- remains not much better than the flip of a coin. [HuffPost Pollster Senate Outlook]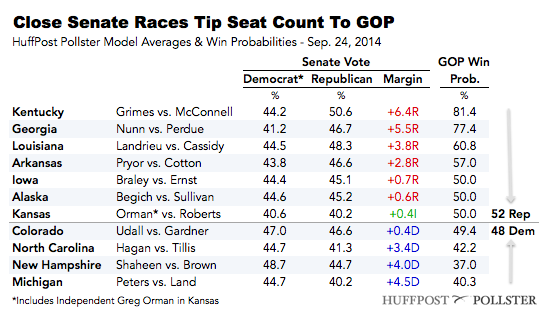 THE GENERIC U.S. HOUSE VOTE CHART: NEWLY CALIBRATED - As of Monday, the HuffPost Pollster aggregation of national polls measuring the "generic" vote for the U.S. House -- generally, whether voters would choose a Republican or Democrat in their district -- now uses the same system of house effect correction and calibration as our 2014 U.S. Senate and gubernatorial charts. The poll tracking model does not treat polls equally; instead, the model considers the true poll average to be that of nonpartisan polls with a record of performing well. As of this writing, the newly calibrated U.S. House vote chart shows a 1-percentage point advantage for the Republicans (44 to 43 percent). [Pollster chart]
The details: The model helps correct for "house effects," the tendency for some polling organizations to produce estimates that are systematically higher or lower for one candidate than those of other pollsters. The correction pulls results toward an overall average for all pollsters (not polls) in each state. If a single pollster does a lot of polling and shows a consistent house effect, our model will reduce the impact of those surveys on the overall estimate. As of this week, the national U.S. House poll chart now pulls results toward those produced by non-partisan pollsters whose results during the 2012 election performed well (were on average within plus-or-minus one percentage point of the trend lines generated by the HuffPost 2012 model after adjusting the model to the actual election results). The U.S. House vote chart also excludes from the calibration step any national polls that reported results for all adults, rather than registered or likely voters. [Fore more see HuffPost Pollster Refines Senate Poll Tracking Model, HuffPost Senate Forecasts: The Technical Details]
Thus, the generic U.S. chart is calibrated to match the average trends produced by the following pollsters: ABC News/Washington Post, Bloomberg, CBS News/New York Times, CNN, Fox News, GWU/Battleground, McClatchy Marist, NBC News/Wall Street Journal, NPR, Pew Research, and Quinnipiac University. When a pollster releases results among likely voters, we drop from the calibration process any of their polls previously reported among all registered voters. The calibration step moves the results roughly one percentage point toward the GOP from its previous estimate.
REPUBLICANS AND DEMOCRATS BOTH UNHAPPY WITH HOW THEIR PARTY HAS HANDLED IMMIGRATION Pew Research Center: "As the current session of Congress comes to a close without significant action to address illegal immigration, neither Republicans nor Democrats are especially happy with the way their respective parties have dealt with the issue. Just 37% of Republicans and Republican leaners think the GOP is doing a good job representing their views on illegal immigration; 56% say they are not doing a good job. Democrats are more positive about their party's handling of the issue. Still, about as many Democrats and Democratic leaners say the party is not doing a good job (44%) on immigration as say that it is (47%). Republicans and Democrats who are unhappy with way their party has handled immigration differ in their criticisms. A third of Republicans (33%) say the party has not done a good job on immigration because it is too willing to allow immigrants living in the U.S. illegally to gain legal status; just 18% say it has not done a good job because it is not willing enough to allow immigrants living in the U.S. illegally to gain legal status. On the Democratic side, as many fault their party for being too willing to allow legal status for people here illegally (21%) as for being too unwilling to allow them legal status (20%)."
[Pew]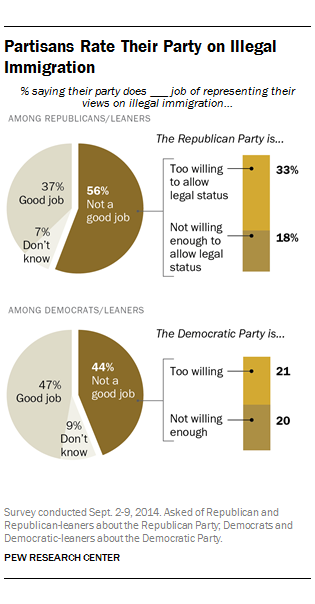 THE SECURITY MOM MYTH REVISITED - Anna Greenberg: "In 2004, John Kerry had a problem with women voters. Pundits declared that Kerry was losing women voters - the so-called Security Moms - due to their deep-seated concerns about terrorism. These security moms simply trusted George Bush more to keep their children safe. Never mind that this swing bloc of mothers did not exist (security-focused women voters were Republicans), it was also clear that concerns about terrorism were not the main drivers of women's vote choice (see my piece, 'The Security Mom Myth'). This narrative was but one in a long series of narratives (e.g., Soccer Mom, Waitress Mom) that stereotype and simplify a complex and diverse women's electorate...Some now declare the reemergence of the Security Mom, citing surveys and focus groups that show women expressing elevated levels of concern about safety and security with ominous implications for Democrats...But we should not conflate an expression of concern about terrorism with it as a driver of vote choice...There is no doubt that Americans are feeling a profound sense of insecurity and recent international turmoil contributes to this unease. But voters are still more focused on the state of affairs at home with women are no more likely to prioritize terrorism and security as a voting issue than men. Even in the 'Walmart Mom' focus groups cited in most coverage of this issue, the authors note that women's concerns about the Islamic State were tied up with other issues related to safety like school shootings, Ferguson, and crime." [HuffPost]
WHY AMERICAN SUPPORT FOR BOMBING ISIS MAY SOON FADE - Peyton Craighill: "The new Post-ABC poll finds a sharp change in opinion among the American public when it comes to airstrikes in Iraq and Syria. In the survey, 71 percent support airstrikes to target the ISIS Sunni insurgents in Iraq and nearly two-thirds support expanding airstrikes into Syria...So will opinions on Iraq, and terrorism more broadly, fundamentally change because of this new threat? Or put another way, is the desire to take out ISIS durable, beyond the current public support for airstrikes? Trends in opinion on wars in the past half-century suggest that the American public can quite quickly begin to suffer from war fatigue. The Gallup poll has asked a relatively consistent question about wars going back to Korea in 1950. The question, in various forms, asks: 'Do you think the United States made a mistake sending troops to __ or not?' In the early stages of each war — Korea, Vietnam, Iraq and Afghanistan — large numbers said troop deployments were not a mistake. But over time, without fail, those numbers reversed with majorities or near-majorities saying each conflict was a mistake...Time will tell if opinions about terrorism and support for military action are fundamentally altered by the ISIS threat. Without a cataclysmic event such as the 9/11 attacks, it seems unlikely that the public will express a sustained desire for military action." [WasPost]
HUFFPOLLSTER VIA EMAIL! - You can receive this daily update every weekday morning via email! Just click here, enter your email address, and and click "sign up." That's all there is to it (and you can unsubscribe anytime).
WEDNESDAY'S 'OUTLIERS' - Links to the best of news at the intersection of polling, politics and political data:
-Americans are somewhat more supportive of U.S. action in Iraq and Syria than they were of similar action in Libya. [Gallup]
-Half of Americans say the U.S. government is not doing enough on climate change. [Chicago Council on Global Affairs]
-Brendan Nyhan argues that speculation about a third party candidate running in the 2016 presidential election is bound to happen [NYT]
-Harry Enten ponders the contrasting results of partisan and non-partisan polls in Alaska. [538]
-Mark Mellman (D) sticks up for the Scotland polls. [The Hill]
-Christopher Ingraham looks at data showing that fewer Americans believe there is colorblind justice in America. [WashPost]
-Convicted felon Buddy Cianci is leading the Providence, RI mayoral race. [Providence Journal]
-Neil Irwin finds Americans are okay with big business but not corporate lobbyists. [NYT]
-Yelp cannot necessarily find you the perfect burrito. [538]