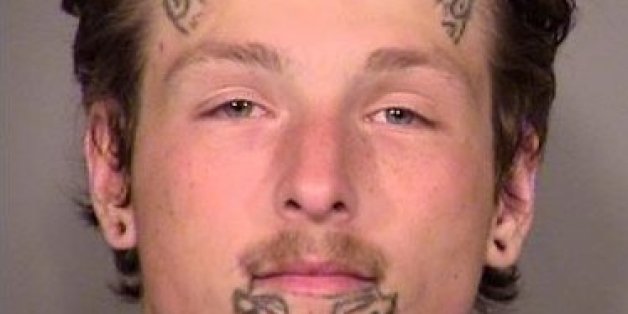 A homeless man in Seattle who accused of stabbing two people and holding another up at knifepoint told his arresting officer he planned to attack more people and gave a shocking explanation as to why.
John Fecteau, 22, allegedly told the officer, "I'm going to stab one person every day. It is better than doing meth," MyFox8.com reports.
The alleged crime spree took place shortly after noon on Sept. 10. Detectives said Fecteau confronted a woman sitting near an intersection and accused her of sitting on a piece of cardboard that belonged to him, KOMO reports.
When the woman's friend stood up and confronted Fecteau, the suspect allegedly stabbed the man in the back of the neck. Fecteau allegedly stabbed him a second time behind his ear before stabbing the woman in the hand.
Both victims later identified their attacker as Fecteau, whom they knew from a program aimed at helping young people who are homeless. It helped that he has very distinct facial tattoos: devil's horns on his forehead and bolts on his cheeks.
By the time police arrived at the crime scene, Fecteau had left.
About 90 minutes later, officers received a report of a robbery involving a suspect fitting Fecteau's description.
Charging papers allege that he followed a man onto a city bus, then stalked him after he got off the bus before ordering the victim to empty his pockets, according to the Seattle Post-Intelligencer. Fecteau allegedly stabbed the man with a knife until the man ran away. The suspect allegedly chased after his victim for half a block.
When Fecteau was arrested a short later, he allegedly admitted the stabbings and asked the arresting officer, "Did that kid die yet?" He later added, "That guy, I hope I severed his spine."
None of the victims sustained life-threatening injuries.
Fecteau is facing robbery and assault charges and is being held in King County Jail in lieu of $245,000 bail.
Fecteau has a lengthy rap sheet in Washington, Oregon and California, including a previous conviction for assault with a deadly weapon.
Like Us On Facebook |

Follow Us On Twitter |

Contact The Author
BEFORE YOU GO
PHOTO GALLERY
Mugshot Tattoo Legends