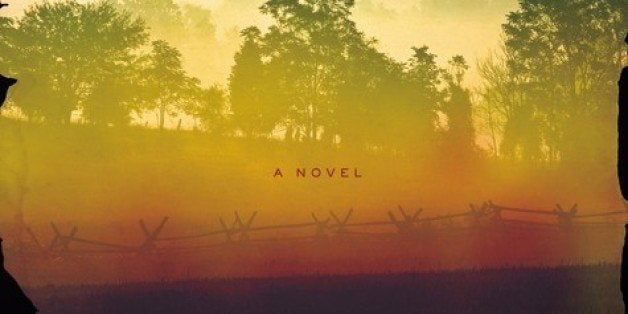 Neverhome
by Laird Hunt
Little, Brown, $26.00
Published Sept. 9, 2014
The Book We're Talking About is a weekly review combining plot description and analysis with fun tidbits about the book.
What we think:
When Ash Thompson gets her photograph taken for the first time, she wanders from her Union camp to meet a "likeness-maker" set up near the Potomac and poses solemnly with her bayonet -- a weapon that she and her fellow soldiers aren't accustomed to wielding, aside from when they need occasional gardening and cooking assistance. "I do look something like a real soldier in the piece of tin he delivered the next day," she writes. And indeed she is, thanks only to the pains she takes each day to walk, talk and dress like a man.
"Ash," whose real name is Constance, is the force that drives Laird Hunt's deeply compelling Civil War novel, Neverhome. Hunt notes that the seed for the story was planted some time ago, when he was given a copy of An Uncommon Soldier: the Civil War Letters of Sarah Rosetta Wakeman, a collection of letters written by one of the hundreds of undercover female soldiers who enlisted. In her first letter, Sarah states plainly, "When I got there i saw some soldiers. They wanted I should enlist and so i did." Hunt begins his novel by endowing his protagonist with a similarly frank sense of duty. "I just wanted to fight," she tells a superior. "To plant my foot and stand stalwart and never run." But we quickly learn that Ash's initial brusqueness, like her uniform and her gait, is a part that she plays. Her motivations for going to war are complicated, and colored by the loss of her stern, sinewy mother.
Unlike Sarah, who had no marriage prospects and instead was burdened with debt, Ash fled a happy life in Iowa in order to enlist. Her traverses through battlefields, camp life and a lunatic house are punctuated by memories of her husband Bartholomew, a gentle farmer who wooed her with zinnias. The two correspond throughout the novel, and Ash praises the poignancy of her beloved's writing. Hers seems to improve as time bears on, too, thanks to run-ins with a few literary acquaintances: a colonel with a penchant for Marcus Aurelius and a widow who prefers words about "hearts and flowers."
At no point is Ash's voice decidedly feminine, but neither is it decidedly masculine. While working as a male author who is attempting to pen the observations of a woman disguising herself as a man must pose a particular challenge, one gets the impression that the androgynous effect of Hunt's story is less a misstep on his part than it is an attempt to eschew gendered writing for a greater message -- a message about which stories and voices are remembered.
Ash's dreams, realities and memories are written with equal weight, and the distinctions between them are hazy -- as is often the case for a sufferer of trauma, or, say, a studier of history. Her imagination and desires are presented as truer than her portrait -- a physical document that makes false declarations not only about her allegiance to a weapon, but also her identity. Thus, Hunt's page-turner is not only a gripping story of love and war, but an homage to oral histories and quelled voices.
What other reviewers think:
The Washington Post: "What's most striking is Hunt's effective reversal of the roles of brave warrior and patient homemaker. In this trim epic, Penelope marches into battle while Odysseus waits behind."
The New York Times: "The heroine of Neverhome, Laird Hunt's enthralling new novel set during the Civil War, is at once sentimental and aloof, a savior and a killer, a folk hero who shuns her own legend, a fierce and wounded woman who finds strength in her troubled past."
Who wrote it?
Laird Hunt has been twice nominated for the PEN Center USA Award in Fiction.
Who will read it?
Those interested in historical fiction, books written in a compelling vernacular, and stories exploring gender roles.
Opening lines:
"I was strong and he was not, so it was me went to war to defend the Republic. I stepped across the border out of Indiana into Ohio. Twenty dollars, two salt-pork sandwiches, and I took jerky, biscuits, six old apples, fresh underthings and a blanket too."
Notable passage:
"I slept then. Went wandering in realms of black and green. When I woke it was the deep hours. Stars lit the sky, bright burny things. Bigger than the springtime stars of Indiana. I started to count them but there were too many oak leaves in front of my face. I tried to clear the leaves away but found my arms were pinned at my sides. I could turn my neck and wiggle my toes and hands but otherwise could not budge."
Rating, out of 10:
8. Hunt manages to craft an elliptical commentary on the subjectivity of history that doubles as a mysterious page-turner.