Updated Wednesday, Sept. 24, 2014, at 11:45 a.m.
Sometimes you have to battle cruelty with kindness.
After video of a vicious ice bucket challenge "prank" targeting a 15-year-old Ohio boy with autism went viral earlier this month, everyone from police officers to celebrities rallied to not only hold the perpetrators accountable for their actions, but also to offer their support to the victim and his family. And now the children and staff at Little Star Center, a not-for-profit therapy provider for youths with autism in Carmel, Indiana, are showing just how much they care as well, reported WTHR.
The center's executive director -- and the mother of a 23-year-old with autism -- Mary Rosswurm decided she wanted her team to create a "nice bucket" for the Ohio teen -- an idea that came to her instinctively after hearing about the prank, she told HuffPost in a phone call.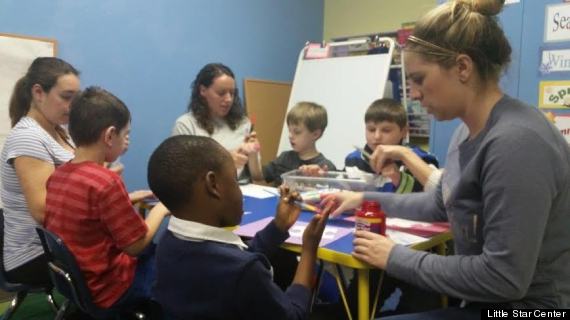 The staff and kids at Little Star Center making special notes for the "nice bucket"
The nice bucket, created by Rosswurm, the center staff and all of the children it supports, is intended to remind the victim just how many people support him. Everyone wrote a kind note to the 15-year-old and placed it in the bucket. The kids at the center also added fun treats, from pieces of candy to markers to colorful pairs of sunglasses, said Rosswurm.
They took the bucket to the 2014 Answers for Autism Walk in Carmel on Sept. 20, where participants stopped by the center's table and wrote additional notes filled with kind words for the boy.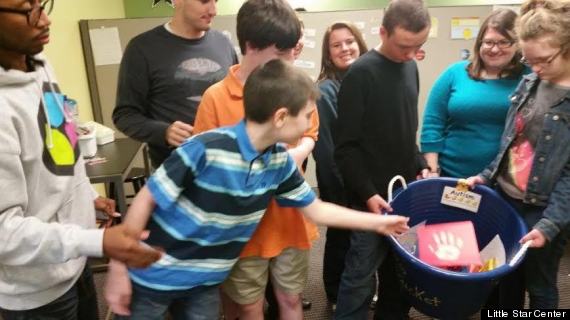 The staff and kids at Little Star Center filling the nice bucket
The staff at Little Star plans to ship the nice bucket to Ohio on Monday, Oct. 6, giving those interested in contributing to the project almost two more weeks to send their donations to the center, according to Rosswurm. Thanks to the children and staff at the center, as well as the Answers for Autism Walk participants and kind patrons reacting to the story across the country, the bucket is already filled with approximately 300 different notes and items for the teen.
Rosswurm said that a simple act of kindness can impact a person's day in a profound way -- all it takes is thoughtful word or smile.
"Be nice to people," said Rosswurm. "That's really the message."
Ohio prosecutors are currently reviewing evidence and determining whether charges will be filed against the teens accused of dumping bodily fluids onto the 15-year-old, according to the Associated Press.
BEFORE YOU GO
PHOTO GALLERY
Random Acts Of Kindness