Can you envision a world where everyone has adequate access to food? These kids can.
The World Food Program's (WFP) "Zero Hunger: A World Without Hunger" contest inspired children across the globe to create an image in response to the question, "Can you imagine the world without hunger?" A WFP panel chose 16 winners out of hundreds of submissions, representing 27 different countries where the organization is present. To enter the contest, the child needed to be benefiting from a school feeding program that is partnered with the WFP.
The organization, which is part of the United Nations and provides food relief to communities in need and victims of natural disaster and conflict, helps feed the 66 million primary school-aged students in developing countries who attend class hungry. The food crisis disproportionately impacts children in such countries, where one in every six is underweight.
Check out the submissions from all 16 winners below.
All images and captions courtesy of the World Food Program.
WFP in Action Around the World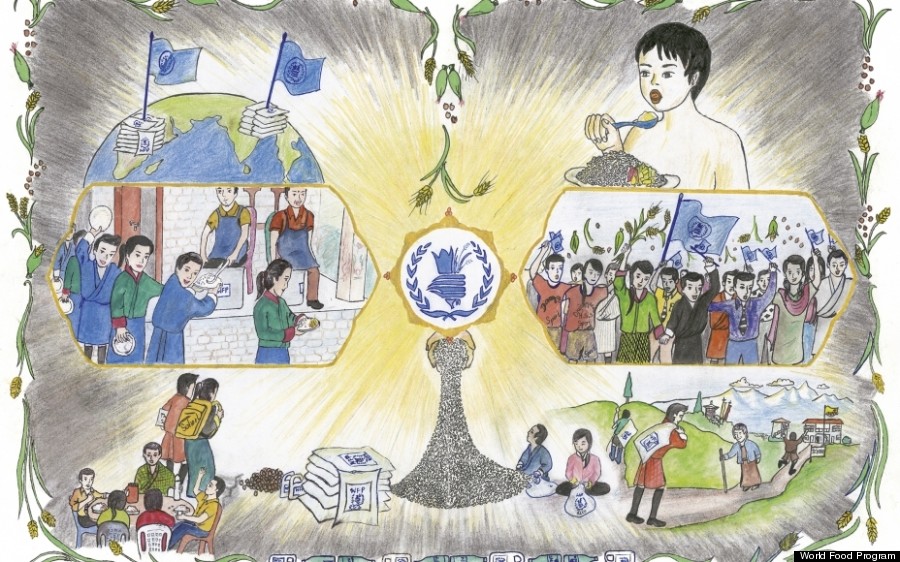 About the artist: Deepen Subedi, 18, is a boarder at a Drujegang High School in Dagana district, Bhutan. His family farm and live in a remote village, one hour walk from the nearest main road. He loves to draw, sing and meditate and aims to become a writer.
Harvest & Family Meal in Bangladesh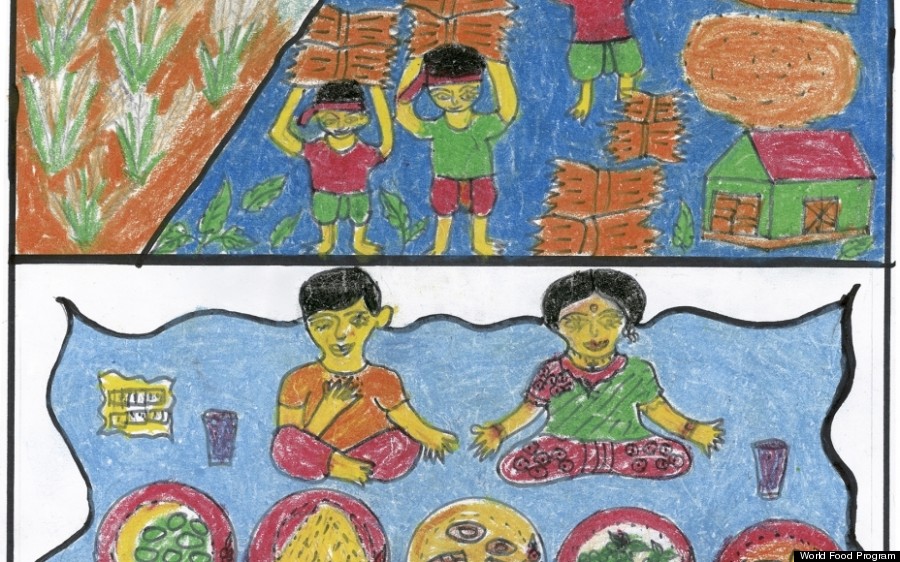 About the artist: Farzana Yasmin Sumona, 10, is from Bangladesh. Her parents are both teachers and Farzana wants to be an artist. Her painting shows a typical Bangladeshi village: cultivation, harvesting and a family meal.
Happy Earth With Zero Hunger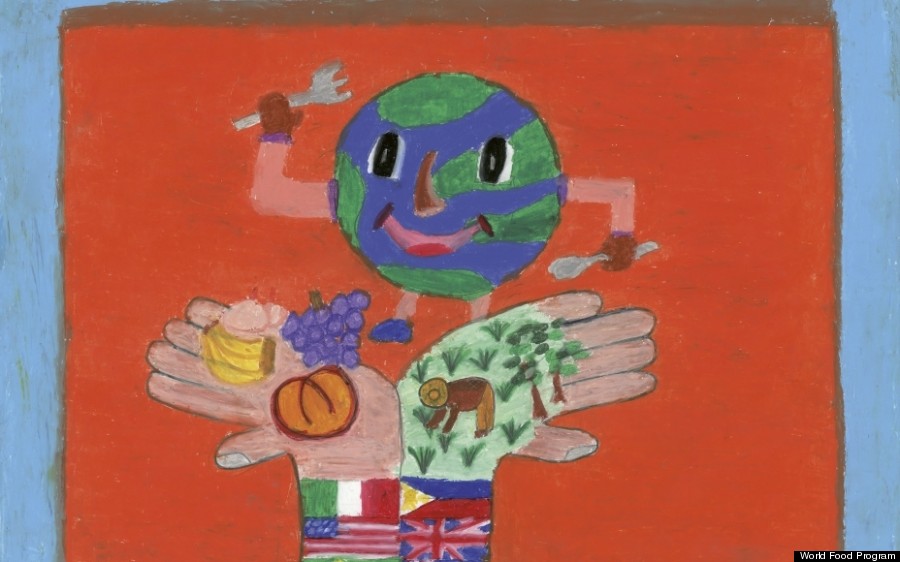 About the artist: Christina Erica T. Arbasto, 11, from the Philippines, enjoys sport and wants to become a pharmacist. In her picture, the smiling globe symbolizes well-nourished children; the fruits and vegetables are locally grown; a farmer planting rice represents hard work to avoid food scarcity and the national flags indicate support from around the world toward the Philippines.
Happy Family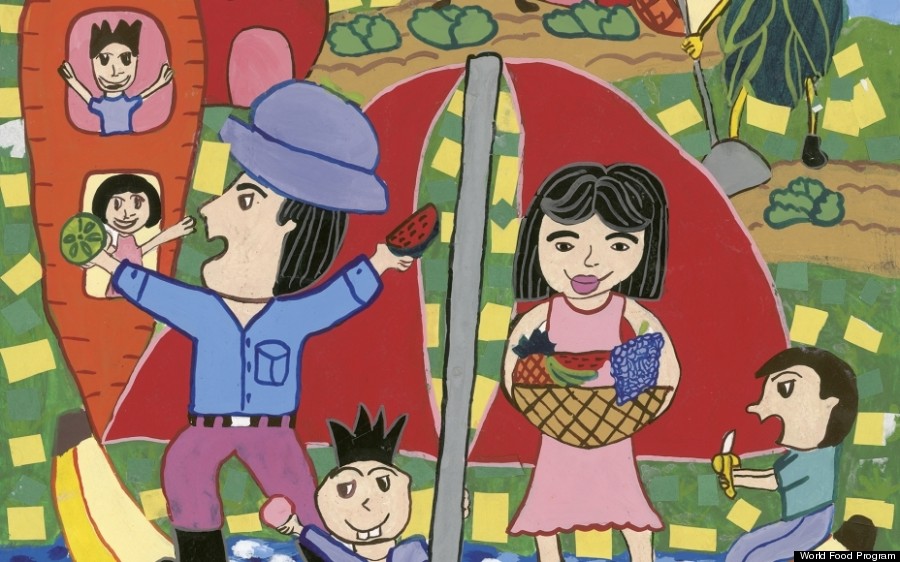 About the artist: Keley Cuellar Gonzalez, 10, from Cuba is always making new friends. She likes to share her lunch with other children and dreams of a world in which no child goes hungry.
Working Together Toward Zero Hunger Goal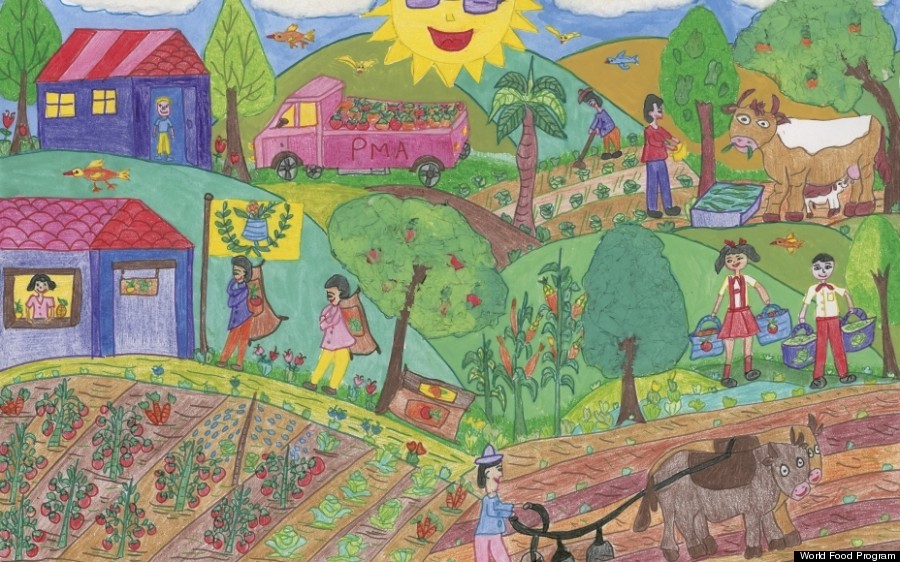 About the artist: Rebecca Portillo Rodríguez, 9, lives in Matanzas, Cuba, where WFP has started a project to increase bean production. Rebecca, whose artwork shows that working together can ensure sufficient food for all children, likes to play and study.
Midnight Harvest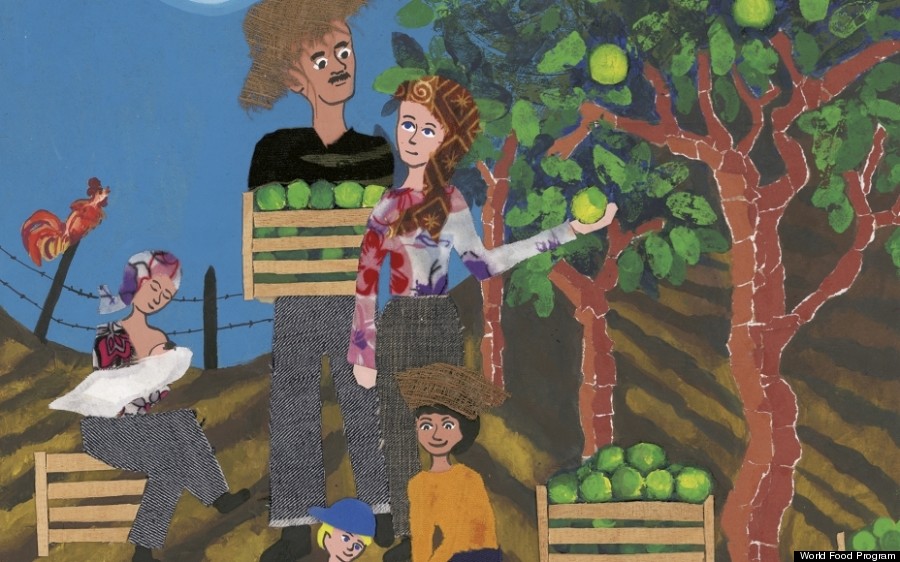 About the artist: Shakira Amelia Machado Gómez, 13, is from Holguín, Cuba, where 10 years of WFP projects have helped prevent anemia in children and vulnerable groups. Through WFP, Shakira has learned the importance of growing and eating fruit and vegetables. Studying and painting are her favorite activities.
World With Zero Hunger: Food, Water, Oxygen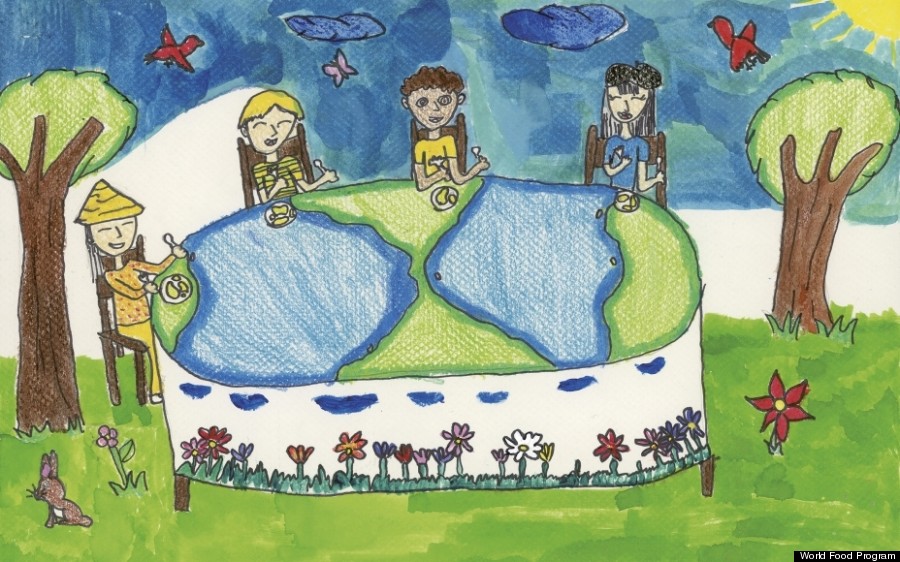 About the artist: Roxana Daniela Elvir Barrientos, 10, from Honduras likes watching cartoons and playing on her computer. In her picture, the table represents the world, the plates are the food, and the continents are represented by children. The woods demonstrate the importance of nature: food, water and oxygen.
World With Zero Hunger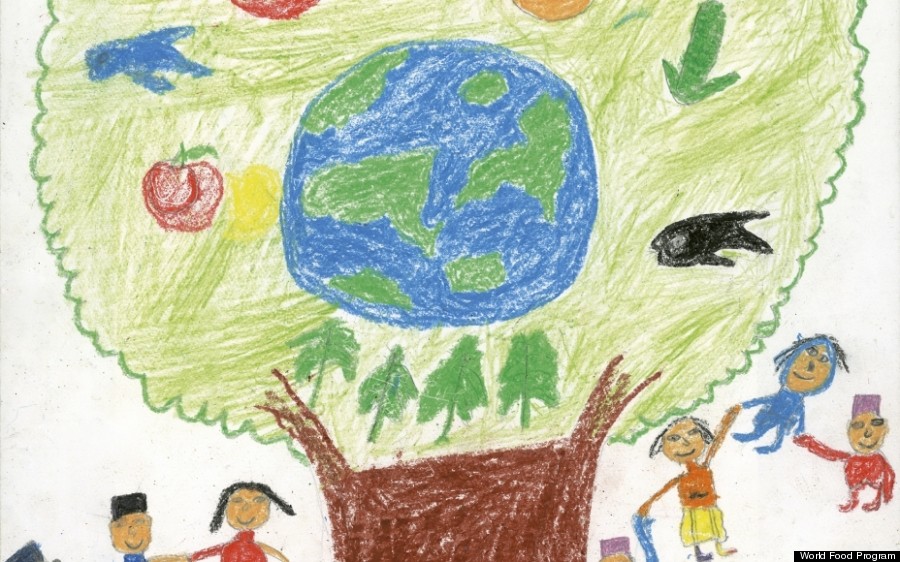 About the artist: Dhan Bahadur Bohara, 14, from Nepal has two brothers and a sister. His hobbies include study, dance and drawing, and he wants to teach young children. His artwork represents a world inside a tree with people, crops and fruits highlighting a world with zero hunger.
School Meals Keep Children Happy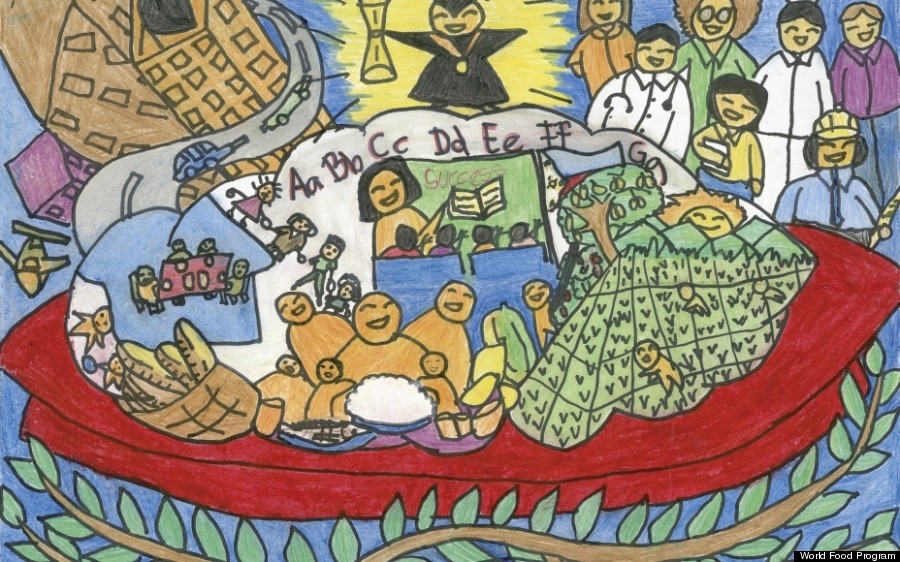 About the artist: Alaisa W. Ambolodto, 12, lives in the Philippines. She loves ice cream, Spongebob cartoons and drawing. Alaisa wants to be either a teacher or an engineer. Her artwork, rice on a big red plate, illustrates all the different activities that children do if they have enough food.
School Meals Keep Children Healthy and Active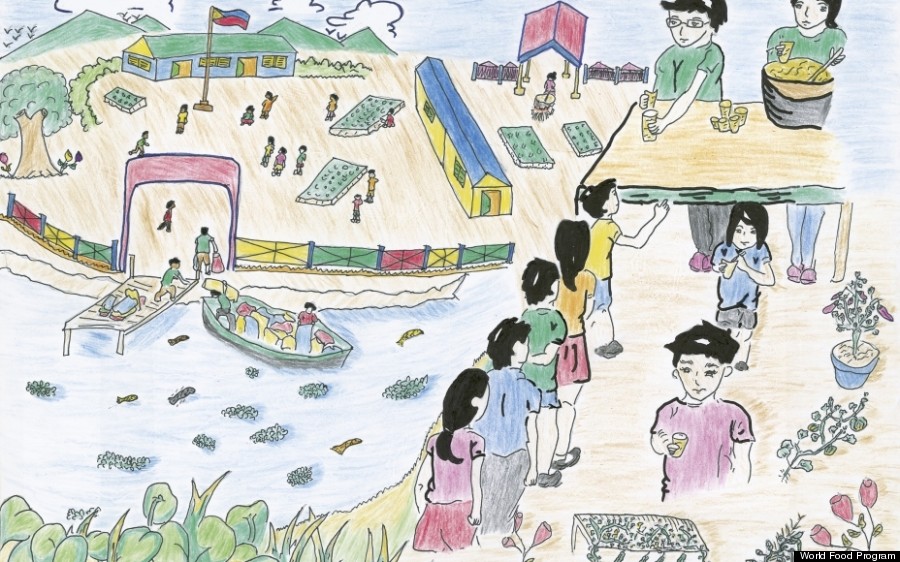 About the artist: Adzmie B. Kusain, 11, lives in the Philippines and goes to a school on the Rio Grande de Mindanao River. The teachers, parents and pupils use pump boats and bancas for transport. WFP food assistance to the school keeps the children healthy and active.
Zero Hunger: Farming, Fishing & Livestock Rearing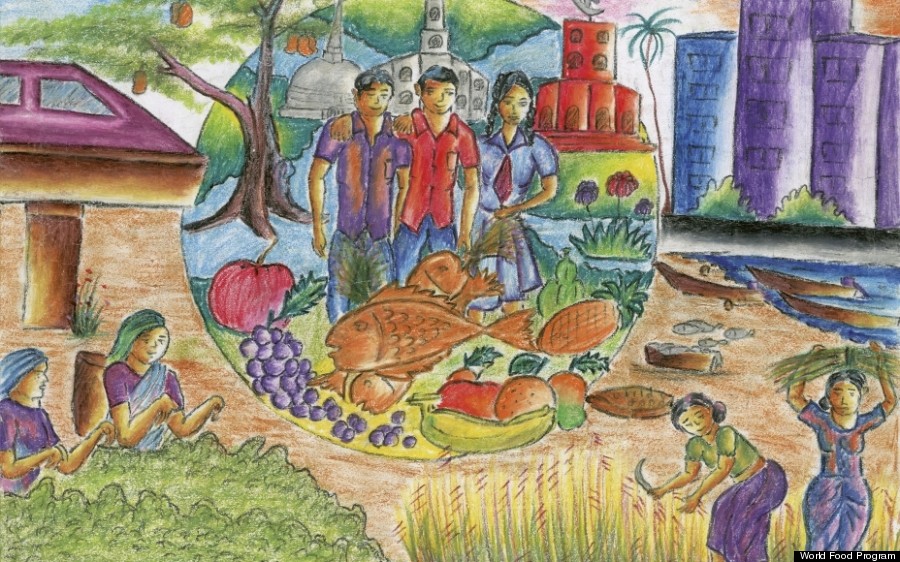 About the artist: Najeeb Aazmin, 14, lives in rural Sri Lanka and is a keen observer of nature. Drawing is his main hobby. Being aware of hunger, Najeeb intends to live with zero hunger through farming, fishing and livestock rearing.
Harvest in Tanzania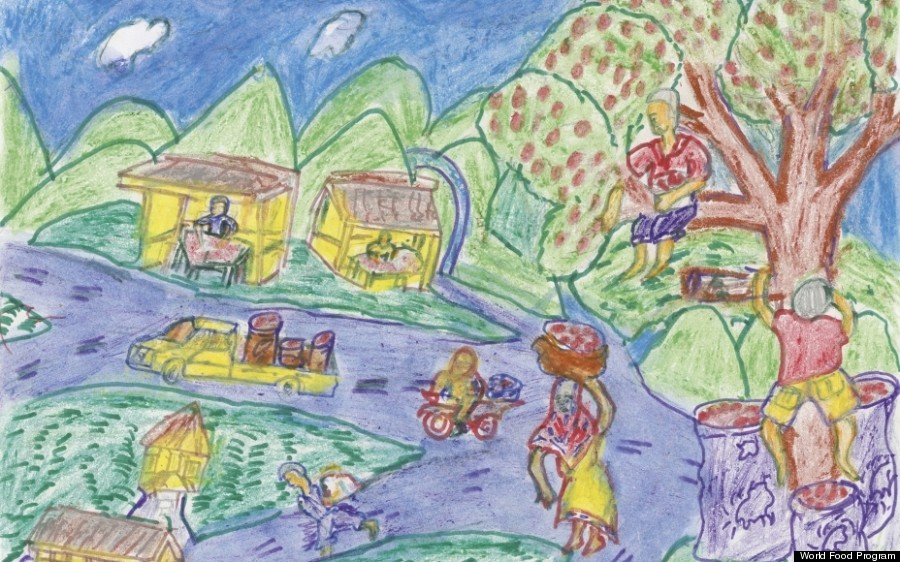 About the artist: Gift George, 7, is from Dodoma, Tanzania, and wants to be a banker. His picture depicts a world without hunger and shows farmers in his village harvesting fruit and vegetables throughout the year.
Zero Hunger in Bhutan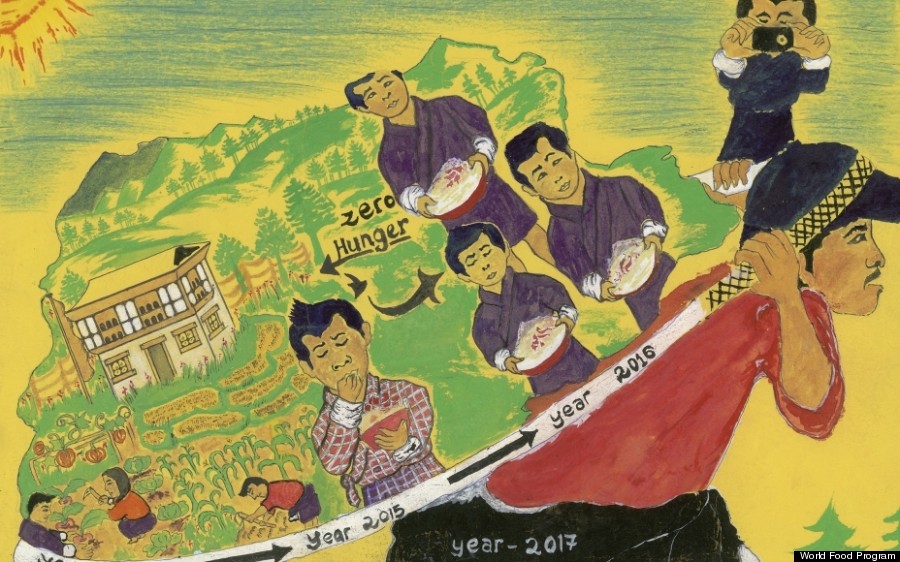 About the artist: Rinchen Kinley is 19 and boards at Sonamthang High School in Zhemgang district, Bhutan. He is the youngest of three in a farming family. His interests are drawing and football, and he wants to study engineering.
Give a Hand to the Developing World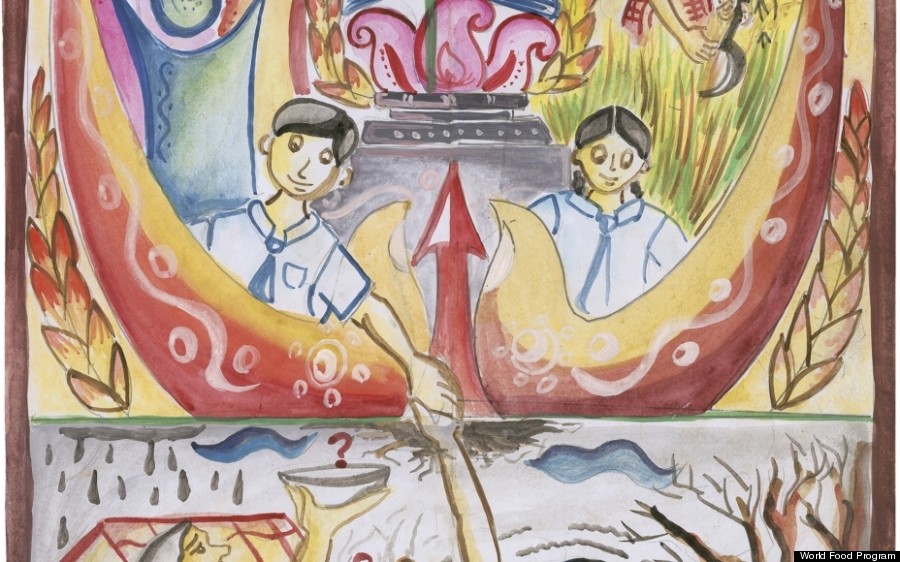 About the artist: Kumarthasan Katheesan, 14, lives in Sri Lanka in a family of six people. His favorite hobbies are drawing and playing cricket. His ambition is to be an engineer.
Working Hard for Brighter Future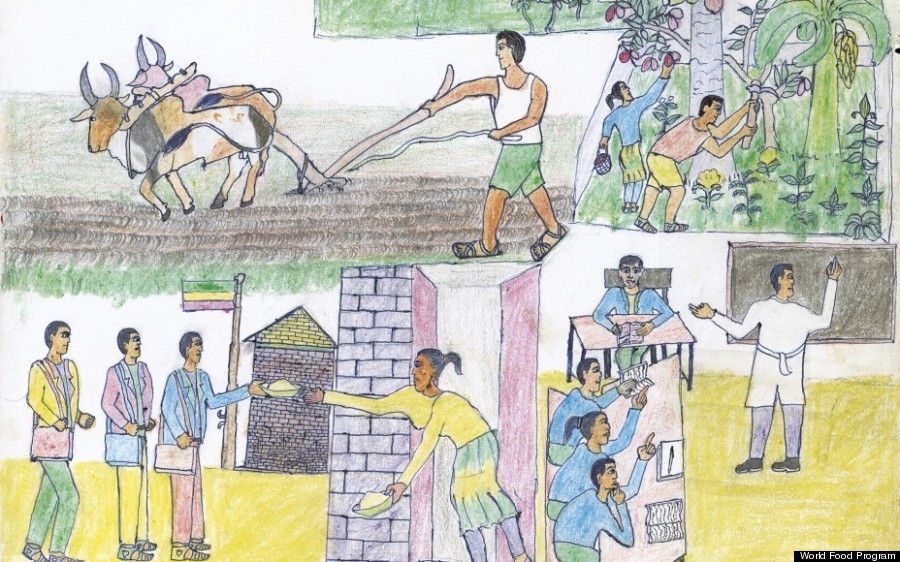 About the artist: Guush Ghebrehiwot Ghebremedhin is 14 and comes from Mereb-Lekhe district in Ethiopia. He is interested in painting and design, and dislikes wasting his time. Guush's picture shows hard-working compatriots, creating a brighter future for the country.
Corn as a Staple Food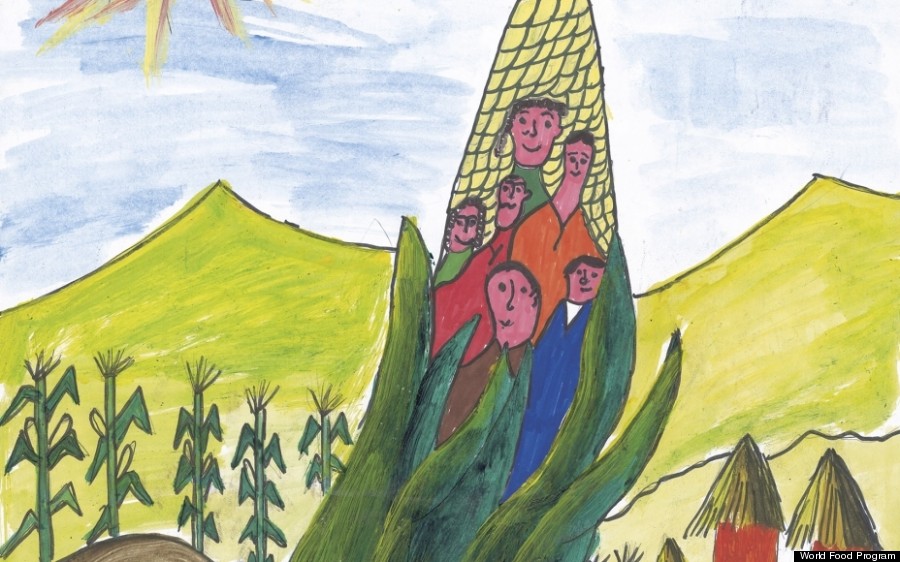 About the artist: Mariela Alessandra Gáleas Perdomo, 10, from Honduras enjoys painting and traveling -- to see more of her country. Her artwork shows how corn, a staple of the Mayan civilization, remains central to development for many people, as well as being a typical crop in Honduras.
BEFORE YOU GO
PHOTO GALLERY
The Hungriest States In America