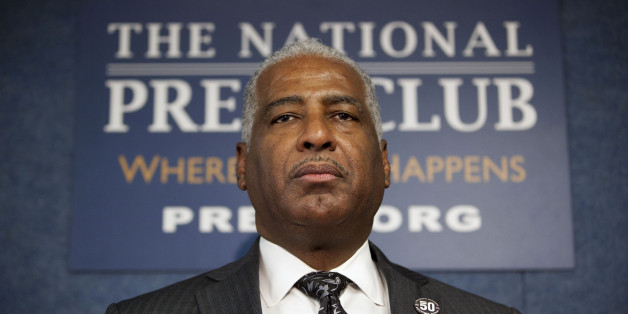 WASHINGTON -- When skeptics ask William Bell, the Democratic mayor of Birmingham, Alabama, why the 2016 Democratic National Convention should be held in his city, he offers a concise answer: "Why not?"
Bell explained at the National Press Club on Thursday that his city wants to host the convention because of Birmingham's historic role in the civil rights movement. A convention in Birmingham, he said, would be a way for the Democratic Party to "come back to its roots."
"Birmingham was the central point of the movement itself," Bell said, mentioning the campaign in the early 1960s to desegregate the city. He argued that the Voting Rights Act and the Civil Rights Act wouldn't have passed later that decade if not for what happened in Birmingham.
"When people think of Birmingham, they think of its violent past," Bell continued, arguing that the DNC bid is a part of the "process of changing that image."
"We should not be limited by what our past said that we were all about," he said. "We can look to a better future."
Birmingham is competing to host the convention against municipal heavyweights like New York City's Brooklyn borough, Philadelphia, Phoenix and Columbus, Ohio. It's unlikely that Democrats will pick Columbus, however, since Republicans have already selected Cleveland for their convention.
While Birmingham is also considered a long shot, Bell worked to negate some of the skepticism Thursday.
"You'd be coming to a red state with a blue heart," he said, adding that holding the convention in Philadelphia or New York City would be like broadcasting the party's "message to the choir, and not the congregation."
Bell's team has invested heavily in the bid to host the DNC, spending $275,000 on lobbyists and consultants and promising to make upgrades to the convention center.
In addition, Bell said his team has already reached out to the city's corporate community to secure financial commitments for the convention, which would cost Birmingham about $80 million. The effort also has the backing of Alabama Gov. Robert Bentley (R), who Bell said "wholeheartedly" endorsed the bid.
The mayor rejected the criticism that his city's weather would be too miserable in the summer months, when the convention is expected to take place, noting that "it can get hot and steamy in New York and Philly as well, and Phoenix is another story." He also dismissed the idea that the convention should be in a state that has a history of electing Democratic presidents, which Alabama has not done since 1976.
And though The New York Times reported that former Secretary of State Hillary Clinton and former President Bill Clinton have expressed their preference for New York City, Bell wasn't convinced that this put his city out of the running.
"If you have a convention in New York, OK, you have a convention in New York. But if you had a convention in Birmingham, that would be noted around the world," he said. "You have to understand that Ms. Clinton was a senator from there -- obviously she's not going to come out against it. As a candidate she would probably be happy no matter where it is, but I'm trying to paint a bigger picture for the entire party."
"The point is not necessarily about the candidate," he added. "The point is about spreading the party's broader message."
Democrats are not expected to announce a decision on a host city until early 2015.
BEFORE YOU GO
PHOTO GALLERY
Obama Rocks Democratic Convention