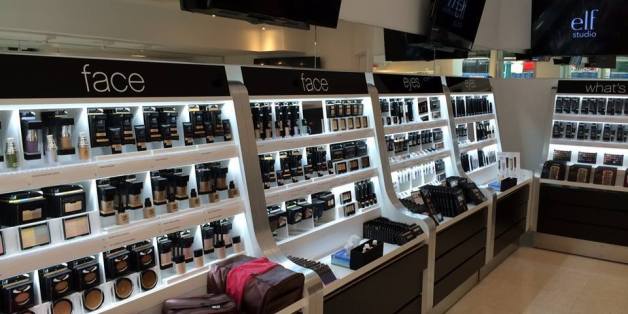 When it comes to buying beauty products on the fly and for really cheap, the drugstore is usually our go-to spot. However, there is another shop that has lured us away from the brightly-lit aisles of CVS and Walgreens. Enter, e.l.f. Cosmetics.
Entrepreneur Joey Shamah and beauty expert Scott-Vincent Borba launched e.l.f. (eye, lips and face) back in 2004 with just 13 products priced at $1. Their mission was to offer women inexpensive, quality makeup that would enhance their inner beauty.
Since then the budget-friendly company has expanded their impressive lineup of cosmetics and tools and gained a huge following among makeup artists, YouTube vloggers and curious shoppers.
Luckily for us, the e.l.f. Studio flagship store is located right in our office's neighborhood. So we've spent countless lunch breaks perusing the black-and-white lacquered counter tops for a fresh set of false eyelashes or new tube of lip gloss.
Here are 10 of the best beauty buys we've discovered at the e.l.f. store.
PHOTO GALLERY
e.l.f. Cosmetics Editors' Picks
BEFORE YOU GO
PHOTO GALLERY
50 Beauty Tips