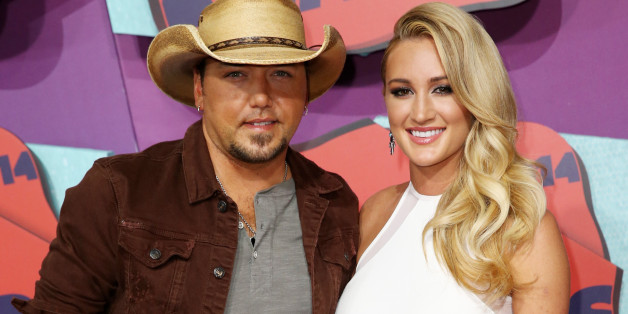 Congrats go out to Jason Aldean and Brittany Kerr.
A rep for the country star confirmed to Us Weekly that Aldean and Kerr got engaged Wednesday. The former "American Idol" contestant shared a photo from the big day on her Instagram, writing: "My man did it again. Today was amazing💙 #sandiegozoo #myeverything."
This will be the second marriage for Aldean, who was previously married to his high school sweetheart, Jessica Ussery. Their relationship landed in the headlines in 2012 after Aldean was photographed kissing Kerr at a bar in California. Although the singer apologized and said he and his wife were working things out, he filed for divorce the following year.
In March, Us Weekly reported Aldean was dating Kerr.
Last month, Aldean took to Instagram to defend the relationship alongside a photo of a quote reading: "You know my name, not my story. You've heard what I've done, not what I've been through."
So sick of people judging me and @brittanylkerr over things they know nothing about. I have made mistakes but i am a better person because of it, and wouldnt change a thing. Im happier than i have ever been, so thank u to all the people who support us. We are happy and life goes on. Its time to move on people. #aldeanarmy #oldnews #timetomoveon."
He has since moved beyond the scandal.
"It has been two years of this shit -- get over it, already!" Aldean told Billboard magazine about the scrutiny over his love life. "And then when I finally do get enough of it and say something, every newspaper grabs it. And I'm not trying to get in the headlines -- I'm just trying to get people to stop running their mouths."
Aldean is currently on his Burn It Down Tour, which wraps in October.
UPDATE: 9/26 -- Kerr shared a photo of her engagement ring on Instagram, along with a sweet message.
"We've been on cloud nine the past few days!!" she wrote. "My heart has never been more full of happiness and love... Can't wait to spend the rest of my life with this man💍 So many blessings and memories are in our future and SO thankful I get to share them with him. Thanks for all the support and kind words y'all have given us😘 #love #foreverandever #itdidnthappenatthezoo #happyhappyhappy"
BEFORE YOU GO
PHOTO GALLERY
Engaged Celebrities