Conspiracy theorists have gotten the green light to chatter about another strange object on the Red Planet. This time it's not a Mars rat or a jelly doughnut that's been spotted in a photo taken by NASA's Curiosity Mars rover, but a "traffic signal."
The extraterrestrial "signal" was spotted by a British UFO enthusiast named Joseph White. Curiosity snapped the photo at 1:08 a.m. EDT on sol 753 (Sept. 19). You can see the original here.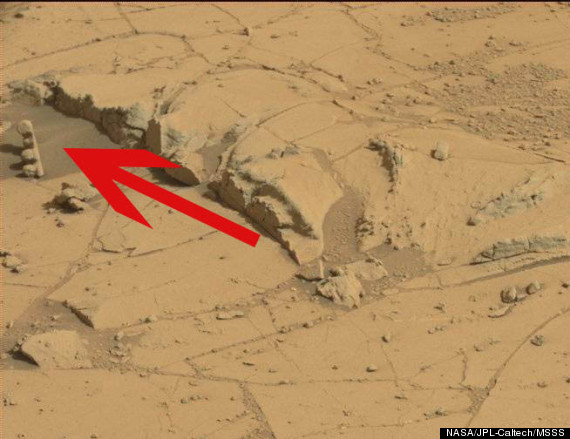 "I have been following the images from NASA since the start and I flick through them on the NASA website every day," White said, according to the Western Daily Press. "I saw this one and I thought 'Hang on, that looks a bit strange.'"
While White said he believes what he spotted is "clearly intelligently designed," as he wrote on his latest video on the Youtube Channel ArtAlienTV-Mars Zoo, the formation is most likely just a rock.
Earlier this week, blogger Paul Scott Anderson noticed a weird "ball" on Mars. But NASA scientists said this was just a spherical rock likely formed by concretion, a process by which minerals harden and get compacted, according to Discovery News.
A nice round Martian "blueberry" (concretion?) from sol 746, #Curiosity. Right side of image. pic.twitter.com/IDwVsCznz2

— Meridiani Journal (@themeridjournal) September 24, 2014
Other odd-looking objects seen in photos from Mars include an iguana, a finger, a skull, and a thigh bone.
But they're all just rocks.
BEFORE YOU GO
PHOTO GALLERY
Curiosity: Mars Science Laboratory's Rover