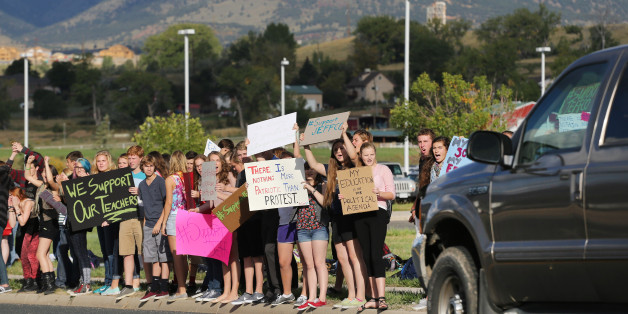 By Keith Coffman
DENVER, Sept 25 (Reuters) - Police in Colorado are investigating alleged threats made to a school board member's child in the state's second-largest school district, where hundreds of students protested this week over proposed curriculum changes, authorities said on Thursday.
Jacki Kelley, spokeswoman for the Jefferson County Sheriff's Office, said an investigator has been assigned to the case but declined to give further details or identify which member of the five-person board reported the threats.
Walkouts have affected nearly all of the Jefferson County School District's 17 high schools, with hundreds of placard-waving students taking to the streets each day since Monday.
In the Denver suburb of Lakewood on Thursday, about 14 students demonstrated outside Bear Creek High School, some holding signs that read, "First you take away my history, then you take away my rights" and "I have the right to learn."
The protests were triggered by a proposal introduced by a conservative school board member last week that would modify the Advanced Placement U.S. History (APUSH) curriculum, which is being advanced by the College Board.
In her resolution, board member Julie Williams calls for a curriculum to "promote citizenship, patriotism, essentials and benefits of the free enterprise system, respect for authority and respect for individual rights."
In a statement, Williams said the APUSH curriculum is "untested and unresearched," and that it ignores important figures in U.S. history.
"Let me give you some examples of who is omitted: Jefferson, Adams, Madison, Franklin, with not even a mention of Martin Luther King Jr, who was on the forefront of the civil rights movement," she said.
Board president Ken Witt said the resolution is up for discussion at future meetings and that nothing has been decided.
He said the teacher's union, which is upset with a new compensation formula adopted by the board, is likely behind the protests.
"I'm delighted to see that our students are concerned, but I don't like to see the manipulation of our students," he said. (Reporting by Keith Coffman; Additional reporting by Rick Wilking; Editing by Daniel Wallis and Jim Loney)
BEFORE YOU GO
PHOTO GALLERY
New York Standardized Testing Protest