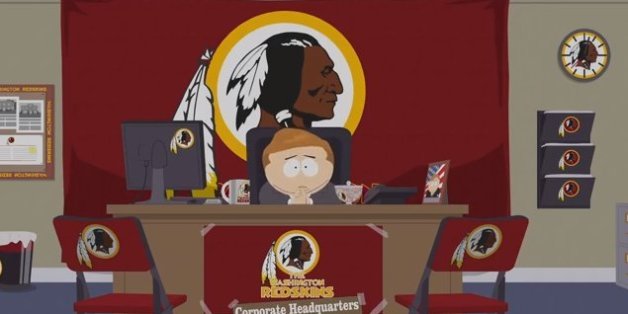 In the opening episode of its 18th season, "South Park" weighed in the ongoing controversy and legal battle surrounding the name of the NFL's Washington Redskins. The episode begins with the boys looking for a shocking name to garner attention for their Kickstarter-funded start-up company. After running through a litany of vulgar options, Eric Cartman settles on "Washington Redskins," noting that nickname is available to be used after the U.S. Patent and Trademark Office canceled six federal trademark registrations held by the team. In the name of decency, Snyder implored Cartman to stop using the name.
"You have no right to use our name to get attention. Look. Don't you see that when you call your organization 'The Washington Redskins,' it's offensive to us?" said Snyder.
Click here to watch the full episode.
Along the way, "South Park" managed to take shots at the NFL, its beleaguered commissioner Roger Goodell and Dallas Cowboys owner Jerry Jones.
Eagled-eyed football fans who watched the episode as well as an ad for it that Comedy Central ran during Washington's most recent game will notice a late change. Keeping up with the team's depth, the finished episode included quarterback Kirk Cousins even the preview featured Robert Griffin III. RG3, the team's starter at the outset of the season, is currently sidelined by an ankle injury.
Between promoting and airing tonight's episode, South Park benched RG3 for Kirk Cousins: http://t.co/eLBCEanigj pic.twitter.com/jqxt9lGBW7

— SB Nation (@SBNation) September 25, 2014
Here is a look at the preview that included RG3: