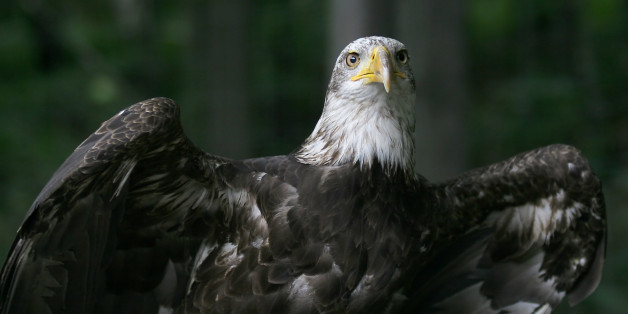 While opening up a fuel dock at the Maryland Yacht Club in Pasadena a maintenance worker discovered a 5-year-old bald eagle fighting for its life.
Ernie Jenkins told local media he saw the exhausted bird flapping around in the water near the club, where Maryland's Rock Creek empties into the Chesapeake Bay. Using a net, Jenkins was able to lift the bird out of the water to safety.
"I didn't want to watch him drown," Jenkins told local paper The Capital Gazette. "If I didn't get him out, he would have died and that was it."
Tests showed the eagle was suffering from a respiratory illness and lead poisoning, which can lead to brain damage. A rescue team has the bird under surveillance while it is being treated.
"He might of [sic] got a rabbit that had pellets in him, or a fishing weight off of someone's fishing line," Jenkins told CBS Baltimore of the possible cause of the lead poisoning.
"[The eagle's] condition at this point is poor and our prognosis is that we're hopeful, but also trying to be realistic in that we don't know if he's going to make it," Lisa Smith, executive director of the rescue center helping the eagle recover, told the Gazette.
Previously on the threatened and endangered species list, the bald eagle is now a common sight throughout Maryland, especially near the Chesapeake Bay. The Maryland Department of Natural Resources estimates that more than 500 pairs of bald eagles nest in the state each year.
Jenkins is optimistic that the injured bird could soon rejoin the state's wild eagle population.
"If he turns for the worst at least I tried. I gotta try you know, but I would love to see him back. I would love to see him back," Jenkins told CBS Baltimore.