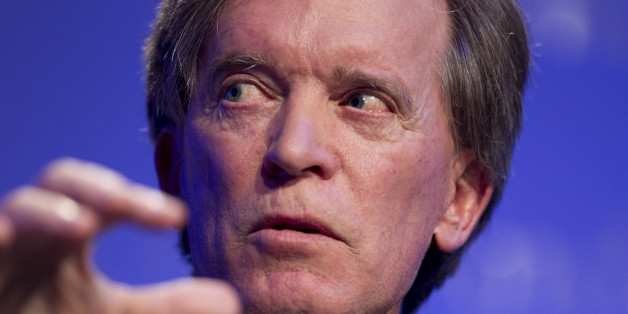 One of the most powerful, and definitely the most eccentric, bond traders on the planet was moments away from being fired before announcing his resignation on Friday.
Bill Gross -- a billionaire money manager and infamous author of at least one cat obituary and a rapturous ode to the orgasmic pleasures of sneezing -- reportedly knew he was about to be fired from Pimco, the firm he co-founded and helped turn into the world's biggest manager of bond mutual funds.
Instead of taking severance and quietly walking away, Gross, known to some fanboys as the "bond king," resigned.
The New York Times reports that firm insiders were fed up with Gross's increasingly odd behavior.
In June, Gross appeared at a run-of-the-mill (read: boring) investor conference wearing sunglasses and wielding Justin Bieber analogies. That prompted one Wall Street Journal reporter to tweet:
Something weird is going on with Bill Gross

— Scott Patterson (@pattersonscott) June 19, 2014
Five Pimco executives threatened to quit if Gross didn't leave, CNBC reported on Friday.
In a statement, Pimco CEO Douglas Hodge said: "While we are grateful for everything Bill contributed to building our firm and delivering value to PIMCO's clients, over the course of this year it became increasingly clear that the firm's leadership and Bill have fundamental differences about how to take PIMCO forward."
Gross, who helped grow Pimco into a fund that manages around $2 TRILLION dollars, announced that he would be moving on to Janus Capital, a much smaller investment firm (with less than $200 billion under management) based in Denver.
"At Janus, in a new Newport Beach office, a simpler yet still intense career lies ahead of me," Gross said in a statement.
The King had a rough year in 2014. His colleague, Mohamed El-Erian, resigned from his perch as Pimco CEO in January. The following month The Wall Street Journal published a bombshell story detailing tension between El-Erian and Gross, who were reportedly fighting with each other in front of other employees.
"I'm tired of cleaning up your s___," El-Erian reportedly told Gross, according to the WSJ report. Just this week, El-Erian revealed that part of the reason he left his powerful post was to spend more time with his daughter.
Also, Gross's cat Bob died.
Gross penned a loving ode to Bob -- but he put it in an April investor note, which some thought odd. Though, to be fair, he did consult with his cat on money matters:
"I often asked her about her recommendations for pet food stocks, and she frequently responded – one meow for "no," two meows for a "you bet." She was less certain about interest rates, but then it never hurt to ask," Gross wrote in in the note, simply titled, "Bob."
Gross also confessed to Pimco investors his illicit love of sneezing: "A sneeze is, to be candid, sort of half erotic, a release of pressure that feels oh so good either before or just after the Achoo!"
The news broke this week that the Securities and Exchange Commission was investigating whether Gross's firm had artificially inflated returns on a fund. Pimco told the WSJ it was cooperating with that probe.
Making matters worse, Pimco's returns have lagged the competition this year, and investors have been pulling out their money for months.
To be honest, Gross might seem perfectly sane to those outside the buttoned-up world of bond managers (well, to me, anyway): Writing about the undeniable pleasure of sneezing, or about how he doesn't own a cell phone because of how they are soul-crushing, seems not unreasonable.
But in the world of money management, I guess they snuffle sneezes in tissues and sob quietly into smartphones.
Correction: An earlier version of this story said Janus had less than $200 million under management. The correct figure is less than $200 billion.