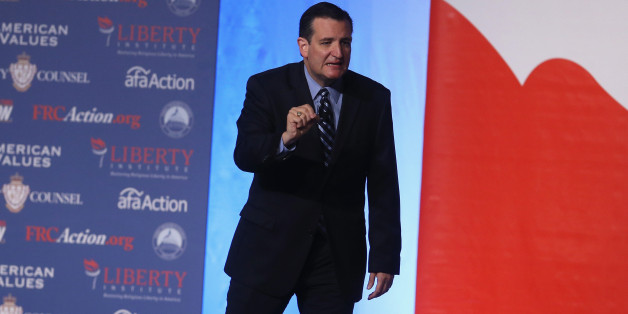 WASHINGTON -- The need to preserve "traditional" marriage was on the minds of many at the opening day of Values Voter Summit, an annual gathering of religious conservatives in Washington. It was on the lips of event organizers, a topic of debate at several panels, and the mission of many groups assembled there. But it received much less attention from prominent Republicans who spoke at the event than in previous years.
While many talked about abortion and the right to life, Sen. Ted Cruz (R-Texas) was one of few who spoke about marriage. But even Cruz did so in passing.
"How do we win? We defend the values that are American values. We stand for life. We stand for marriage. We stand for Israel. We bring back jobs and opportunity and unleash small businesses to make it easier for people to achieve the American dream. We abolish the IRS. We repeal Common Core," Cruz said, to resounding applause on the latter point.
The conservative firebrand addressed "religious liberty" several times, but only in the context of the Supreme Court's Hobby Lobby decision. He denounced the so-called birth control mandate in the Affordable Care Act, and criticized Democrats for fighting groups that have sought Obamacare exemptions because they say it goes against their values.
Contrary to Cruz's evangelist approach, which won him standing ovations from the friendly crowd several times, Sen. Rand Paul (R-Ky.) struck a more professorial tone. The libertarian-leaning senator called for the end of U.S. aid to nations that persecute Christians, and offered a sharp critique of the Obama administration's broader war in the Middle East. But Paul, too, strayed away from mentions of gay marriage, devoting his remarks largely to foreign policy.
Rep. Michele Bachmann's (R-Minn.) ardent opposition to gay marriage is well known. The former GOP presidential candidate campaigned tirelessly for her state's same-sex marriage ban, only to see it legalized in 2013. But her remarks at the Values Voter Summit had nary a mention of the hot-button issue.
Addressing a journalist following her speech, Bachmann, who is retiring from Congress this year, said gay marriage was "not an issue anymore."
"In fact it's boring," she added.
Even Sarah Palin, a darling of the conservative movement long after her failed bid for the vice presidency in 2008, stayed clear of the subject.
Rick Santorum, former senator from Pennsylvania and 2012 candidate for president, noted the trend and criticized conservatives for retreating on key social issues like gay marriage.
"I have never been involved in a race, where you play defense on an issue and yet you put points on the board. And yet that's what we do," Santorum told the crowd. "If you look at the current conservative movement, the Republican Party, there are issues we haven't even lost yet, and we're talking about giving up."
Asked later why marriage had scant mention at the event, Santorum demurred and plugged his book, Blue Collar Conservatives, where he writes about "reclaiming" the institution.
"Believe or not, I don't go talking about that everywhere I go. Believe it or not, I don't," Santorum told a reporter.
Family Research Council President Tony Perkins, the host of the event, argued the issue was as important to social conservatives as ever, in light of the steady march of the marriage equality movement.
"Oh there are some here that have said it. They may not have said it here today, but they have been on record," Perkins told The Huffington Post of the Republicans who spoke at the gathering. "I think the redefinition of marriage and the loss of religious freedom will continue to be an issue.
"I don't see among the core conservative Republican leaders anything backing away from natural marriage," Perkins added.
Values Voter Summit continues with more speakers on Saturday, where the National Organization for Marriage will host a panel on "The Future of Marriage: To the Supreme Court and Beyond."

BEFORE YOU GO
PHOTO GALLERY
10 Incredible Improvements For LGBT People Since The First State Legalized Gay Marriage