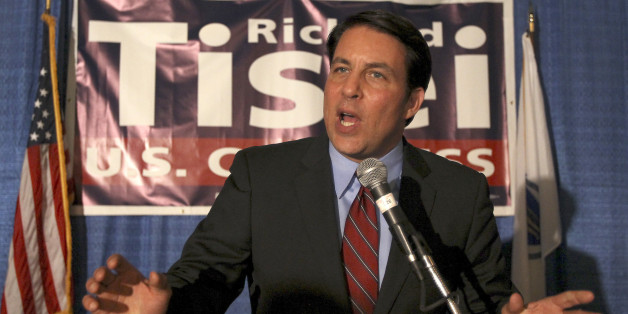 Three leading conservative organizations said Thursday that they will "mount a concerted effort" urging voters to refuse to cast ballots for three Republican candidates who support legalizing same-sex marriage.
As BuzzFeed first reported, the presidents of Family Research Council Action, the National Organization for Marriage and CitizenLink sent a letter to Republican leaders in both the House and Senate voicing their opposition to Senate candidate Dr. Monica Wehby and openly gay congressional candidates Carl DeMaio and Richard Tisei.
Tisei is running against former Marine Seth Moulton (D) in Massachusetts, DeMaio is challenging Rep. Scott Peters (D-Calif.) and Wehby is working to unseat Sen. Jeff Merkley (D-Ore.).
"We cannot in good conscience urge our members and fellow citizens to support candidates like DeMaio, Tisei or Wehby," the letter reads. "They are wrong on critical, foundational issues of importance to the American people. Worse, as occupants of high office they will secure a platform in the media to advance their flawed ideology and serve as terrible role models for young people who will inevitably be encouraged to emulate them."
The letter calls the three candidates "antithetical" to the Republican Party's platform.
"While we acknowledge that a national party must accommodate varying points of view on matters of prudence, we also believe a party must stand for certain core principles that it expects its candidates to defend," the groups explained.
DeMaio and Tisei could both make history this cycle as the first openly gay Republicans elected to Congress. Wehby announced her support for marriage equality earlier this month.
Charlie Szold, a spokesman for Tisei, suggested to The Huffington Post in an email that he thought factions within the GOP should focus on economic issues rather than inter-party fights over issues like marriage equality.
"Richard has never been afraid to take on members of his own party," Szold said of Tisei. "When Mitt Romney was governor, Richard looked him in the eye and told the governor he was wrong about marriage equality. The Republican Party is best when it promotes freedom, and focuses on fixing the economy and lowering the cost of living for hard working middle class families."
DeMaio spokesman Dave McCulloch called the group's letter "destructive" in an email to HuffPost.
"While unfortunate, the destructive actions of these intolerant groups come as no surprise," McCulloch said. "They know Carl DeMaio is a leader working to make his own party more inclusive and positive, rather than focused on divisive social issues that are none of government's business in the first place."
Wehby's campaign did not respond to a request for comment.
Just under one-third of conservatives support marriage equality, according to a May Gallup poll, though a March Pew poll found that 61 percent of Republicans under 30 favor it.
BEFORE YOU GO
PHOTO GALLERY
Gay Marriage In The United States