TOP STORIES
U.S. TARGETS ISIS OIL REFINERIES FOR SECOND DAY The airstrikes are aimed at taking out the primary source of ISIS' income. In New York, Iraq's prime minister alleged ISIS had a plan to attack NYC and Parisian subways; Mayor Bill de Blasio and the New York Police Department refuted the claim. And the FBI believes they have identified the "Jihadi John" executioner from ISIS' beheading videos. [AP]
ATTORNEY GENERAL HOLDER RESIGNS

"Attorney General Eric Holder, the first African-American to hold the nation's top law enforcement position, announced on Thursday his plan to resign the post he's held for nearly six years as soon as a successor can be confirmed." Politico explains why Holder is stepping down, and here are six people who could replace him. Word to the wise: it's going to be a nightmare to confirm his successor. Holder had "found himself" after Obama's reelection, and many say he's the "black leader Obama could never be." [HuffPost]
OVER 50 DEAD IN TERRORIST ATTACKS IN CHINA "Chinese state media reported Thursday that 50 people, including 40 assailants, were killed in a series of explosions over the weekend in the far western region of Xinjiang, in what officials called a severe terror attack … The news portal Tianshan Net said bombs exploded at two police stations, a produce market and a store. It said the attack killed two police officers, two police assistants and six bystanders, and that 54 others were injured." [AP]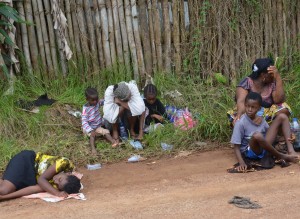 SIERRA LEONE QUARANTINES 1 MILLION Over one million people are sealed into quarantined districts in Sierra Leone, in the country's latest move to combat the growing Ebola outbreak. President Obama made it clear the world was moving too slowly to adequately address the evolving virus. A U.S. professor is saying the outbreak is the result of U.S. bioterrorism. And here's what it's like to combat the deadly outbreak firsthand. [AP]
A FAIRYTALE ENDING FOR JETER A walk-off hit to win your last game in Yankees uniform in the bottom of the 9th? You can't make this stuff up. Congrats, Derek. [HuffPost]
ARRESTS AFTER FERGUSON PROTEST TURNS VIOLENT While Police Chief Tom Jackson was walking with a crowd of protesters, a scuffle broke out that ended in numerous arrests. [HuffPost]
MYSTERIOUS RESPIRATORY ILLNESS SPREADING "An outbreak of respiratory illness first observed in the Midwest has spread to 38 states, sending children to hospitals and baffling scientists trying to understand its virulent resurgence. As of Thursday, the Centers for Disease Control and Prevention had confirmed 226 cases of infection with enterovirus 68. But it is likely that many times that number have been stricken." [Story, Image via NYT]
WHERE'S KIM JONG UN? The North Korean dictator hasn't been seen in three weeks, and his "absence has fueled speculation that Kim has a health problem, as some observers have pointed to weight gain as well as a limp when he was seen walking in July." [CNN]
POLICE ASK VIRGINIA RESIDENTS TO SEARCH PROPERTIES Authorities implored the public to examine their properties in the search for missing UVA student Hannah Graham. The prime suspect in her disappearance, Jesse L. "LJ" Matthew Jr., was arrested yesterday after setting up a makeshift tent in Galveston, Texas. The owner of the bar where Graham was last seen stated that employees saw the student incapacitated and unable to walk on her own. [WaPo]
THE NEW HEARTBLEED? "Hackers have launched attacks exploiting the newly identified 'Shellshock' computer bug, researchers warned on Thursday, as news surfaced that an initial patch for the issue was incomplete, suggesting even updated systems were vulnerable. The attacks came as security experts scrambled to determine how many systems and what types of computers are vulnerable to 'Shellshock,' which some say may be as serious as the 'Heartbleed' vulnerability that surfaced in April." [Reuters]
WHAT'S BREWING

RACHEL MCADAMS OFFERED TRUE DETECTIVE ROLE According to Variety, the star has been offered a role that could get her out of rom-com purgatory. [Story, Image via Variety]
THE NEW KANYE ALBUM IS IMMINENT Remember, he is a god. [HuffPost]
DID DE BLASIO KILL THE GROUNDHOG? "A sudden death. A mayor in yellow suede gloves. A fall — or was it two? — that might have proved fatal. And a groundhog named Chuck, until it wasn't. On Thursday, Mayor Bill de Blasio stood accused of inadvertent rodenticide stemming from an episode in February, when Mr. de Blasio, amid the pageantry of Groundhog Day shadow-watching, dropped the star of the early-morning event." [Story via NYT, Image via New York Post ]
APPLE RELEASES iOS 8.2 And also says you have to be superhuman to bend your iPhone 6 on your own, so take that internet. But if you happen to be one of the lucky few to bend your phone, the Genius Bar might replace it. [HuffPost]
WOMEN IN SCIENCE "'It's death by a thousand cuts. Every day you're faced with some comment, some snide remark, some inability to get a name on a research paper. And with an accumulation of those experiences, women tend to walk with their feet.' That's Janet Bandows Koster, executive director of the Association for Women in Science explaining one of the reasons why so few women pursue science careers -- and why those who do often abandon them." [HuffPost]
YOUR PHOTOS JUST GOT BETTER LIGHT This app tells you when the sun is rising and setting, so you can snap the perfect Instagram photo and your friends will think you weren't even trying. [Brit & Co]
ON THE BLOG
5 THINGS TO KNOW BEFORE GOING TO THE HOSPITAL "Sometimes a trip to the hospital comes as an unexpected surprise and other times it is planned. Either way, there are several things you should know about your kidneys before your hospital visit. Being an informed and empowered patient can go a long way when it comes to your overall health and the health of your kidneys, especially in the hospital setting." [HuffPost]
BEFORE YOU GO
~ These toddlers' debate of "sprinkling" vs. "raining" gets highly technical.
~ After you break-up, your Twitter feed takes a turn for the worse.
~ Kim Kardashian was tackled by a red carpet prankster.
~ The top ten percent of alcohol consumers in the U.S. down 73.85 drinks a week.
~ Taylor Swift is shockingly internet meme self-aware.
~ Jordin Sparks and Jason Derulo have called it quits.
~ There are more Lauren Conrad wedding photos, and really nothing will be more perfect.
~ Lindsay Lohan maybe shouldn't do a play if she can't remember her lines.
~ And meet the ice cream scoop that will make it even easier to eat the whole tub.