DALAKCI, Turkey -- They waited inside the consulate for days like sitting ducks until the masked invaders of the Islamic State finally came for them.
The staff of Turkey's consulate -- 46 Turks and 3 Iraqis -- had no way to safely flee Iraq's besieged city of Mosul. No special forces from their country came to get them. When Islamic State fighters wired the consulate doors with explosives, threatening to detonate them if security officers didn't surrender, the staff found themselves at the mercy of a group whose name alone had sent Iraqi soldiers running for their lives.
Since then, little information has emerged regarding what really happened after one of the world's most feared and well-funded terrorist organizations seized the consulate on June 11. Even more shrouded in mystery -- and controversy -- is how the 49 hostages were released unharmed last Saturday after 101 days in captivity.
"It was a fine line between life and death," said Ersan Koksal, the consulate's chief of staff, sitting outside of his family home in central Turkey's tiny farming village of Dalakci. He and his wife Fatma, the consulate's cook, sat down with The WorldPost to tell their harrowing story.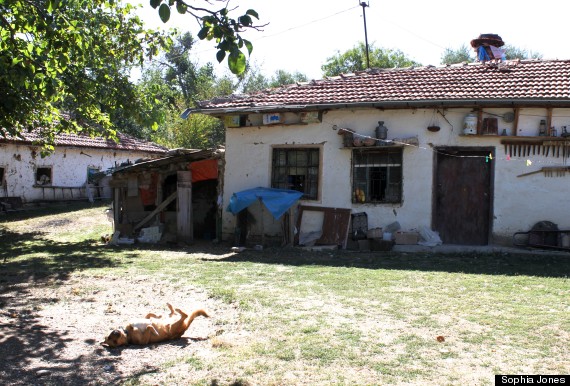 The Koksal's idyllic family home Dalacki in central Turkey, where they are currently spending time with family after their release by the Islamic State.
Sipping tea in the idyllic calm of Dalakci, one would never guess that mere days ago, Ersan and Fatma -- mild-mannered grandparents in their 50s -- were held in Raqqa, Syria, the Islamic State stronghold now being bombed by a U.S.-led coalition.
Surrounded by family, the inseparable duo recounted their ordeal in painful detail.
"They told us they wouldn't do anything to us," Ersan said, explaining how Islamic State fighters led them to vehicles outside of the consulate soon after taking it over. "They said they'd send us to Turkey."
But very quickly, the staff realized they weren't being evacuated to safety. They were hostages. According to the couple, Consul General Öztürk Yılmaz protested their detainment and told the fighters to "shoot him first" if they intended to harm the staff.
The Koksals are no stranger to conflict -- they had worked at the consulate in Mosul for seven years. But this was their worst nightmare.
Ersan pointedly asked one of the fighters what they wanted. His answer was simple: "We want to conquer the world."
The group was taken to a two-story house in Mosul, the first of eight locations where they would be held. The staff was able to stick together for the most part, relying on each other to maintain hope. Ersan and Fatma refused to be separated.
The hostages rarely could see the faces of their captors, who wore all black, with scarves wrapped around their faces. The gun-toting fighters carried weaponry abandoned by Iraqi forces, the hostages said; some of these weapons originally had been given to Iraq by the United States. The hostages criticized the Iraqi soldiers for fleeing Mosul and leaving them undefended.
According to the couple, the Islamic State fighters mainly spoke Arabic, but several spoke Turkish. One seemed to speak English as a first language, they said, but they couldn't tell where he was from.
The fighters took the hostages' phones after the first day and issued a harsh warning: If they were found with electronics, or anything that emitted a signal that could be tracked, they would be punished.
After two weeks, their circumstances drastically worsened. The staff members were forced to watch videos of beheadings carried out by the Islamic State, and they repeatedly were threatened with the same fate.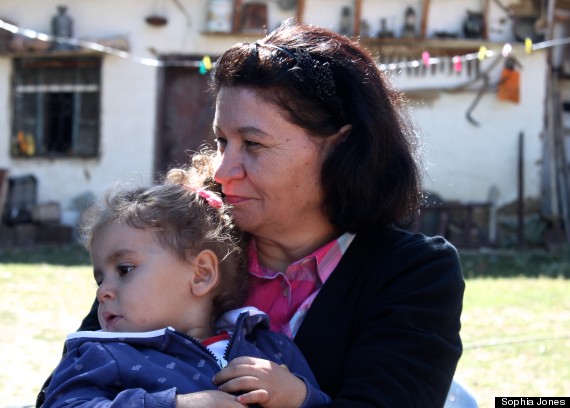 Former Islamic State hostage Fatma Koksal embraces her granddaughter.
"The fighters would bring up Turkey's politics and mistreat us depending on the day," Ersan said, his wife tightly holding their granddaughter. "It depended on what was happening in Turkey politically that day. But they were being careful. They didn't want to mess with Turkey."
The group, which was made up mostly of men but also included several women and two young children, was usually fed adequately and kept in livable conditions, according to the Koskals. But as punishment, the fighters would refuse to feed them or would split the group up, locking people in different rooms. Nobody was ever physically harmed, the Koskals said, but the psychological pressure was tremendous.
Meanwhile, Iraqi war planes bombed Mosul, attempting to strike Islamic State positions in the city. The hostages wondered if the airstrikes would kill them before their captors ever got a chance to. The Koksals' dog was killed in one close airstrike, they said, as were two of their captors. Ersan said he still has dreams that they're being bombed, and he wakes up trying to protect Fatma.
The couple, who spent much of their captivity in prayer, said the Islamic State's actions -- with its unapologetic use of violence and fear-mongering -- are a disgrace to Islam.
The militants forced Fatma, a Muslim woman who chooses not to cover her hair, to wear a headscarf. Whenever she was moved to another location or was briefly allowed outside, she had to wear a niqab, a veil that covers the entire face. The fighters also brought conservative, traditional Islamic clothing for the men.
"It was really hard for me," Fatma said, her short brown hair blowing in the afternoon breeze. "It was so different."
Ersan maintains that the group's fighters are brainwashed and that what the Islamic State is doing is not Islam.
He and Fatma recalled one moment in which they pleaded with their captors, fearing they would be forced to take up arms or join the group. One of the fighters laughed and said the Islamic State might consider sending Ersan and Fatma abroad as suicide bombers.
"With every joke, there is a truth," Ersan said.
In two separate incidents, the couple said, the fighters told the captives they were being sent home, only to leave them grossly disappointed when their return fell through at the last minute.
Then last week, the group was once again put into a few minibuses and sent to another location. But this time, the trip seemed longer. Every once in awhile, Ersan said, he would sneak a peek out of the curtains cloaking the windows. He noticed a sign that said Turkey was 102 kilometers away, and he felt a pang of hope. That night, they arrived in a city unknown to any of them. It was Raqqa, now the Islamic State's stronghold in Syria, where citizens abide by strictly interpreted and harshly enforced Sharia law.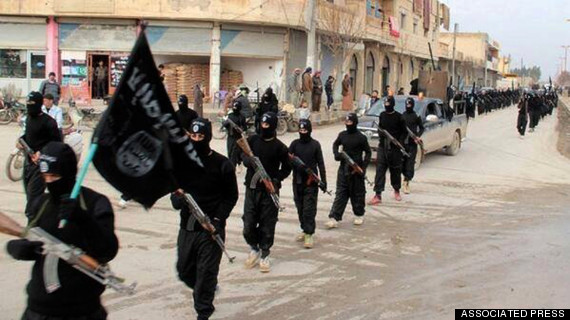 Islamic State fighters march in the group's stronghold of Raqqa, Syria. (AP Photo/militant website, File)
"I saw covered women fighters," Fatma said, her voice reflecting both fear and intrigue. "And there was a child escorting us who couldn't even hold his gun."
They were taken to the basement of a building on a university campus, given a quick snack, and then sent to the Turkish border, where they were handed off to Turkish authorities.
The couple claim they don't know how or why they were released by the Islamic State, nor do they care. The government reportedly has discouraged the released hostages from giving details to the press.
Turkey, which has a porous border leading to Syria, has come under close scrutiny in recent months. Critics say it's not doing enough to crack down on the hardline group, which has recruiting cells in the country and smuggles foreign fighters through Turkey to the large swath of territory it controls in Syria and Iraq.
While the Koksal family applauds the government for the safe return of Ersan and Fatma, there are those who have their doubts over Turkey's relationship with the Islamic State.
The week before the couple was released, Fatma's cousin Mehmet Baki Koksal spoke with The WorldPost by phone. "We are losing hope," he said. "We cannot accept that Turkey won't fight ISIS. We hear that Turkey is supporting them. It's really worrying."
"We expected them to join the allied countries," he continued, alluding to Turkey's refusal to join the U.S.-led coalition formed to fight the Islamic State.
Turkey's government says it will not release information on how the hostages' release was secured.
"There was no bargain for money at all, but only diplomatic and political negotiations," President Recep Tayyip Erdogan said on Sunday. "And this is a diplomatic victory."
Ersan says he owes his life to the Turkish government.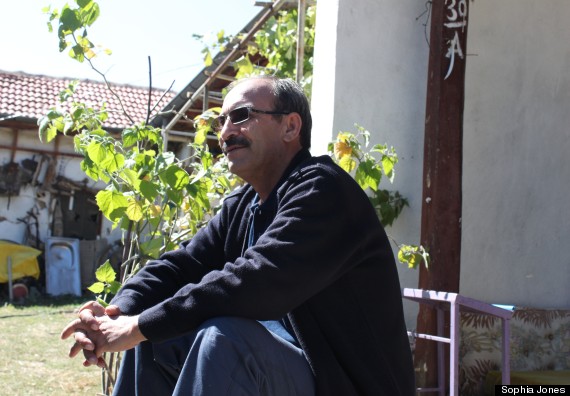 Former Islamic State captive Ersan Koksal sits in the sunshine at his family home in Dalakci, Turkey.
"Whether it was a prisoner exchange or an exchange of goods, I don't care how our release was negotiated," he asserted. What matters is that, unlike other hostages whose murders were touted by the Islamic State, the Koksals are safely home.
Fatma's elderly mother sat silently next to the couple. She said one thing of their ordeal: "They came out of the fire."
The Koksals said that after more than 20 years of diplomatic work abroad, the last few months have convinced them to retire. Upon their return home, they said, the Turkish press contorted their story and invaded their privacy. They're sick of the prying questions and the endless speculation everywhere they go.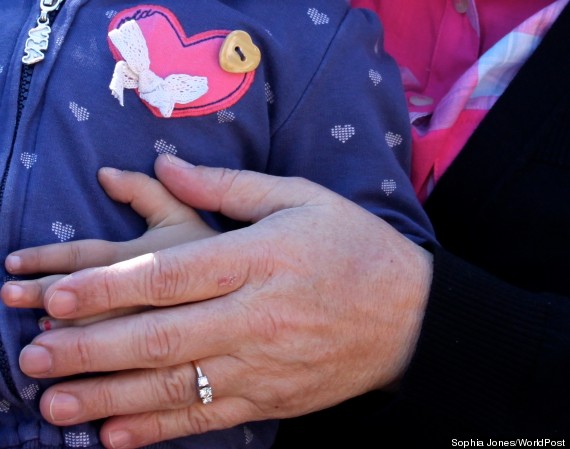 Former Islamic State captive Fatma Koksal holds her granddaughter in Dalakci, Turkey.
But they find great refuge here in this small town that smells of livestock and fresh dirt. They plan to spend their coming days with their loving family in this very yard eating sweets and laughing. They have a new lease on life.
"This world is a paradise and we should live in it together," Ersan said, the sun beaming on his face. "I've been reborn."
Burak Sayin contributed reporting from Dalakci and Istanbul.