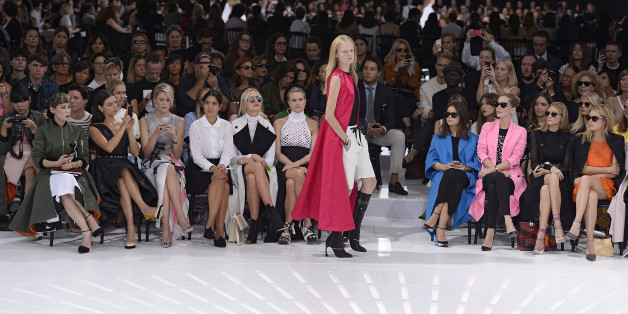 It doesn't get much better than Paris Fashion Week, ladies and gentlemen.
This is the high-end fashion we love to drool over admire -- Dior, Balmain, Dries Van Noten... the list goes on. The models are on top of their runway game, fashion editors are killing the street style and the front row seaters are mostly Kim and Kanye.
As such, we're totally copping to stalking photos of all things PFW on Twitter and we can't get enough. Dior had fun house mirrors outside the Louvre and Julien David debuted his Spring collection with a dance video of ballerinas. Add a macaron and it doesn't get more Parisian than that.
There's a reason the best is saved for last. Scroll down to see the coolest tweets of the week.
Close-up on our new iconic bag, unveiled at the Dior SS15 Ready-to-Wear show. #Diorlive #PFW pic.twitter.com/QsTYu90Qk2

— Dior (@Dior) September 26, 2014
Gold leaf and Rose Gold Pigment @barbara_bui #MACbackstage #PFW pic.twitter.com/x5wEL4LTin

— MACcosmetics (@MACcosmetics) September 25, 2014
In the front row at today's Dior show, Marion Cotillard. #Diorlive #PFW pic.twitter.com/qulUosl1dG

— Dior (@Dior) September 26, 2014
Party Pics:@karliekloss, @RosieHW and more kick off the weekend early at #PFW's top parties! http://t.co/wY7eGOu7BR pic.twitter.com/i7wvJMUf5I

— MODELINIA (@Modelinia) September 26, 2014
I 💕 waking up under the same roof as kim and kanye

— KyleEditor (@KyleEditor) September 26, 2014
Spotted ! @annadellorusso arriving at the @Dior show - see all outvibes here: http://t.co/WPXQ59r4Yv #PFW #DiorLive pic.twitter.com/kHhTfjelOX

— NOWFASHION (@NOWFASHION) September 26, 2014
"Happiness is the secret to all beauty. There is no beauty without happiness." - Christian @Dior #PFW pic.twitter.com/AHWzb9FIh3

— NET-A-PORTER.COM (@NETAPORTER) September 26, 2014
Like Fashion Director @TiyanaGrulovic, @Balmain at #PFW was all about #FreeTheNipple http://t.co/yPOGC00zd1 pic.twitter.com/UcaqI0t1u8

— FLARE Magazine (@FLAREfashion) September 25, 2014
The 56 BEST street style looks from Paris Fashion Week so far: http://t.co/MG7sv173TW #PFW pic.twitter.com/9wAQOX4T1w

— Harper's Bazaar (@harpersbazaarus) September 26, 2014
Before that magical runway moment — relive @DriesVanNoten S'15 with Next. Watch video: http://t.co/lEQXr78v3P. #PFW pic.twitter.com/5DxlCmxTaD

— Next Models (@NextModels) September 25, 2014
Hairstylist @sammcknight1 shares his pictures from backstage at @Balmain http://t.co/a5j0xynyoJ #pfw pic.twitter.com/NGdaVX1VIW

— VOGUE.CO.UK (@BritishVogue) September 26, 2014
The models at #PFW show us all the right ways to wear leather: http://t.co/Vw3BWhgPsY pic.twitter.com/QiNsyxcO9C

— POPSUGAR Fashion (@POPSUGARFashion) September 26, 2014
Worst idea ever: watching The Fault in Our Stars on flight to Paris. A) quietly sobbing hysterically never a good look & B) now dehydrated 😩

— Eva Chen (@evachen212) September 26, 2014
See the best looks from #PFW—straight from the runway: http://t.co/doIXKgS7uk pic.twitter.com/GuvZ6ychQi

— W magazine (@wmag) September 26, 2014
.@Kanye spotting on the streets of Paris: http://t.co/xU9K9pEiNX #PFW pic.twitter.com/JTAX8hWaXm

— W magazine (@wmag) September 26, 2014
Black and white with a splash of color: Check out our Milan Fashion Week picks. #TheCutMFW
https://t.co/f4DB4g4gJD

— The Cut (@TheCut) September 25, 2014
Outside the #Dior fun house mirrors at the Louvre. #PFW pic.twitter.com/s1t85xkdRI

— Coco Rocha (@cocorocha) September 26, 2014
In Paris, we like our morning croissants with a side of @Dior. #PFW http://t.co/xqRyNUEiBp

— The Coveteur (@thecoveteur) September 26, 2014
ICYMI, @davidjulien debuted his S/S15 collection with a ballet #PFW http://t.co/05sGQZ6XsX pic.twitter.com/zthGLyTh6X

— T Magazine (@tmagazine) September 26, 2014
BEFORE YOU GO
PHOTO GALLERY
Fashion Week Street Style