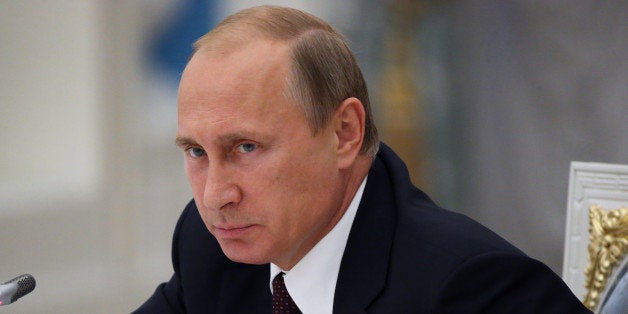 MOSCOW, Sept 26 (Reuters) - Russia's lower house of parliament passed a law on Friday aimed at limiting foreign ownership of Russian media holdings to 20 percent, in a move critics say will reinforce the dominance of Kremlin-backed media.
In its second and final readings, the draft law, which targets some of Russia's few remaining independent-minded media outlets, passed with 430 parliamentarians voting for the bill and two against it, the official Russian Gazette reported.
"In the second and third readings, there were two votes against the law which will hit Russia's media business," said Dmitry Gudkov, one of the two who voted against the law in the Duma, or lower house of parliament, which often rubber stamps pro-Kremlin initiatives.
If the parliament's upper chamber passes the bill and President Vladimir Putin signs it into law, as is expected, the new rules would take effect in 2016, giving media owners until February 2017 to adjust their ownership structure.
Putin's government speaks openly of an "information war" in which foreign journalists have attacked Moscow with reports that Russian weapons or soldiers have reinforced separatists in eastern Ukraine, claims also made by western governments and Kiev.
The law was originally welcomed by the Putin-loyal ruling United Russia party as a measure to protect Russia's "informational sovereignty."
Media in Russia, especially TV broadcasters, are under tight state control and Moscow has been consolidating its grip on print media and the Internet, where some dissenting opinions can still be expressed.
Russia's media sector has attracted the likes of German-listed Axel Springer and U.S. firm Hearst Media, both of whom have bought into the magazine market, as well as the Finnish media group Sanoma.
The influential business daily Vedomosti, co-owned by the Financial Times and the Wall Street Journal, will be affected should the law pass.
The law will also likely affect Russia's top independent broadcasting company, CTC Media, in which Sweden's MTG holds a 38 percent stake. (Reporting by Thomas Grove; Editing by Hugh Lawson)