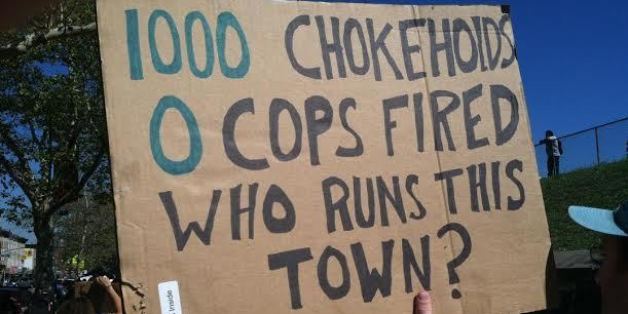 NEW YORK -- Protesters called for the firing of New York City Police Commissioner Bill Bratton at an anti-police-brutality rally Saturday in the Brooklyn neighborhood of Sunset Park.
"I have a 3-year-old daughter and I don't feel safe calling the police," Claudia Galicia, president of Sunset Park Latino Democrats, told The Huffington Post.
The rally was sparked largely by footage released Tuesday that appears to show NYPD officers slamming 5-months-pregnant Sandra Amezquita belly-first into the pavement.
Though the event focused strongly on Amezquita, protesters also carried signs referencing the chokehold death of Staten Island's Eric Garner and other cases of police violence in the city. Some protesters came out in support of their own family members they said had been mistreated by law enforcement officers. The two-hour protest was filled with chants of "no justice, no peace" and "Bill Bratton's got to go."
"We need to fire these police officers. Enough is enough," said rally organizer Dennis Flores, addressing a diverse crowd of neighborhood residents, activists, community organizers, local politicians and parents with kids in strollers. Flores is the founder of El Grito De Sunset Park, the organization that posted the footage of Amezquita to Facebook and also organized the rally.
Amezquita's attorney, Sanford Rubenstein, told HuffPost he is meeting with prosecutors next week to request an independent investigation into the officers' treatment of the woman. He added that he is pleased with the public's response to the case.
"It is always gratifying to see a community come out in support of a victim," he said.
Amezquita's case caused outrage after Flores on Tuesday posted footage on Facebook of the incident between the pregnant woman and NYPD police officers. The following day, Amezquita and her attorney released images of abdominal bruising they said was caused by an officer beating her belly with his baton.
When the incident occurred, Amezquita allegedly was trying to intervene in the arrest of her teenage son, who police say was carrying an illegal style of knife. At a Wednesday press conference, Amezquita, speaking through an interpreter, said she had simply been trying to "console" her son.
Like Us On Facebook |

Follow Us On Twitter |

Contact The Author
BEFORE YOU GO
PHOTO GALLERY
Anti-Police Violence Rally For Sandra Amezquita