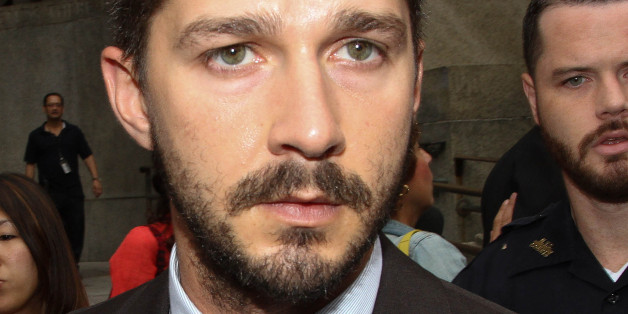 Brad Pitt is officially a fan of his "Fury" co-star Shia LaBeouf.
The recently married actor graces the cover of British GQ's November issue, and opens up within its pages about working with the "Transformers" star in the upcoming World War II drama.
"Oh, I love this boy. He's one of the best actors I've ever seen," Pitt said of LaBeouf. "He's full-on commitment, man. He's living it like no one else, let me tell you."
Since LaBeouf was caught plagiarizing his directorial debut back in 2013, the actor has become known for his increasingly strange public behavior -- which he has attributed to conscious acts of performance art -- and for going to extreme measures in his method acting. Earlier this year, rumors circled that the 28-year-old prepared for his "Fury" role as a soldier in the trenches by refusing to shower for weeks at a time.
While we can't say whether or not this is the "commitment" to which Pitt refers, whatever tactics LaBeouf did employ on set appear to have won him the iconic actor's favor.
"I've been fortunate to work with a lot of great actors," Pitt said. "He's one of the best I've seen."
BEFORE YOU GO
PHOTO GALLERY
Brad Pitt's Style When He's With His Girlfriends