Woo-hoo! The "Family Guy" and "Simpsons" crossover finally happened, but did it turn out to be a major d'oh?
It's no secret that both shows have not always seen eye-to-eye, with "The Simpsons" even sending "South Park" flowers after their two-episode takedown of "Family Guy." So it only seemed natural that the mega-hyped crossover episode consisted largely of "Family Guy" and "The Simpsons" taking shots at each other.
One awesome sequence even had Homer Simpson calling out Peter Griffin because the latter's favorite beer tasted like (and actually was) Duff beer.
"This beer tastes exactly like Duff!" said Homer. "It may have been inspired by Duff, but I like to think that it goes in a different direction," argues Peter, obviously making a reference to the fact that "Family Guy" was inspired by "The Simpsons."
Other highlights include:
A bunch of crazy cameos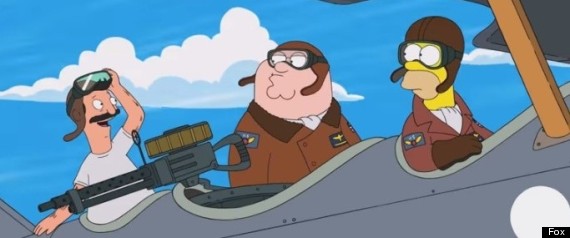 An epic fight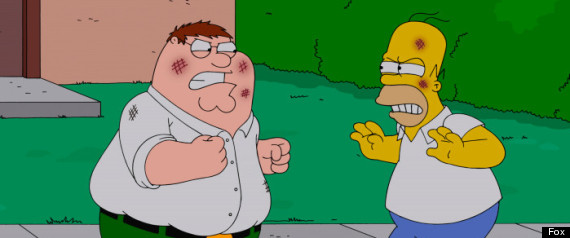 And this ...

After all was said and done, fans seemed to either love it or totally hate it:
For the record: Family Guy and The Simpsons never crossed over.

It never happened.

No. You had a bad dream.

It's okay now.

— Zack Handlen (@zhandlen) September 29, 2014
The Family Guy/Simpsons crossover episode = A+

— Derek Mellor (@Drock3316) September 29, 2014
They made a Simpsons-family guy crossover. I somehow underestimated how thoroughly the Internet could destory everything I love.

— Adrian Chen (@AdrianChen) September 29, 2014
Oh wait, The Simpsons cross over to Family Guy? Happy days, I don't have to watch that shit.

— U wot m8? (@PopeTackler) September 29, 2014
If u haven't seen yet the Family Guy and Simpsons crossover you should check it, it's a funny episode waited for years

— Athos Krul (@AthosKrul) September 29, 2014
Quite enjoying the FAMILY GUY/SIMPSONS crossover (better than the actual SIMPSONS premiere).

— Sean Kelly (@SKonMovies) September 29, 2014
Just watched the Simpsons and Family Guy crossover, i dont think i want to live anymore

— Anthony Phillips (@Phillips_Anthon) September 29, 2014
The Family Guy and Simpsons crossover is the best thing ever!

— Craig (@CraigGardinerr) September 29, 2014
I feel a great deal of shame in saying that the Simpsons/Family Guy crossover was actually kinda funny.

— Steve (@stevepic1) September 29, 2014
What did you think of the "Family Guy"/"Simpsons" crossover?
BEFORE YOU GO
PHOTO GALLERY
Best TV Crossovers