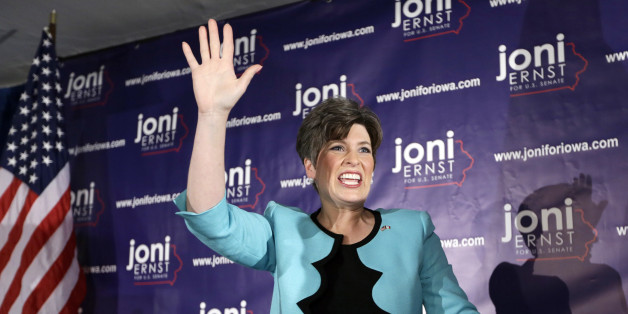 New state surveys continue to point to a midterm edge for the GOP. The stats on early voting have some good news for the Democrats. And Clippy may soon be asking if you need some help conducting your polls. This is HuffPollster for Monday, September 29, 2014.
DMR IOWA POLL: ERNST PULLING AHEAD?: A new Iowa Poll published on Sunday by the Des Moines Register gives Republican candidate Joni Ernst a 6 percentage lead over Democrat Bruce Braley (44 to 38 percent) among likely voters. "The ground under Bruce Braley has shifted," the Register reported, noting that other polls conducted earlier this year had given the Democrat a wide lead. [Register]
As the HuffPost Pollster chart shows, Ernst did gain in polls after her come-from-behind primary victory in June. However, the Register poll, conducted by Iowa pollster Ann Selzer, had a relatively small sample size (just 546 likely voters) and found a large number of undecided voters (12 percent). Most recent polls have shown a close race in Iowa, with the exception of a Quinnipiac survey of likely voters conducted two weeks ago, showing a similar 6-point Ernst lead. The Pollster poll tracking model, based on all of the publicly released polls but calibrated to track the best performing non-partisan surveys, continues to give Ernst a very slight advantage -- just a percentage point and a half (as of this writing). With a margin that close, the model is still uncertain about the ultimate outcome, giving Ernst only a 52 percent chance of winning in November. [Pollster Iowa chart]
Other reactions:
-Harry Enten, 538: "Keep in mind, Selzer (DMR) poll is ranked as the most accurate of any pollster by @fivethirtyeight...No pollster is perfect & a wise consumer looks at all data, but the river is lined with bodies of those who thought Selzer was out to lunch." [@ForecasterEnten here and here]
-Nate Silver: 538: "[T]he Des Moines Register's poll may be a great one — our forecast model weighs it more heavily than any other in the state...but it's still just one poll....it's usually a mistake to bank on any one poll as opposed to the average or consensus. There are intrinsic limits on how accurate one poll can be, especially if it has a small sample size as the Register's poll did." [538]
-Drew Linzer, DailyKos: "Unless the Des Moines Register has figured out how to ward off sampling error, this poll will be averaged...our 2-pty vote [estimate] of Ernst 51-Braley 49 is within the 4.2% MOE of DMR's 54-46.w/ the rest" [@DrewLinzer here and here]
POLLS FIND DEM EDGE IN NC, RUNOFF LIKELY IN LA - A CNN/ORC poll of North Carolina, also released Sunday, marked the tenth in a row to show Sen. Kay Hagan (D) with at least a nominal edge over Republican Thom Tillis (R) -- in this case, a 3-point lead among likely voters, 46 percent to 43 percent. The Pollster model also gives Hagan about a 3-point advantage, and a nearly 58 percent chance of winning, making it the most Democratic-friendly of the six races we currently consider tossups. One less promising sign for Hagan, however: the CNN poll gives her a net -1 favorable rating among likely voters, while Tillis stands at +7. [North Carolina chart, CNN]
In Louisiana, CNN/ORC finds Sen. Mary Landrieu (D) taking 43 percent in a three-way matchup against Bill Cassidy (R) and Rob Maness (R) -- a plurality, but not close to the 50 percent needed to avoid a post-Election Day runoff. In a head-to-head question between Landrieu and Cassidy, Cassidy captured most of Maness' supporters, taking a 3-point advantage over Landrieu. CNN's polling director, Keating Holland, cautions that the poll measures which voters are likely to turn out in November, but that a runoff electorate could look different. "Keep in mind that the electorate in December is probably going to be smaller and quite a bit different from those who turn out to vote in November," he told CNN. HuffPollster's chart shows a slight edge for Cassidy in most recent polls, with one survey, from Fox, giving him an 13-point lead. The model gives him an almost 4-point lead, and a 60 percent chance of victory. [Louisiana chart, CNN]
SURVEY GIVES GOP LEAD IN AR - A Rasmussen poll of Arkansas gives Tom Cotton (R) a 7-point lead over Sen. Mark Pryor (D), among the widest margins he's seen in non-partisan polling. Other surveys this month have shown little consensus on the race, with Suffolk/USA Today and a Hickman poll for the DSCC showing Pryor ahead, and CBS/NYT/YouGov, NBC/Marist, CNN, Gravis, and the Democratic firm PPP giving Cotton a lead of varying sizes. The Pollster average puts Cotton narrowly ahead. [Arkansas chart]
OVERALL SENATE OUTLOOK - The weekend's new polls had little impact on the Pollster tracking model's overall assessment of the race for the U.S. Senate. The current polling snapshot currently shows a clear path to a Republican majority, with GOP candidates holding whisker thin advantages in four states currently held by Democrats -- Iowa, Alaska, Colorado and Arkansas. Republican victories in all four states would track to a Republican majority of 53 seats, but the margins are still close enough that the model reports the probability of Republican success at near 50 percent in each state. As such, our model continues to rate the probability of a Republicans winning a majority at 58 percent -- better than a coin toss, but just barely. [HuffPost Pollster Senate Forecast]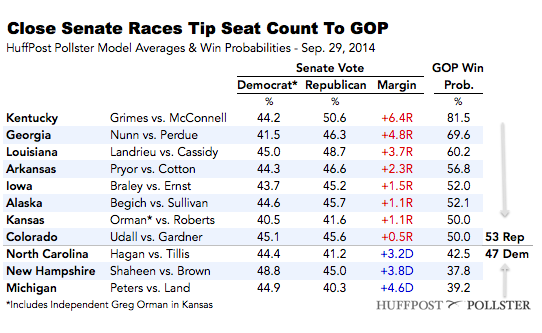 Bad news for Dems? - Nate Cohn: "If the polls of early September were a reminder that the Democratic path to 50 seats remains open, then the last two weeks were a reminder of how quickly that path could close….The shift toward the Republicans is not necessarily significant. The national race is so close that moving a key state by one or two points in either direction can produce a seemingly large shift in the overall Senate picture. Nonetheless, the last week or so of one- or two-point shifts have made the Republican path to 51 seats look easier….A couple of weeks ago, the Democrats appeared to hold at least a nominal lead in [Iowa, North Carolina, Alaska and Colorado]. The last week of polls highlighted just how tenuous those leads were." [NYT]
DEMOCRATS LEAD IN EARLY VOTING EFFORTS - Michael P. McDonald: "Fall has just begun and voters are already casting ballots in key states holding U.S. Senate races that will likely determine which party will be the Senate majority. So far, at least 18,000 people have already cast mail ballots as of Friday, September 26, 38 days out from Election Day on November 4….The $60 million voter mobilization "Bannock Street project" is a key component of the DSCC's strategy to expand the electorate just enough in the most closely contested states to lift the Democrats' candidates over the top. The fingerprints of these efforts can be seen in these data, as well. The DSCC's investment appears to be paying off. There are signs Republicans are not going to cede early voting, but their efforts are being swamped by the Democrats' mobilization drives….Democrats have a commanding lead among Iowa's mail ballot requests. Registered Democrats comprise 52.6 percent of Iowans who have requested ballots so far, while Republicans compose only 26.7 percent. In 2010, Democrats were 43.7 percent compared to 38.0 percent for Republicans among all ballots cast." [HuffPost]
MICROSOFT LAUNCHES A SURVEY PROJECT - Alan Schwarz: "On Monday, Microsoft is starting a relatively straightforward survey website calledMicrosoft Prediction Lab, where users can submit their views and predictions regarding politics, sports and other subjects. The more novel part of Microsoft's plan will come later, though, when Cortana — Microsoft's answer to Siri — starts conducting interviews herself, imitating human pollsters....Microsoft's survey website derives directly from the company's relatively quiet 2012 polling experiment with, of all things, its Xbox video game console. Despite a sample that was overwhelming male and heavily young, Microsoft researchers were able to weight the answers to produce an outcome generally in line with major exit polls and other probabilistic models, according to a paper published in the International Journal of Forecasting….Microsoft will move away from the Xbox for this fall's midterm elections to focus on its new website, allowing for vastly more respondents from different demographic groups." [NYT]
HUFFPOLLSTER VIA EMAIL! - You can receive this daily update every weekday morning via email! Just click here, enter your email address, and and click "sign up." That's all there is to it (and you can unsubscribe anytime).
MONDAY'S 'OUTLIERS' - Links to the best of news at the intersection of polling, politics and political data:
-Most Americans expect the U.S. will use combat troops against ISIS. [NBC]
-Today's top issues are really confusing, a poll finds. [AP]
-Republicans are happier with their representative in the U.S. House than Democrats are. [YouGov]
-Hispanic approval of Obama's job performance has dropped to a near low. [Gallup]
-Chris Cillizza, Aaron Blake and Sean Sullivan discuss the five races likely to determine control of the Senate. [WashPost]
-Aaron Blake looks into Eric Holder's approval numbers. [WashPost]
-Can big data combat unfair hiring practices? [National Journal]
-American National Election Studies releases their 2012 cumulative data file [ANES]
-Here are four charts about pumpkins. [Vox]