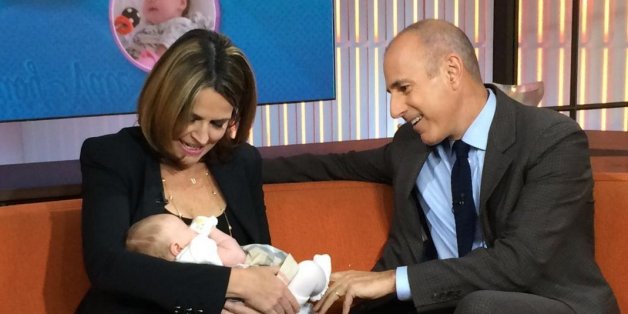 Savannah Guthrie's 1-month-old baby met Ben Affleck this morning. What have YOU done today?
That time baby Vale met Ben Affleck. pic.twitter.com/NsR4MGv8P6

— TODAY (@TODAYshow) September 29, 2014
That's right. Guthrie brought newborn baby Vale to see the "Today" show staff and walk (be carried) around Studio 1A for the first time on Monday.
The surprised co-hosts pretty much couldn't do anything but look at the baby for the rest of the time:
Amazing morning @SavannahGuthrie and baby Vale just surprised us live. @TODAYshow baby love. I can't stop looking at this beautiful baby!!

— Tamron Hall (@tamronhall) September 29, 2014
"She is the best baby ever!" -@MLauer loves #Vale! pic.twitter.com/YxSYhHq2ym

— TODAY (@TODAYshow) September 29, 2014
Guthrie also announced that she will be returning to the morning show on November 3rd. Whether or not Vale will return with her as a new co-host is still up in the air.