Minnesota's largest newspaper is coming under fire for the decision to publish a full-page anti-transgender ad from the Minnesota Child Protection League, which is reportedly an anti-LGBT group.
According to TheColu.mn, the ad by the MNCPL is an effort to help stop the Minnesota State High School League from adopting an inclusive policy for transgender athletes.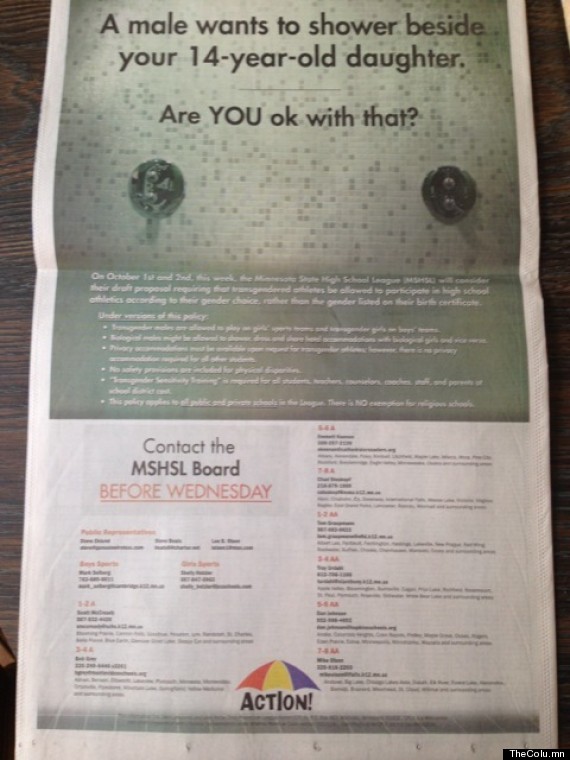 The ad appeared in the Sunday edition of the Star Tribune, immediately instigating backlash on social media from outraged subscribers.
Oh, @StarTribune, hate speech is not very Minnesotan. http://t.co/01kNEjNAX8

— Alex Murphy (@SirAlexMurphy) September 29, 2014
@StarTribune you have GOT to be kidding me! WTH? http://t.co/M1OUvYfaZV.

— Molly M. (@911grrl) September 29, 2014
I'm ready to cancel my @StarTribune Sunday subscription over the ridiculous anti-transgender ad they allowed in today's paper.

— Kevin Myers (@MyFansanity) September 28, 2014
Citypages reportedly reached out to Steve Yaeger, the paper's VP of marketing and public relations, in order to inquire about the paper's decision to run the ad. He responded,
If you were doing a story on how media of all kinds (broadcast, print, digital) handle campaign and advocacy advertising, I'd consider how we could contribute to the conversation. But I don't think that's what you're doing.

In Minnesota, organizations and individuals of all kinds -- left, right, other -- know that if you want to reach the largest audience and have the biggest impact with your message, the best way to do it is advertising in the Star Tribune.
Head here to read the proposed transgender policy for the Minnesota State High School League.
BEFORE YOU GO
PHOTO GALLERY
15 Things To Know About Being Transgender By Nicholas M. Teich