TOP STORIES
OBAMA: U.S. INTELLIGENCE FAILED TO FULLY IDENTIFY ISIS THREAT "President Barack Obama said U.S. intelligence underestimated that the political chaos in Syria over the past several years would create an environment for extremist group Islamic State to thrive. 'This became ground zero for jihadists around the world,' he said." Airstrikes against ISIS targets continued in Syria this weekend. And the Twitter account of an al Qaeda member suggests the leader of the Khorasan terrorist cell was killed in the first round of airstrikes last week. [WSJ]
BELGIUM: THE NEW RADICALIZATION HAVEN

"Belgian authorities say roughly 300 Belgians — 80 from Antwerp and nearby cities — have traveled to Syria, a disproportionate number for a country of 11 million." In light of increasing extremism, European countries are considering how to beef up their "deradicalization" programs. [WSJ]
HONG KONG PROTESTS OVERWHELM CITY "A wave of public protest in Hong Kong extended into the working week on Monday as thousands of residents defied a government call to abandon street blockades across the city, students boycotted classes and the city's influential bar association added to condemnation of a police crackdown on protesters a day earlier." The crowds are only growing, and many banks have been shuttered. [Story, Image via NYT]
MAN WHO BEHEADED WOMAN FACES CHARGES The Oklahoma man who beheaded a coworker and stabbed another before being apprehended will face criminal charges today. So far, Alton Alexander Nolen, a recent convert to Islam who coworkers said was attempting to convert them, hasn't been linked to any terrorist organizations. [CNN]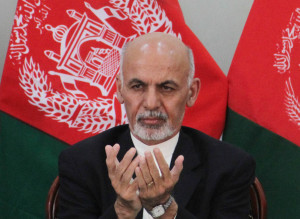 MEET AFGHANISTAN'S NEW PRESIDENT "Former World Bank official Ashraf Ghani was sworn in as Afghanistan's new president Monday, marking the first democratic transfer of power in the country's history … The inauguration also marks the exit of Hamid Karzai, who had run the country since he was installed as president with U.S. backing in 2001. The country then had emerged from a civil war and Taliban rule." [WSJ]
GINSBERG'S LEAST FAVORITE RULING Citizens United v. Federal Election Commission, which opened the floodgates of independent political spending for corporations and unions, takes the honor of being the ruling that keeps Supreme Court Justice Ruth Bader Ginsburg up at night. [HuffPost]
SINGLE SUSPECT IN FERGUSON POLICE SHOOTING While attempting to thwart a robbery, a male police officer was shot in the arm in Ferguson Saturday night. Police are searching for a single suspect, and questions remain about why the officer's body camera was turned off during the incident. Seven protesters were arrested Sunday night as tensions continue to simmer. [St. Louis Post-Dispatch]
WHAT'S BREWING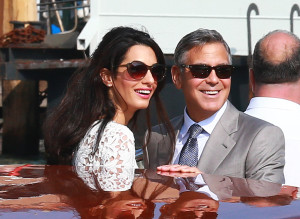 BACHELOR NO MORE George Clooney is off the market officially, ladies. Here are all the paparazzi photos from his Venice showstopper of a wedding to acclaimed lawyer Amal Alamuddin. [Daily Mail]
EVEN THOUGH FALL TV RESTARTED There's always time for a Netflix binge. Here's what's coming Wednesday. [HuffPost]
YOU CAN EAT CLOUD No, that's not a typo. [The Creators Project]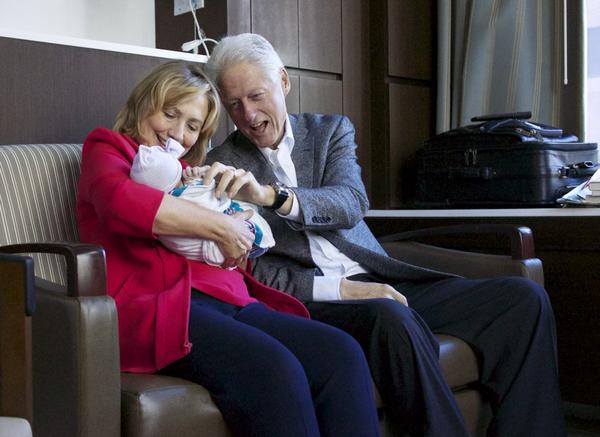 WELCOME CHARLOTTE CLINTON Sorry, Charlotte Clinton Mezvinsky. [Story via Page Six, Image via Twitter]
MATCHING OUTFITS ARE BACK At least for Kim Kardashian and North West at Paris Fashion Week. [HuffPost]
WHAT YOUR BRAIN DOES WHILE YOU SLEEP It stops counting sheep, for one. [HuffPost]
ON THE BLOG
HARVEY WEINSTEIN: JORDAN REFUGEE CAMP HEARTBREAK "There are two Champs-Élysées in the world. One is in Paris. It's filled with movie theaters, boutiques, markets, and fantastic restaurants. Two months ago, I found myself walking down the other Champs-Élysées, nicknamed by aid workers, in the middle of the Zaatari refugee camp in Jordan." [HuffPost]
BEFORE YOU GO
~ Pepperoni pizza cake is real.
~ You haven't been eating ice cream properly.
~ Welcome to the CIA Starbucks, where baristas can't write customers' names.
~ This is what the kickstarter potato salad guy did with his 55k.
~ Happy National Coffee day! Here's where to get a free cup of a caffeine pick-up for this Monday morning.
~ And because you want to up your basic status, here are pie toppers for your mugs.