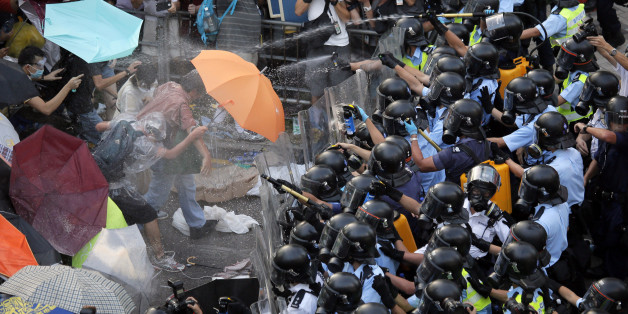 As protests against China's new rules for Hong Kong's election continued this week, activists have been using umbrellas in an effort to shield themselves from police pepper spray and tear gas.
The umbrellas also have become a potent symbol for those demanding democratic elections. Foreign media started calling the protests the "umbrella revolution." Participants quickly amended the tag to "umbrella movement."
According to the Facebook page of Hong Kong Democracy Now:
Foreign media has titled this movement the 'Umbrella Revolution.' This is hardly a revolution. 'Umbrella Movement' is a more suitable title in this context. The only 'weapons' we have, at most, are the umbrellas we always carry in our bags for the unpredictable weather. Hongkongers wish for nothing but stability. However, as much as we cannot see through the cloudy skies, we do not wish to be stormed upon. 'Umbrella Movement' represents a mellow but determined campaign: In the face of gale and storm, we will never back down!
As the protests have continued, the umbrellas have become more diverse and more ubiquitous. A a slew of striking images have popped up across social media. A few favorites: