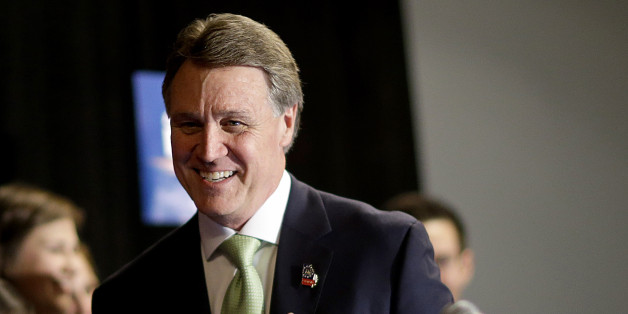 WASHINGTON -- Georgia GOP Senate candidate David Perdue has touted his background as a businessman in his race against Democrat Michelle Nunn, arguing that his experience in the private sector makes him better qualified to take on America's economic problems.
But lines that work well before a business audience don't always play well with other voters, as Perdue apparently has realized.
During a Georgia Chamber of Commerce forum on Aug. 21, Perdue talked about the best way to spur economic growth.
"We're losing our competitive edge because we're not paying attention to our infrastructure," he said. "It's one of the five basic precepts of economic development: regulatory control, educated workforce, water, cheap power and infrastructure. That's how you grow an economy."
Perdue has cited those precepts in the past as well. But the difference was that in 2007, he attributed them to Lee Kuan Yew, the controversial former prime minister of Singapore. At the time, he also listed just four factors.
"Lee Kuan Yew, Singapore's former premier and mastermind of Singapore's economic miracle of the last 40 years, once said that economic development depended on four fundamental prerequisites: (1) dependable electricity, (2) clean, potable water, (3) world-class transportation, and (4) an educated, skilled workforce. Having lived in Singapore, I can tell you that they were successful on each of these," said Perdue in a 2007 speech to the U.S. Chamber of Commerce.
He added that while the United States has traditionally been able to take those elements for granted, this luxury was "coming to an end."
According to Perdue's biography, he has done business in Singapore.
Singapore's economy grew dramatically under Lee, who served as prime minister from 1959 to 1990. Over the years, he received a significant amount of praise from politicians around the world. President Barack Obama has called him "an outstanding friend and ally of the United States for many, many years," and former British Prime Minister Tony Blair described him as "the smartest leader I ever met."
But Lee's regime was also often criticized for its strict controls. In 2000, New York Times columnist Nicholas Kristof said "many in the West" found his "authoritarian policies ... harder to stomach." National Geographic has called Lee's model "a unique mix of economic empowerment and tightly controlled personal liberties."
Lee aggressively cracked down on Communist sympathizers, stifled dissent and became famous for harsh policies such as a "ban on chewing gum and the caning of people for spray-painting cars." In 1997, the late conservative columnist William Safire wrote in The New York Times that Lee had overseen an "ultra-orderly economy and anti-democratic politics."
In other words, Lee might not be the best person for an American political candidate to be quoting on the campaign trail.
When asked why Perdue is no longer mentioning Lee, campaign spokeswoman Megan Whittemore played down the connection to the former Singapore politician.
"These are generally accepted economic principles, which both Republicans and Democrats agree are needed for economic development," she said. "Even President Obama talks regularly about the need for improved infrastructure, reliable energy resources, and an educated workforce. Where we don't agree is how we achieve these goals, and David supports doing so through a free market economy."
HuffPost Pollster, which averages publicly available polling, has Perdue with a slight lead over Nunn.
Want more updates from Amanda? Sign up for her newsletter, Piping Hot Truth.
BEFORE YOU GO
PHOTO GALLERY
Senate Seats Up For Grabs In 2014