Now that the deadly Ebola virus has arrived in the United States, there is only one logical thing to do: Buy stocks!
Yes, shares of companies that make, or are trying to make, Ebola vaccines and treatments jumped in after-hours trading on Tuesday on news of the first patient diagnosed with the virus in the U.S.
Here's a chart, courtesy of Google Finance, showing what happened to the stock price of NewLink Genetics Corp., an Ames, Iowa, company working on an Ebola vaccine, just after the news broke. Because it's a little hard to read, we've added giant honking red arrows to point out the 14-percent jump that took place in a matter of minutes: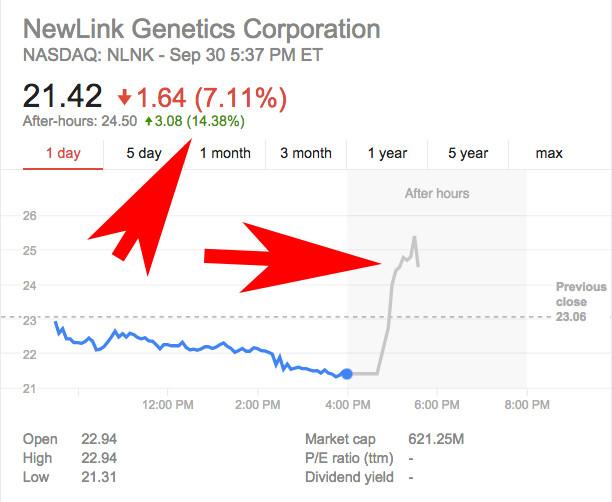 Also enjoying big stock-price jumps after hours are Tekmira Pharmaceuticals, up about 20 percent; BioCryst Pharmaceuticals, up 12 percent; and Sarepta Therapeutics, up 7 percent. All are working on Ebola treatments that might get tested and approved with a little more urgency now that the disease, which has already killed more than 3,000 people in Africa, has hit U.S. shores.
BEFORE YOU GO
PHOTO GALLERY
Symptoms of Ebola