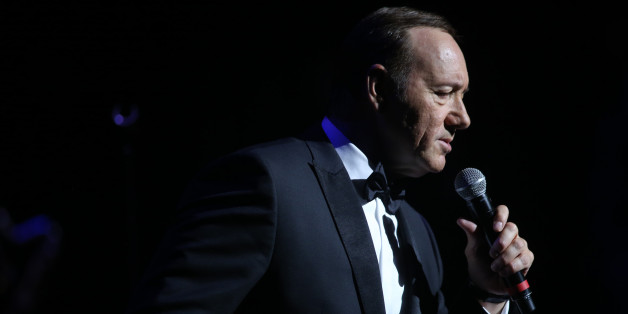 WASHINGTON -- Rarely do leaders from both parties come together to support one cause, but if "House of Cards" has taught us anything, it's that nothing stops Frank Underwood from getting what he wants.
Thus it came as no surprise that everyone from second lady Jill Biden and House Minority Whip Steny Hoyer (D-Md.) to House Majority Leader Kevin McCarthy (R-Calif.) and Rep. Aaron Shock (R-Ill.) descended upon Sidney Harman Hall on Monday night to support Kevin Spacey, who plays Underwood in the Netflix series. The occasion was a concert to benefit Spacey's foundation for the performing arts. Hoyer and McCarthy, whom Spacey said were "instrumental" in his research for the role of Underwood, were honorary co-chairs of the event.
Despite battling a cold, the Oscar-winning actor enthralled a packed crowd of nearly 800 while performing a range of classic songs, including "Fly Me to the Moon," "Bridge Over Troubled Water" and "Luck Be a Lady." Spacey also brought his Washington alter ego with him, welcoming the audience to "an evening to benefit the Frank Underwood super PAC."
"I do apologize if you were misinformed about the intentions of this occasion," he said in Underwood's Southern accent, a move that won him instant laughter and applause.
Aside from a few jokes, Spacey mainly assumed the character between songs to offer "pearls of wisdom" collected from two seasons of playing the ambitious House majority whip-turned-president. He tied the spirit behind a number of Underwood quotes to his nonprofit foundation, which fosters emerging talent in the performing arts through scholarships and grants. From what he called "Frank Underwood's Guide to Philanthropy," he offered such advice as, "If you don't like how the table is set, turn over the table," "Generosity is its own form of power," and "Power is a lot like real estate. It's all about location, location, location. The closer you are to the source, the higher your property value."
The crowd responded enthusiastically each and every time Spacey spoke as Underwood, a testament to the popularity of "House of Cards" in the nation's capital -- despite the tendency among politicos to criticize its portrayal of Washington. Spacey acknowledged that irony and noted that Hoyer and McCarthy, despite having helped him with the role, later went on to criticize the show.
"You've got to give credit to the power of Frank Underwood to get both sides of the House to agree on something," he quipped.
After a brief intermission, Spacey reappeared with a harmonica for a rendition of Billy Joel's "Piano Man," which was undoubtedly his most well-received bit. The audience erupted into cheers from the moment he began the song on his harmonica, which Spacey said he hadn't learned how to play until just days before the concert.
Another highlight came in the form of his fellow actor and friend Jeff Goldblum, who surprised the audience by performing a duet with Spacey to "Me and My Shadow" and accompanying him on the piano for Lionel Richie's "All Night Long." Dancing around the stage himself, Spacey added lines of his own, telling the audience to "Dance like Beyoncé! Dance like Nancy Pelosi!"
Short films between the live acts served as reminders of what the evening was really about, showcasing young students whom the Kevin Spacey Foundation had helped to pursue their dreams as actors, singers and dancers. Funding for art programs is often among the first items on the chopping block as governments grapple with budget cuts, and Spacey later told The Huffington Post that he hoped to raise awareness of why art matters before an audience that could make a difference.
"Look, there are some who believe that arts and culture are a luxury and that we can do without it, and there are others who believe, like I do, that it's a vital part of our lives," said Spacey, who noted that in 2011 he delivered the Nancy Hanks Lecture on Arts and Public Policy with a similar message. (Back then, he declared, "The real question is not whether we as a nation can afford to continue to support the arts, but whether we can afford not to.")
"I hope that more and more will begin to realize that these are vital parts of our lives," Spacey said. "These are the things that we have shared experiences about and we talk about culturally -- music, dance, theater, film, television. This is what people are passionate about."
The tagline of Spacey's foundation, "Sending the elevator back down," is a phrase he picked up from Jack Lemmon, the legendary actor who was a mentor and close friend. Asked by HuffPost what those words meant to him, Spacey described the idea as something far beyond simply giving money.
"It's when I'm in a workshop and I see that kid in a corner who is really shy and wants to be involved but doesn't know how or maybe is a little scared," Spacey said. "I was that kid, and I want that kid to have an experience of realizing something about themselves that they didn't know that they were capable of, that they could stand in front of their peers and experience something, share something, find a level of confidence they didn't know they had. That's the moment I live for, because that was me."
"I think any teacher will talk about that happening in a classroom, when you see a child suddenly figure it out," he added. "It's an extraordinary thing, it's the most powerful thing in the world, and it's really tiny -- but for them it's gigantic. And I'll never forget when that happened to me."