Fifteen months ago, an unknown person left a litter of 10 Doberman mix puppies for dead, abandoning them in a dumpster behind a gas station before they even had their first meals.
A good Samaritan who stumbled upon the hours-old pups whisked them to Western Nevada's Pet Network Humane Society, where, thanks to vigilant care, six of the animals survived. This weekend, all six celebrated their first birthdays -- a little late, but still happy to be together for a late, rowdy, life-affirming reunion.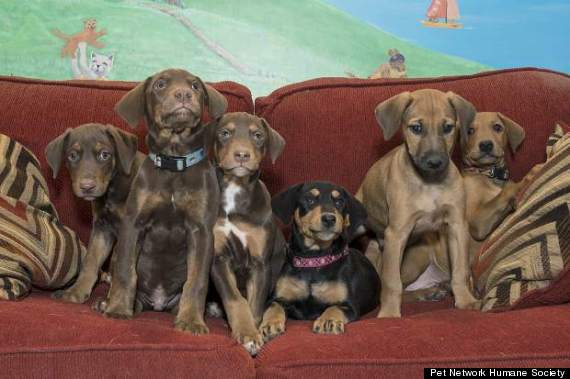 The "dumpster puppies" strike a pose in this Sept. 2013 photo provided by the Pet Network Humane Society.
"I don't know if you can put into words what it's like to have six, 80-90 pound dogs come galloping through the door," Pet Network's Executive Director Becky Goodman told KRNV. "This is why we're here," she added. "This is why we come in and come to work every day -– is so that we see these types of happy endings."
The dogs, named Reggie, Dobbs, Diva, Maisie, Otter and Bandit, marked the occasion with individual peanut-butter birthday cakes as their humans looked on lovingly.
Goodman told the Tahoe Daily Tribune the puppies survived thanks to 20 volunteers who fostered the animals, and more than 100 people who donated nearly $5,000 to help cover their expenses.
In an email to The Huffington Post, she added that all of the so-called "dumpster puppies" are healthy and happy in their forever homes. She also encouraged people to support all the nonprofit animal rescues "whose life-saving work makes these happy endings possible."
BEFORE YOU GO