TOP STORIES
SHOCKING WHITE HOUSE INTRUDER DETAILS EMERGE "The man who jumped the White House fence this month and sprinted through the front door made it much farther into the building than previously known, overpowering one Secret Service officer and running through much of the main floor, according to three people familiar with the incident. An alarm box near the front entrance of the White House designed to alert guards to an intruder had been muted at what officers believed was a request of the usher's office." Here's a map of Omar Gonzalez's route. Secret Service Director Julia Pierson will testify before the House Oversight and Government Reform Committee today about the incident. And a former Secret Service agent argues that during times of war, the military should step in for the Secret Service. [WaPo]
HONG KONG PROTESTERS SET DEADLINE

"Pro-democracy protesters in Hong Kong set a Wednesday deadline for a response from the government to meet their demands for reforms after spending another night blocking streets in an unprecedented show of civil disobedience." Here are five things you should know about the pro-democracy protests. Hong Kong's Beijing-appointed leader is calling for an immediate end to the protests, while China's tools to address the protest appear limited. The country is less than pleased about the foreign support for the protests. And meet the "teenage wunderkid who is among the first arrested in Hong Kong's Occupy central." [AP]

U.S., AFGHANISTAN SIGN SECURITY PACT "The United States and Afghanistan on Tuesday signed a vital security deal that allows some American troops to remain in Afghanistan beyond this year, ensuring a continuing U.S. presence in the region. The Bilateral Security Agreement allows for 9,800 U.S. soldiers to stay in the country past 2014 to help train, equip and advise Afghan military and police forces. It arrives as the Taliban Islamist movement is increasingly attacking areas around the country in an effort to regain control as most foreign troops are scheduled to leave by the end of the year." [WaPo]

TEXAS MAN SUSPECTED TO HAVE EBOLA After reviewing the Dallas man's symptoms and recent travel, Texas Health Presbyterian Hospital officials believe the man has contracted the deadly virus. [AP]
SUSPECT ARRESTED IN UVA DISAPPEARANCE LINKED TO PRIOR MURDER CASE "A forensic clue uncovered in the investigation of a missing University of Virginia student [Hannah Graham] has led investigators to believe they have 'a significant break' in the unsolved death of another young woman [Morgan Harrington] who had vanished from the campus five years ago, police said Monday, and perhaps an unsolved rape from years before." Here's a timeline of the disappearance of Morgan Harrington. [AP]
DE BLASIO TO ANNOUNCE INCREASE IN NYC LIVING WAGE New York City Mayor Bill de Blasio is set to announce an expansion of the city's living wage that will raise it from $11.90 to $13.13. [NYT]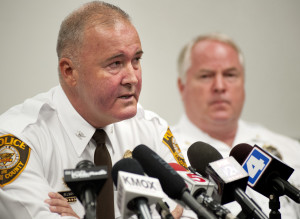 FERGUSON POLICE ADMIT ARREST OF SOME PEACEFUL CITIZENS "St. Louis County Police Chief Jon Belmar, who helped oversee last month's aggressive response to protests in Ferguson, Missouri, said Monday that communications failures led police to lock up peaceful citizens during daytime hours." The ACLU is fighting to get rid of the "five-second" or "keep moving" rule that enabled such arrests. [HuffPost]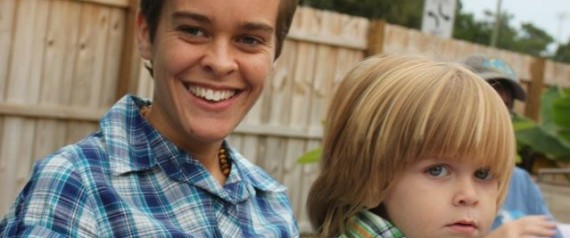 BLOGGER CHARGED WITH POISONING HER SON SAYS HE DID IT "An upstate New York mom accused of killing her 5-year-old son says the child may be responsible for his own death, according to prosecutors. The Journal News reports that Lacey Spears told prosecutors her son, Garnett, could have put sodium chloride into his own feeding tube and that might have been what killed him in January at a hospital in Valhalla. Spears who blogged about her son's health struggles was investigated earlier this year and charged with murder and manslaughter." [HuffPost]
WALMART BLAMES TRACY MORGAN FOR INJURIES After a car crash involving a Walmart truck driver left one dead and actor Tracy Morgan severely injured, the company is arguing the damage could have been prevented if the occupants had been wearing seat belts. [HuffPost]
WHAT'S BREWING
FCC TO 'LOOSEN' NFL BLACKOUT RULE "For decades, football fans in various markets wondered whether, come Sunday, they would be able to watch their lamentable but beloved team on television. If tickets to that week's game were not sold out, the National Football League could keep the game off television in the local market as a way to protect gate receipts. But the Federal Communications Commission appears ready to loosen some of those restrictions on Tuesday, allowing cable and satellite providers to show the game regardless of the number of tickets sold — and upsetting the N.F.L. in the process." [NYT]
AMANDA BYNES ARRESTED FOR DUI Oh for the days of "She's the Man" … [HuffPost]
MAGIC MIKE XXL FILLING OUT Mike Strahan, Donald Glover, and a road trip for the boys! [People]
ARETHA COVERED ADELE Musical heaven. [Vulture]
WHERE THE GOLD RUSH NEVER ENDED "'The attraction? It's just...gold. It's like liquid sun or something.' Bill Dunlevy, head of the Anchorage chapter of the Gold Prospectors' Association of America, said it as though he could still not believe, even after all these years, that it was his to go out and get. It was the astonishment that has drawn hundreds of thousands of people north, and not unlike the astonishment I felt when I learned that this way of life still exists." [Story, Image via The Atlantic]
NETFLIX MOVES INTO MOVIE GAME The streaming service announced they will be producing the sequel to the award-winning "Crouching Tiger, Hidden Dragon." Netflix will simultaneously release the sequel while it plays in IMAX theaters. [HuffPost]
PICK THE PERFECT OFFICE PLANT Haworthia, anyone? [HuffPost]
WHAT WINDOWS 9 WILL LOOK LIKE Because you weren't already tired of all the Windows 8 hullabaloo. [Business Insider]
ON THE BLOG
DAN RATHER: DEREK JETER'S MORTALITY "What must this past season have been like for a man with still so much life before him, hearing all those eulogies to his youth? 'Ballplayer' is the only identity Jeter has ever known, and now, at an age when many are only getting started, he will have to redefine his life." [HuffPost]
BEFORE YOU GO
~ What a Lehman Brothers bailout would have looked like.
~ People Magazine has the first official photos of George Clooney and Amal Alamuddin's wedding.
~ Meet the new GoPro.
~ Do standing desks give you cankles?
~ The trailer for Thomas Pynchon's "Inherent Vice" is as much of a postmodern acid trip as you'd think it would be.
~ So whales can sometimes get caught on camera eating sharks.
~ Here are the first images of the female Thor.
~ And Brad Pitt said Shia LeBeouf is "one of the best actors I've ever seen."