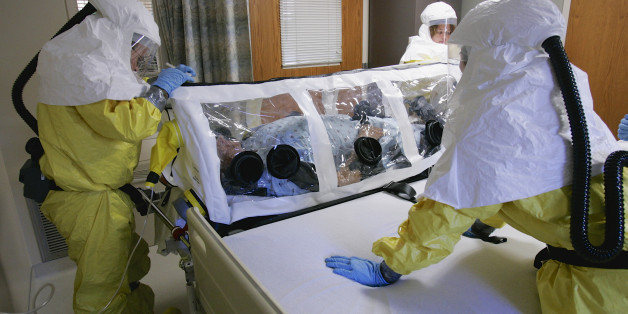 Let's get one thing straight: You are not going to get Ebola. Donald Trump is not going to get Ebola. You are more likely to be killed by Batman, the ride. Ebola-like viruses have already breached our borders, and there were no secondary infections. There are airport workers whose job it is to identify passengers who have flu-like symptoms and quarantine them immediately. And the disease is only spread through contact with bodily fluids, so there's little chance that even the unlucky seat-mate of the Ebola flyer would catch it.
Nevertheless, Ebola is a rare disease, and the fact that it's both incurable and highly lethal naturally prompts morbid fascination. So let's say there was a science-fiction scenario in which you, dear reader, were infected with this deadly hemorrhagic fever. The ways in which the American healthcare system have prepared for such a thing offer some interesting insights into infectious-disease protocols and the pharmaceutical industry.
The following is an account of what would happen if you did, in fact, come down with Ebola, according to interviews with a number of infectious disease specialists.