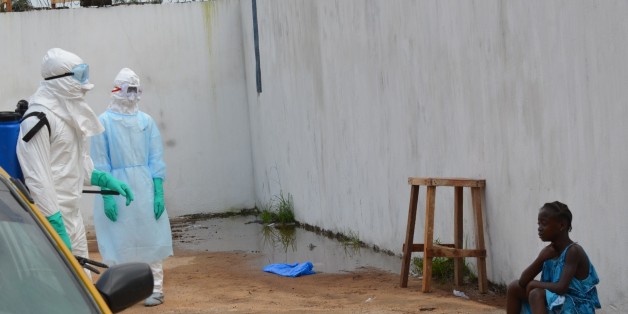 Thousands of children have been orphaned by the Ebola crisis raging through West Africa, and many have nowhere to turn since surviving relatives are reluctant to take them in.
At least 3,700 kids in Guinea, Liberia and Sierra Leone have lost one or both parents to the deadly virus and those figures will likely double by mid-October, according to preliminary UNICEF estimates. Many of these children are now faced with uncertainty because their family members are afraid to take care of them.
"These [orphaned] children urgently need special attention and support; yet many of them feel unwanted and even abandoned," Manuel Fontaine, UNICEF regional director for West & Central Africa, said in a statement. "Orphans are usually taken in by a member of the extended family, but in some communities, the fear surrounding Ebola is becoming stronger than family ties."
Since the virus first struck West Africa six months ago, more than 3,000 people have succumbed to Ebola and the World Health Organization estimates that it could eventually infect 20,000 people.
UNICEF is focusing its efforts on addressing the specific needs of children affected by the outbreak.
In Liberia, for example, the organization is helping to train 400 additional mental health and social workers and is strengthening support for children who have been abandoned. Over the next six months, the organization will train more than 2,500 Ebola survivors, who are now immune to the disease, to provide care for children in Sierra Leone who have been quarantined to treatment centers. In Guinea, UNICEF will provide about 60,000 vulnerable children and families with psychosocial support.
The group has had some major successes in finding homes for kids who have lost parents.
Back in August, Issata, 2, was infected with Ebola and managed to survive, but her mom and dad didn't. Soon after, Jaminatu, a volunteer at the hospital where Issata was treated, decided to take the baby girl in, UNICEF wrote on its facebook page. Jaminatu hopes the child will one day become a doctor and "help treat others."
While UNICEF has effective systems in place, it still needs significantly more funding in order to offer the proper care Ebola victims need.
The group appealed for $200 million to provide emergency assistance to children and families affected by the crisis, but has only gotten 25 percent of that amount so far.
"Ebola is turning a basic human reaction like comforting a sick child into a potential death sentence," Fontaine said in a statement. "The vast majority of the children affected by Ebola are still left without appropriate care. We cannot respond to a crisis of this nature and this scale in the usual ways. We need more courage, more creativity, and far, far more resources."
Support UNICEF's efforts to combat Ebola through the fundraising widget below.