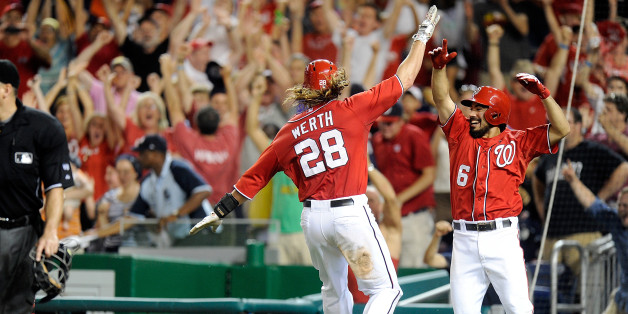 It is gripping the nation's capital. No, "it" is not bipartisan gridlock or beltway traffic. The feeling that has been sweeping through Washington D.C. is "Natitude," and the rest of the country better get ready for it.
Sometimes expressed with excessive eye black and overgrown facial hair, which are frequently displayed at the site of walk-off wins, "Natitude" is the state of mind that has sent the Washington Nationals surging into the 2014 Major League Baseball playoffs with the best record in the National League. It's also the mindset that has the team's fans doing all sorts of unexpected things, from dressing up like garden gnomes to ordering vanity license plates.
First introduced as part of a marketing slogan in 2012, "Natitude" caught on with a beltway baseball fan base that hasn't seen the local nine win the World Series since 1924. According to The Washington Post, the team intended to back away from the term in 2014 but surveyed fans didn't want to give it up.
Because #Natitude.
Whether you're in the stands at Nationals Park or covertly checking the scores on your mobile device while running errands in the West Wing, here are 18 signs that you've undergone a major Natitude adjustment:
You Believe THIS Is The Only Presidential Race That Matters
Yes, You Think Facial Hair Can Make A 6-Tool Player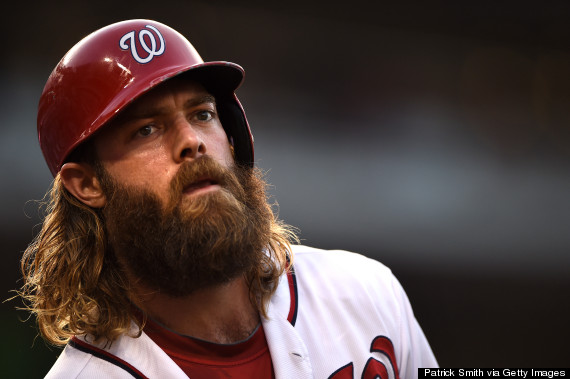 And Are Prepared To Make Your Own Hirsute Contribution
ICYMI: This is #Nats fan Eric Brooks rendering all other baseball-inspired beards mundane. http://t.co/PQ7b4lk8Bl pic.twitter.com/hQbfCzVR2S

— Mike Oz (@mikeoz) July 22, 2014
You Don't Always Handle Disappointment Well
Or Deal With Authority Figures Appropriately
You Believe There Is No Such Thing As Too Much Eye Black
You Have Made Some Risky Decisions While Playing The Field
And Might Make More, For The Team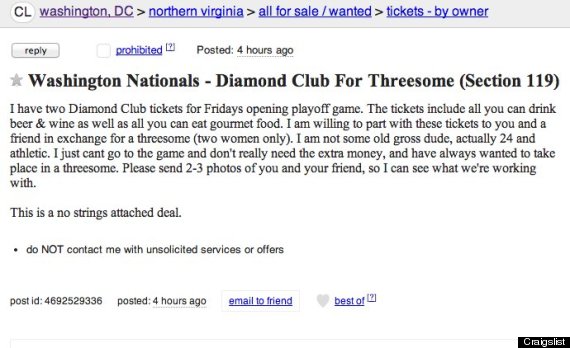 Not Only Do You Have A Jayson Werth Gnome
Werth Garden Gnome goes to Hatteras Island. #masnnationals #werthgardengnome pic.twitter.com/ugzjMPBVMC

— Ken (@KenPillow69) August 17, 2014
But You Waited In Line For It
The line is growing pic.twitter.com/pfoVtdyHIr

— Paul Fritschner (@PaulFritschner) August 5, 2014
And Adjusted Your Gameday Wardrobe Accordingly
@tracytran #LoyalLittle RT @WTOP: Tracy Tran is ready to get his Jason Werth gnome at # Nationals Park. #natitude pic.twitter.com/x3W4AKcb2U

— Nationals 101 (@Nationals101) August 5, 2014
A Baseball Player Turned You On To Phish
You Think Bryce Harper's T-Shirts Are Just Hilarious
My dad would get a picture with @Bharper3407 and his @RoutineBaseball shirt 😑⚾ pic.twitter.com/MzUL7HzpkP

— Eric Smith (@Eric_Smith37) June 24, 2014
And Really, Really Want His Fireman's Helmet
Bryce Harper came prepared for the Nats' NL East clincher with personalized fireman's helmet. http://t.co/EMtGhRrw0N pic.twitter.com/LhIXNBcEGF

— theScore (@theScore) September 17, 2014
That Walk-Off Wins Are Just A Regular Part Of Your Life
My license plates.
@granthpaulsen @Nationals @funnydanny #grantanddanny pic.twitter.com/GMtKACudbH

— Stefan Belzer (@StefanBelzer) August 21, 2014
You're Passing Along Your Positive Natitude To Your Children
At yesterday's @Nationals game w/my dad & daughter all sporting our @NationalDet shirts. 3 generations of #natitude pic.twitter.com/SKMRI4WKfM

— Rich Kessler (@RichKessler3) September 8, 2014
And Believe This Is The Only Responsible Parenting Philosophy
Baby wearing a Mark Teixeira jersey to Nats/Brewers game. Get out of here baby! #Natitude @dcsportsbog pic.twitter.com/uDbuTm9att

— Ryan Kelly (@RyanJKelly) July 20, 2014
Most Importantly, You're Ready For The World Series
World Series tickets have arrived #Natitude pic.twitter.com/rQ16lAp5SY

— Dupont Circle (@DupontCircleDC) September 24, 2014