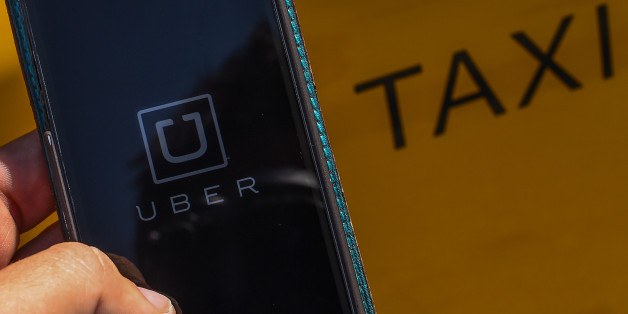 Transportation service Uber is being criticized as "tone-deaf" for a blog post praising itself for offering underpaid teachers part-time jobs as drivers.
The post, titled "Teachers: Driving Our Futures," says Uber intends to "celebrate the educators who are also our Uber partner drivers." But some readers said Uber, which allows people to order transportation from a smartphone, seems to congratulate itself for giving underpaid teachers the opportunity to make supplemental income working as part-time drivers.
"Every day teachers are asked to do more with less, constantly faced with new challenges and limited resources. Uber opens the door for more possibilities and delivers a meaningful impact to the communities we serve," says the post.
It continues: "By utilizing Uber, teachers are increasing their earnings while dedicating their lives to shaping students' futures -- cultivating a generation that is imaginative, determined and believes in extraordinary possibilities."
In an op-ed for Digital Journal, writer and entrepreneur Aron Soloman slammed the car company's post.
"It would be difficult to argue that a more tone-deaf piece has ever been written," wrote Soloman.
A post on The Awl said the Uber blog "almost feels like a parody."
"Had Uber tweaked the language the slightly, with a pinch of outrage … it would seem almost righteous, rather than crassly exploitative of the ills of the American education system. But the post seems to go to great pains to avoid acknowledging the actual issues facing teachers or the sources of those problems," the article said.
Twitter users also decried the post:
In which @uber celebrates that our TEACHERS are so poorly paid they take 2nd jobs as unregulated taxi drivers http://t.co/mRMFJxIecy

— Brad Johnson (@climatebrad) October 1, 2014
Stunningly tone-deaf post by @Uber — #Teachers: Driving Our Future | https://t.co/K96WqlqOCw Our educators shouldn't just scrape by. #SRVUSD

— Jerome C. Pandell (@JeromePandell) October 1, 2014
Has Uber become a parody of itself? http://t.co/9toAd7vGoJ We pay teachers shit, so let them work double shifts chauffeuring the moneyed

— leo franchi (@lfranchi) October 1, 2014
B/c we pay teachers so poorly, @Uber wants them to moonlight as drivers. Learn English Lit on your way to get lit. http://t.co/MuPb4jAeSd

— Tim Lepczyk (@thirdcoast) October 1, 2014
Anyone else offended by @uber for this shameless "celebration" of teachers who have to drive taxis to make ends meet? http://t.co/yZuncRgJ1F

— Diana Lind (@diana_m_lind) October 1, 2014
self-congratulatory @Uber doesn't get that #teachers cld best "drive our future" if they didn't have to drive taxis http://t.co/sl5ht9I1Pp

— Natalia M. Petrzela (@nataliapetrzela) October 1, 2014
Uber did not immediately respond to The Huffington Post's request for a comment.
Uber's post reflects the sad reality that many teachers take part-time jobs to make ends meet. In 2011, the Association of American Educators found that one in five educators had second jobs. The National Education Association, the largest teachers union, reported that the average national starting salary for teachers in 2012–2013 was $36,141.

BEFORE YOU GO
PHOTO GALLERY
Education Leaders Who Have Never Taught