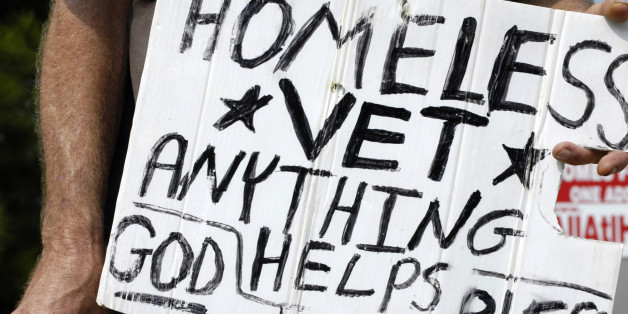 The Department of Veterans Affairs (VA) announced Tuesday that $207 million will be allocated in grants to help fight veteran homelessness across America.
The funds are part of the department's Supportive Services for Veteran Families (SSVF) program, which boosts local nonprofit efforts to serve impoverished veterans and help them transition into permanent housing. After being dispersed to 82 nonprofits across the U.S., the newest wave of funding will assist an estimated 70,000 homeless and at-risk veterans and their families, according to a press release by the VA.
"This is a program that works, because it allows VA staff and local homeless service providers to work together to address the unique challenges that make it difficult for some veterans and their families to remain stably housed," Robert A. McDonald, secretary of the VA, said in a statement.
The move is in line with the Obama administration's goal of ending veteran homelessness by the end of 2015 -- an objective that has made steady progress since its 2009 inception. In August, the VA -- along with the Interagency Council on Homelessness and Department of Housing and Urban Development -- announced a 40 percent drop in the number of veterans sleeping on the streets since 2010.
First lady Michelle Obama has also contributed to the administration reaching its goal, launching the Mayors Challenge to End Veteran Homelessness initiative in June. The White House announced in August that 182 communities have signed on to the pledge, which encourages mayors to place all of their communities' homeless vets into housing by the end of next year. Last month, Chicago became the latest major U.S. city to join the cause.
In July, the first lady applauded Los Angeles -- the base of LA County, which, according to the Los Angeles Times, has more homeless vets than any other county in the U.S. -- for accepting the challenge. In her remarks, Obama said the idea of veteran homelessness should inspire all of us to demand change.
"The image of even one of these heroes sleeping out in the cold, huddled up next to an overpass -- that should horrify all of us," she told a crowd of local business and political leaders, according to the L.A. Times. "Because that's not who we are. And the truth is, we know that there are simple steps that we can take -- whether that's in business or government or in our communities -- to prevent and solve these kinds of problems."
BEFORE YOU GO
PHOTO GALLERY
Veterans Affairs Secretaries