The U.S. has a serious female prisoner problem.
According to the International Centre for Prison Studies, there are 201,200 women incarcerated in the U.S. -- almost one-third of the world's documented female prison population as of 2013.
An infographic designed by Niall McCarthy, charted by Statista, shows how the population of women prisoners in the U.S. compares to those in other countries -- and the results are pretty shocking.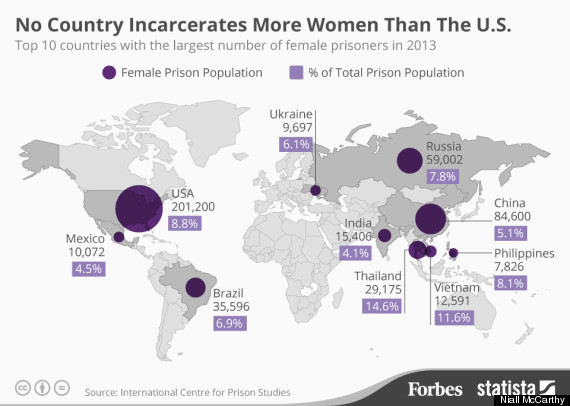 So, why does America imprison so many women? Mandatory sentencing minimums have led to prison overcrowding in general. An estimated two-thirds of women incarcerated in federal prisons are serving time for nonviolent, drug-related crimes.
Female prisoners are disproportionately women of color, and one study suggests that 44 percent of female prisoners in the U.S. don't have a high school diploma or GED. Incarcerating women also plays a huge role in breaking up families -- 64 percent of female state prisoners lived with and cared for their minor children before their imprisonment.
BEFORE YOU GO
PHOTO GALLERY
27 Reasons Why U.S. Shouldn't Lead War On Drugs