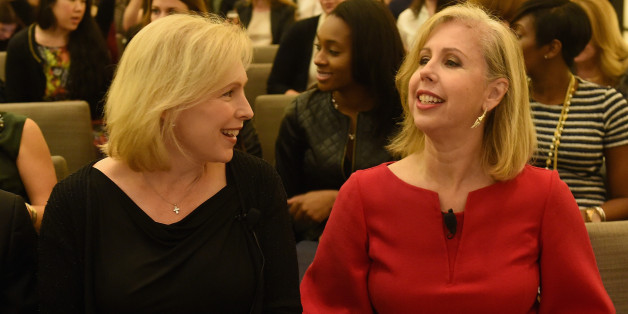 It's not often you get to see a senator, the editors of TIME and Real Simple, a TODAY Show anchor, the former CEO of WWE and the writer of "Frozen" hit "Let It Go" together in one room. But last night, that's what happened, and these women had a lot to say about one big topic: success.
On Oct. 1 Real Simple and TIME hosted a joint event focusing on success -- specifically what being successful means for women, and how we can get there. TIME editor Nancy Gibbs interviewed Senator Kirsten Gillibrand, and Real Simple editor Kristin van Ogtrop led a panel discussion with anchor Tamron Hall, songwriter Kristen Anderson-Lopez and WWE former CEO Linda McMahon.
Here are eight lessons we picked up watching -- and listening -- to these inspiring women:
Talking about "having it all" doesn't help anyone.
"The having it all debate pits women against each other. 'All' implies that a woman staying home with her kids is somehow living a life half-full. What we're really talking about is doing it all. How do we help women do all the things they want to do?" -Kirsten Gillibrand
Failure is a process...
"There were 7 1/2 songs cut from Frozen. Even 'Do You Want to Make a Snowman' was out, then it was in, then it was out, then it was in, we had to deal with the failure of 'ooh that wasn't executed just right'... Think of failure as process, not as a label." -Kristen Anderson-Lopez
...And it is often a stepping stone to success later on.
"Everything I thought I wanted that I didn't get, it's been revealed to me why and I got something better." -Tamron Hall
Dreaming is great, but doing is better.
"I've been often asked, did you never dream you would be where you are today? And I say no, because you were too busy building, doing, step by step..." -Linda McMahon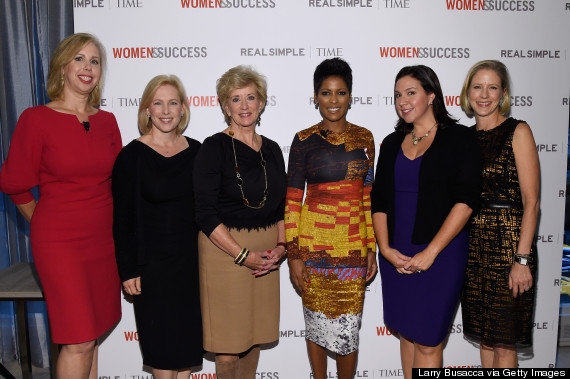 Nancy Gibbs, Kirsten Gillibrand, Linda McMahon, Tamron Hall, Kristen Anderson-Lopez and Kristen Van Ogtrop.
Find a mentor if you can -- and be one.
"There's always one woman who you could give the right piece of advice [to] that transforms her." -Kirsten Gillibrand
Stop obsessing about what you don't have.
"When I look back in my 20s, I was so obsessed with success. I used to call it 'my ticket out of hell,' I used to think 'If I got this thing, that one thing, then I would be successful.' ... And if it was my 'ticket out of hell' I wouldn't get it, because I approached it with so much anxiety." -Kristen Anderson-Lopez
You are special -- just don't be a jackass about it.
"Life, in itself, keeps you from feeling entitled, unless you're just a jackass. I think it's OK that your parents tell you you're special, because there are enough people who will tell you you're not... Life, as we all know, will tear you down. Thank God someone told me I was special, because you should see what people say to me on Twitter." -Tamron Hall
Having women at the table really, really matters.
"If Congress was 51 percent women we wouldn't waste a day arguing over affordable contraception." -Kirsten Gillibrand

BEFORE YOU GO
PHOTO GALLERY
7 Influential Women Who Failed Before They Succeeded