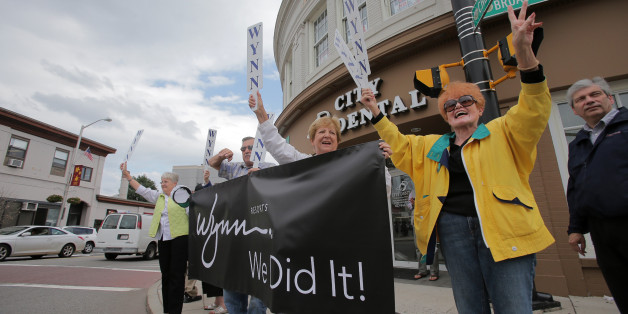 BOSTON, Oct 2 (Reuters) - A federal grand jury on Thursday indicted three men on charges they tried to conceal a mob associate's ownership stake in land near Boston upon which Wynn Resorts has proposed to build a $1.6 billion casino.
Prosecutors claim that Charles Lightbody, Dustin DeNunzio, and Anthony Gattineri lied and forged documents to hide from Wynn and state officials the fact that Lightbody, a convicted felon and known Mafia associate, was part owner of the land in Everett, just north of Boston.
They were arrested on Thursday and charged with wire fraud and conspiracy to commit wire fraud, crimes that can carry penalties of up to 20 years in prison, according to a joint press release issued by the office of U.S. Attorney Carmen Ortiz and Massachusetts Attorney General Martha Coakley.
A state grand jury also indicted the three men on charges of impeding a gaming investigation, conspiracy and tampering with evidence, according to the release.
The Massachusetts Gaming Commission last month awarded Las Vegas developer Wynn a license to build the 27-story casino on the Mystic River in Everett, over rival Mohegan Sun. It was the second of three resort-casino licenses allowed under a 2011 law legalizing casino gambling in the state.
Wynn has said that the 100,000-square foot (10,000-square meter) casino floor and 550-room hotel will employ about 4,000 people permanently but could take three to four years to build.
The arrival of casinos in Massachusetts has triggered fierce debate between proponents, who tout the economic boost, and critics, who worry casinos could increase crime, traffic and so-called problem gambling.
Gambling opponents have gathered enough signatures to trigger a referendum on the casino law in November, which has the potential to void the licenses. (Reporting by Richard Valdmanis; editing by Andrew Hay)