Brooklyn's Bushwick Coffee Shop is facing a firestorm of criticism Thursday, after owner Michael Avila published an anti-semitic rant on social media.
Avila posted a bizarre rant on his personal Facebook page Wednesday in which he laments the gentrification of his neighborhood spearheaded by "greedy infiltrator" Jews.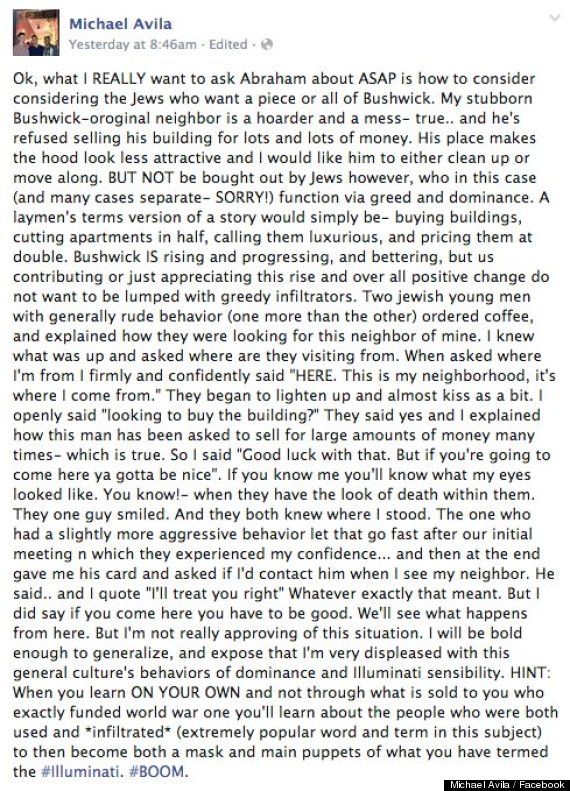 In case the sentiment of his original statement wasn't clear, Avila then went a step further, posting a screenshot of the rant on the coffee shop's Instagram account, blurring out all of the words except for "greedy infiltrators:"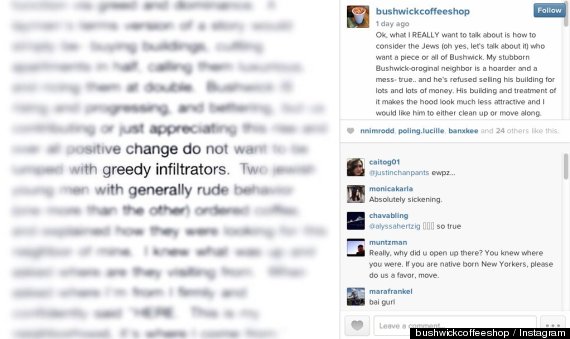 In a series of follow-up comments posted by Avila on Facebook, he refers to Jewish people as a "problematic group" who, "in typical Illuminati form," have infiltrated the neighborhood "'quietly' and unfairly/greedily."
Perhaps unsurprisingly, the response to Avila's unconventional tirade has been less than enthusiastic.
"I think it's great you're being honest, @bushwickcoffeeshop," reads one comment on the shop's Instagram page. "I wish all business owners would be as honest with their views - it makes it so much easier for the customers to know what establishments to avoid."
Another, posted to Avila's Facebook page adds, "There are so many things wrong with this post, I don't know where to begin. I don't like my coffee with a side of antisemitism. It's bigots like you that are destroying Brooklyn."
NY Eater reports the shop is attempting to make amends with a series of Instagram posts featuring Jewish people he does like.
UPDATE: Thursday -- In a statement to DNAinfo New York, Avila defended his statements, saying he'd been "misunderstood," and had originally intended to condemn the people he perceived as greedy landlords.
"I'm anti-Zionism. It's about politics, it's about greed," he told DNAinfo. "I'm certainly not anti-Semitic. That would stand against everything I believe I stand for."
H/T: Brokelyn
BEFORE YOU GO
PHOTO GALLERY
11 Companies With Bad Reputations