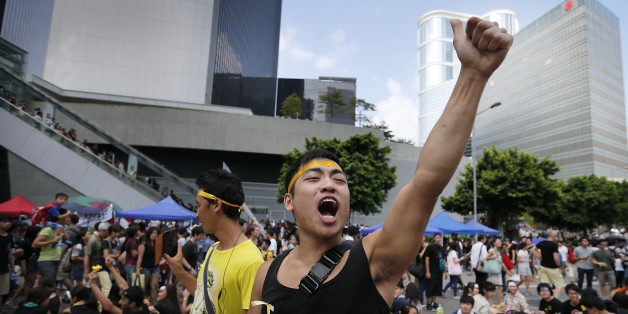 The incredible scenes from Hong Kong this week have highlighted just how different the region is from mainland China.
In open defiance of Beijing, thousands of students and other activists have rallied day and night, occupying whole sections of the city to call for greater democratic freedom. When police cracked down on the demonstrations on Sunday, media broadcasted scenes of violence, outrage mounted, and the rallies only grew larger.
Hong Kong is officially under Beijing's rule, but under a policy called one country, two systems, the city has very different political and economic systems than most of the mainland.
Here are some of the key differences:
Democracy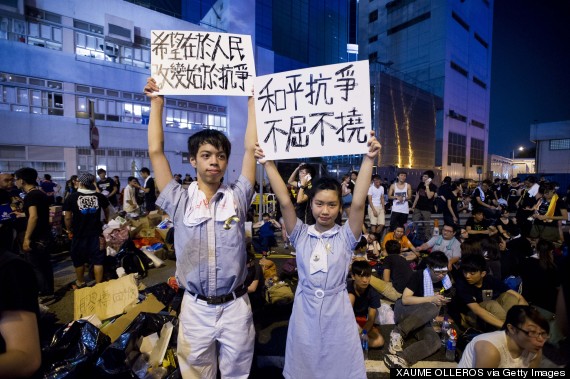 High-school demonstrators hold signs during a protest outside the headquarters of Legislative Council in Hong Kong on September 29, 2014. (XAUME OLLEROS/AFP/Getty Images)
Hong Kong's status as a "semi-autonomous" region within China was negotiated by its former colonial ruler, Britain, before London handed the territory to China in 1997. Britain also secured a commitment that Hong Kong would begin a transition to electoral democracy, enshrined in the region's constitutional document, called the Basic Law.
But the Basic Law did not set out a timeline for the democratic transition, and activists in Hong Kong have repeatedly accused Beijing of stalling. The latest mass protests erupted after China announced that candidates for Hong Kong's chief executive election, set for 2017, would first have to be vetted by Beijing. Hong Kong's chief executive is currently chosen by a committee that consists largely of Communist Party loyalists.
China has also pledged to allow Hong Kong to directly elect its own parliament by 2020 -- currently, the legislature is a mixture of elected representatives and committee appointees. After more than 150 years of undemocratic colonial rule, Hong Kong has embraced its parliament as a first step toward democracy. Unlike the single-party state in China, over a dozen parties currently sit in Hong Kong's parliament. As The Guardian notes: "Lively political skirmishing and debate surrounding elections to the legislative council ... became the norm and gradually intensified after 1997."
Rule of Law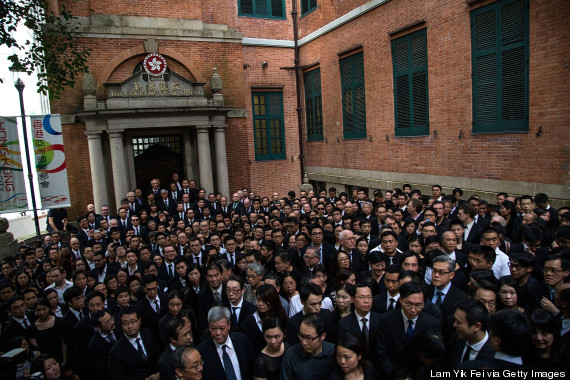 Hundreds of lawyers and representatives from the legal sector dress in black and take part in a silent march from the High Court to the Court of Final Appeal on June 27, 2014 in Hong Kong. (Lam Yik Fei/Getty Images)
Hong Kong has a separate legal system from the rest of China. It retained the British common law system after 1997, and the Basic Law introduced a number of legal rights, including an independent judiciary.
Hong Kong prides itself on being a bastion of the rule of law in the region, saying it has attracted dissidents and businesses alike to the territory. CNN notes that Hong Kong's police have generally been highly regarded, which highlights the incongruity of authorities confronting protesters with volleys of tear gas in recent days.
By contrast, China's judiciary is firmly under the Communist Party's control and the law is often used for political purposes, as NPR explains.
In June, lawyers in Hong Kong held protests defending their political independence after Chinese leadership said that "loving the country" was a prerequisite for judges in the territory.
Capitalism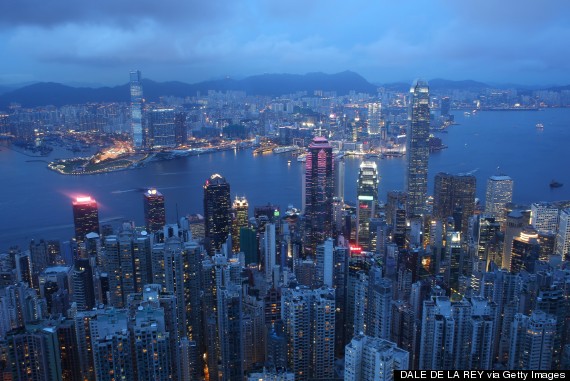 This picture taken on August 6, 2014 shows a general view of Hong Kong. (DALE de la REY/AFP/Getty Images)
Under the terms of the British handover, Hong Kong maintained its capitalist economy rather than integrating into China's "socialist" system.
In fact, China has used Hong Kong's economic model as both a testing ground for its own reforms and a crucial source of foreign investment. As China has grown wealthier and more capitalist, the two economies have become increasingly integrated. The Washington Post notes that some of the tensions in Hong Kong stem from China's growth pushing up the cost of living.
Yet the city has considerable autonomy to run its own financial affairs, including customs and tax rules, and has its own currency, pegged to the U.S. dollar.
Free Press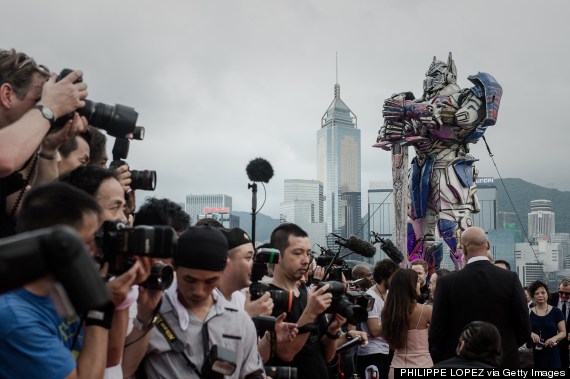 Journalists cover the world premiere of Hollywood movie Transformers 4 in Hong Kong on June 19, 2014. (PHILIPPE LOPEZ/AFP/Getty Images)
While China has a near-media blackout on the democracy movement, Hong Kong's press has had running coverage of the protests. Free speech protections have fostered a vibrant local press in the territory, another freedom that activists fear is being eroded by Beijing after a spate of journalist attacks.
On social media, China's "Great Firewall" does not routinely censor posts in Hong Kong as it does on the mainland. So while Beijing is censoring references to the protests and shut down the photo-sharing site Instagram for the first time in the rest of the country, activists in Hong Kong are still able to maintain a stream of social content. The protesters aren't taking any risks, however, turning to offline media-sharing sites in case Beijing swoops in with restrictions.
Popular Protest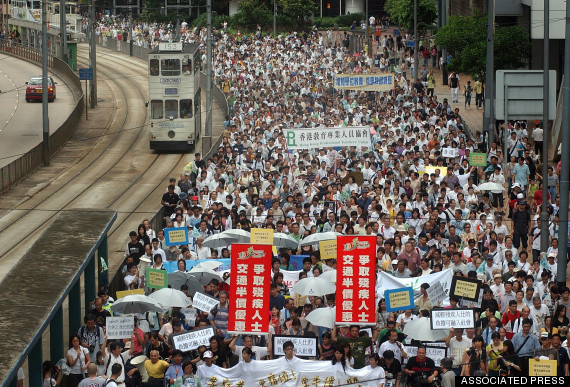 Thousands of people pack the streets in a huge pro-democracy march in downtown Hong Kong Sunday, July 1, 2007. (AP Photo/Lo Sai Hung)
Hong Kong has a long tradition of public protest, dating back to the Cultural Revolution and Tiananmen Square.
And while political opposition is harshly repressed on mainland China, after 1997 Hong Kong's Basic Law guaranteed the right to freedom of assembly in the territory. Hong Kong soon put this to the test, coming out in 2003 against a proposed national security law in numbers surpassing even this week's massive demonstrations, and holding annual pro-democracy protests every July 1 since.
"Hong Kong's decades-long history of protests means that the progressive city's residents know how to organize when push comes to shove," The New Republic notes.
BEFORE YOU GO
PHOTO GALLERY
Hong Kong Protests