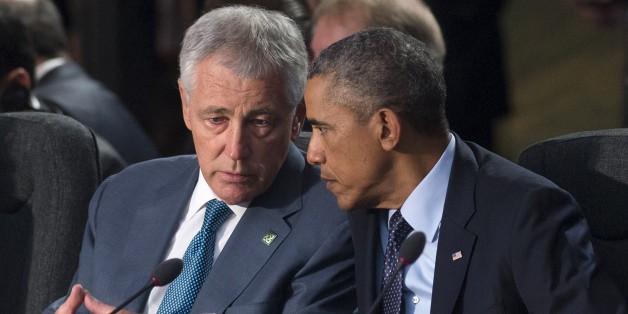 WASHINGTON -- The United States is currently engaged in a "targeted action" against Islamic State militants in Iraq and Syria. President Barack Obama has called it "a systematic campaign of airstrikes," while Defense Secretary Chuck Hagel has gone so far as to admit that the country is at "war" with the terrorist group.
But what administration officials have not done is give the conflict its own name. Unlike many past military engagements -- think Operation Desert Storm or Operation Mermaid Dawn -- this "targeted action" has no code name.
Lawrence Korb, a senior fellow at the Center for American Progress who served as assistant secretary of defense under President Ronald Reagan, said the Pentagon usually names military operations to bolster public support and bring attention to the campaign. In bombing the Islamic State, also known as ISIS or ISIL, attention might not be what the Obama administration wants.
"Usually when you do that, you're trying to rally public support for it," said Korb. "I assume that's why they're not trying to do that. You expect there are going to be a lot of casualties. I think what they're trying to do is keep this on as low a profile as they can."
John Hall, a professor of military history at the University of Wisconsin, has a similar perspective.
"My suspicion is the administration is so reluctant to create the impression that it is engaging in the kind of military activity that it has forsworn in that region," Hall recently told U.S. News. "It has determined the best public relations strategy is to give it no name whatsoever."
The bombing campaign against the Islamic State may never get a name. In August, Rear Adm. John Kirby, the press secretary for the Pentagon, admitted as much to reporters.
"I don't have a good reason for why there isn't a name," he said. "And, frankly, I'm not so sure that that's relevant. We have very clear objectives. We're achieving them. Nobody's worried about what kind of patch they're going to wear on their uniform as a result of this."
When asked by a reporter whether the lack of a name would reduce the operation's historical significance, Kirby said he did not believe it would.
"I don't agree with that in the least bit," he replied. "And the comments by the secretary last night and the president today makes it pretty clear that the work of the U.S. troops and our interagency and civilian partners have been doing are well appreciated, well documented, well known. And it doesn't matter if it has a name or not.
Officially declaring a conflict a named operation requires a bit more legwork than simply picking a catchy moniker: The Defense Department then has to sort out the funding for hostile fire or imminent danger pay and other costs, which hasn't been done yet.
National Security Council spokeswoman Caitlin Hayden declined to comment, referring questions about the naming to the Pentagon.
As Richard Sisk at Military.com has noted, not naming this military operation "would be a break with a U.S. military tradition stretching back to World War II. Since then, the military has devoted much time and effort at the highest levels to coming up with names for operations to boost troop morale while demonstrating resolve and purpose to the public."
And keeping this military campaign -- which is already closing in on $1 billion -- in this nebulous state makes some public officials uncomfortable.
Sen. Tim Kaine (D-Va.) has been a vocal critic of his fellow lawmakers for leaving town for recess without first debating and voting to authorize the bombing of the Islamic State.
The Obama administration has insisted the president has the authority to carry out the airstrikes under the 2001 and 2002 Authorizations for Use of Military Force. The first gave the president the authority to "use all necessary and appropriate force against those nations, organizations, or persons he determines planned, authorized, committed, or aided the terrorist attacks that occurred on September 11, 2001." The second addressed the threat posed by Saddam Hussein.
Critics have said that these authorizations are outdated and insufficient to justify the current airstrikes. In 2013, before the U.S. turned its sights on the Islamic State, Obama himself argued that the current military authorizations needed to be repealed, not expanded.
"Senator Kaine's strong push for a new Authorization for Use of Military Force in the current campaign against ISIL is rooted in the underlying value that we shouldn't send U.S. servicemembers into harm's way without ensuring there is a political consensus in support of the mission," Kaine spokeswoman Amy Dudley told The Huffington Post. "American servicemembers who are already risking their lives in Iraq and in airstrikes over Syria should be eligible for recognition of their service and this underscores why we need proper congressional debate and authorization of this mission."
Approximately 1,600 U.S. service members are already on the ground in Iraq as "advisers." The Hill recently noted that these individuals currently are not eligible for certain medals because the Pentagon has not designated this current fight as an official military campaign.
"Having just recently retired, I know how things like this mean to the troops that are out there doing their part. So creating a ribbon, getting something at least started, would be a step in the right direction," Navy Cmdr. Daniel Dolan, who is also a professor at the Naval War College, told The Hill.
But not all veterans groups are concerned about that aspect of the mission.
"Something will either be created or the inclusive dates of the previous campaign medal will be extended," VFW spokesman Joe Davis told The Huffington Post. "Let's focus on destroying the enemy first."
Want more updates from Amanda? Sign up for her newsletter, Piping Hot Truth.
BEFORE YOU GO
PHOTO GALLERY
Fighting in Iraq