It was the dream New York engagement that almost wasn't.
Mal Harris had planned to propose to her girlfriend, Olivia Fader, when she traveled to New York from Nova Scotia last month. With the help of two friends, Harris organized a top-secret plan to pop the question to Fader on the Brooklyn Bridge with a ring she'd symbolically attached to a lock. As the big moment arrived, however, Harris used a key to pop the lock open, and the ring fell between two planks of the bridge boardwalk. Fortunately for the couple, it was retrieved with some help from two NYPD officers.
The couple recounted the harrowing experience on their blog, photos from which have since gone viral after being picked up by the New York Post, ABC News and other media outlets.
Harris told The Huffington Post:
We had no idea how wide the reach of our first blog post was going to be. As we've both read thousands of comments over the past few days -- many negative, but the positive much louder -- Mal and I both feel a deep sense of community. We realize that to live the safe, comfortable lives we do, we stand on the shoulders of the many people before us who paved the way, facing persecution, suffering, and isolation. We live out loud for the millions of people worldwide who still face these hurdles every day. We are a part of the first generation of queer adults in Canada who are free to marry, adopt, and live out loud in mainstream society with confidence and protection. We are humbled by the media attention our story has received, and deeply grateful for the outpouring of support around the world. Thank you.
Check out the full text of Fader and Harris' blog as it originally appeared here below. You can also follow Fader on Twitter here.
This is the story of the trip that changed our lives forever.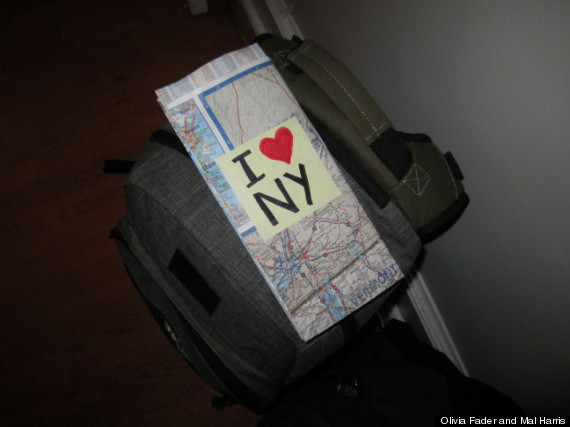 We set out in a car with our best couple friends, Madeleine and Erin, for an 18-hour drive to New York City from Halifax, Nova Scotia.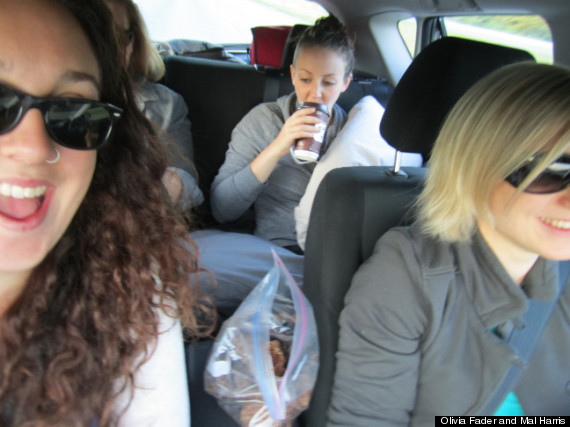 We planned for weeks: where we would go, what we would eat. Unknown to me, Mal had done a bit more planning than I had…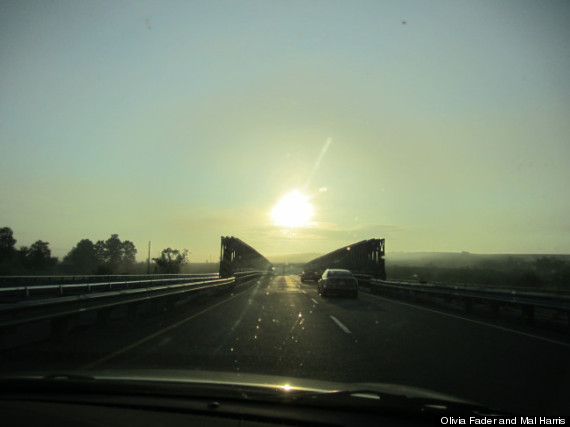 We arrived in NYC late Friday night, and set off to Brooklyn by subway early the next morning.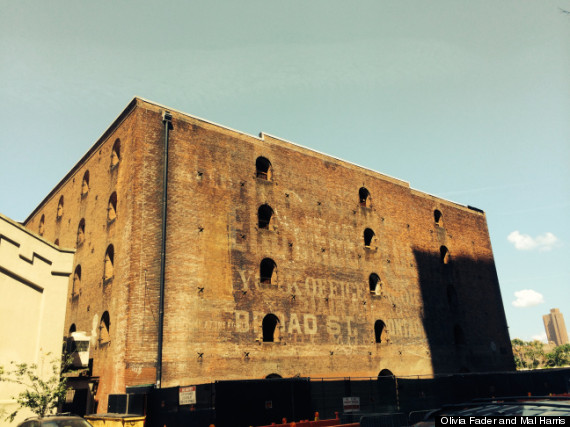 The first bit of fate happens here: Walking through Dumbo Brooklyn, we came across a gorgeous bit of street art. My immediate reaction? "This would be a perfect location for an engagement photo shoot!"
Mal then took this picture, imagining she might add it to a photo album of the events to come.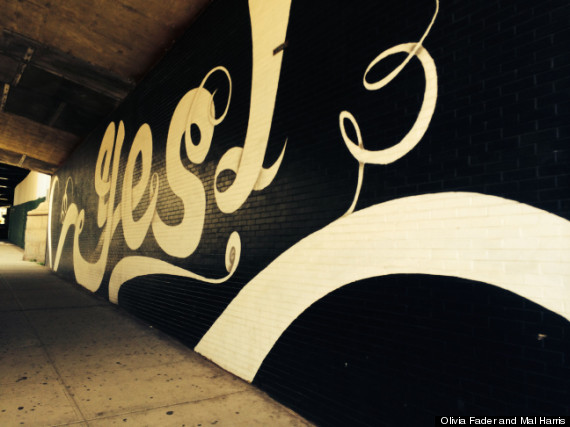 We then found this park almost by accident, and spent some time taking pictures with the bridge we were already developing a complicated relationship with.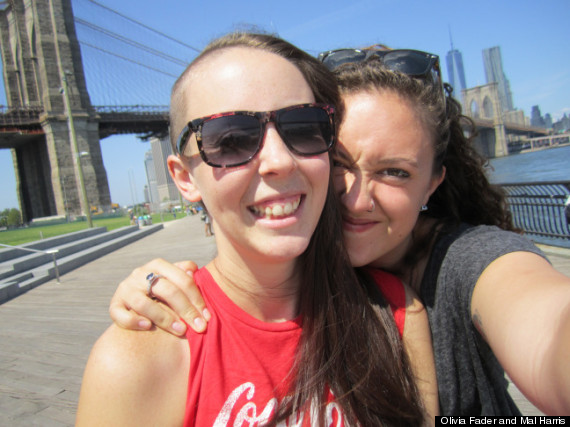 And so, we began our trek across the bridge with the intent of locking our little painted lock, like so many couples had before us.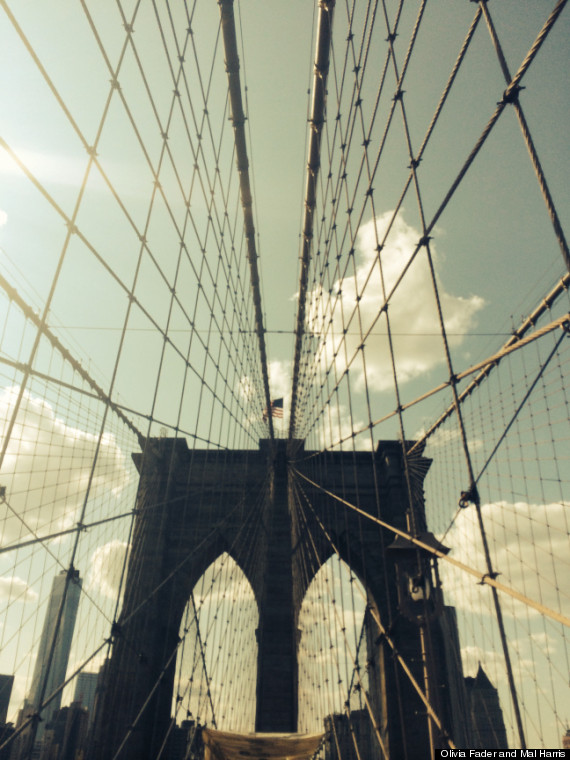 As I pulled the lock from my bag, Mal presented me with another lock from Erin's backpack (coincidentally, the same model).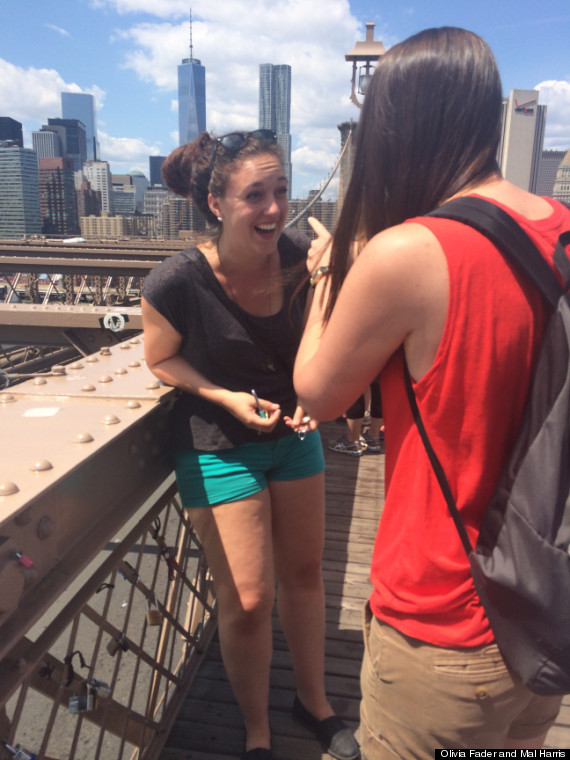 On her lock was a stunning white gold emerald cut diamond ring.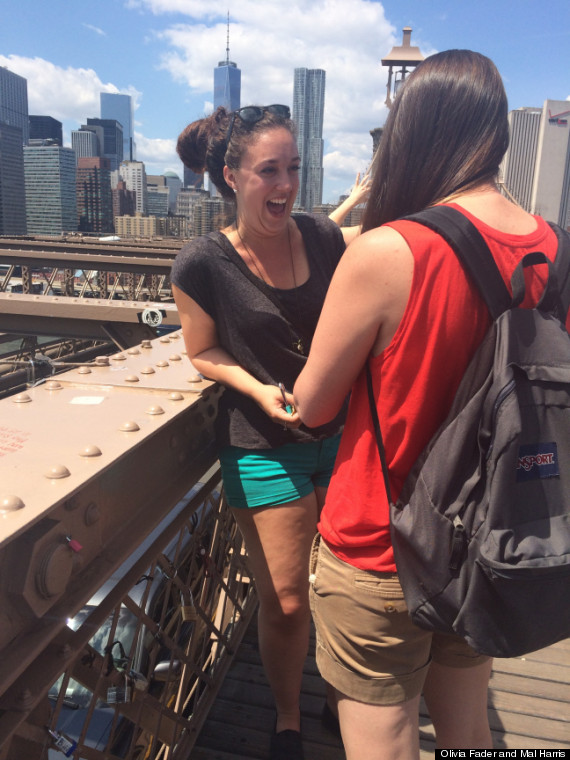 She had engraved "Don't Freak Out" into the brass. How fitting that sentiment was about to be.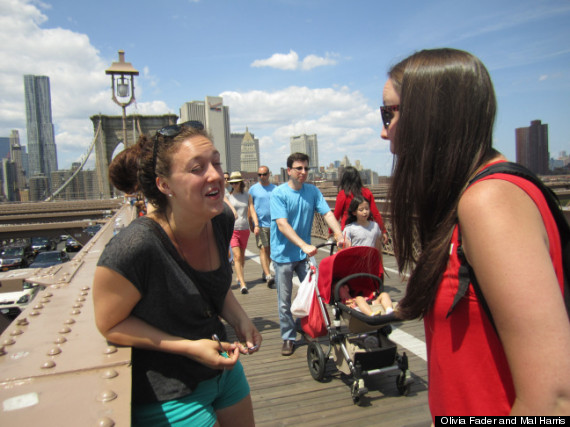 Completely in shock, I returned the lock and ring to Mal, so that she could open it.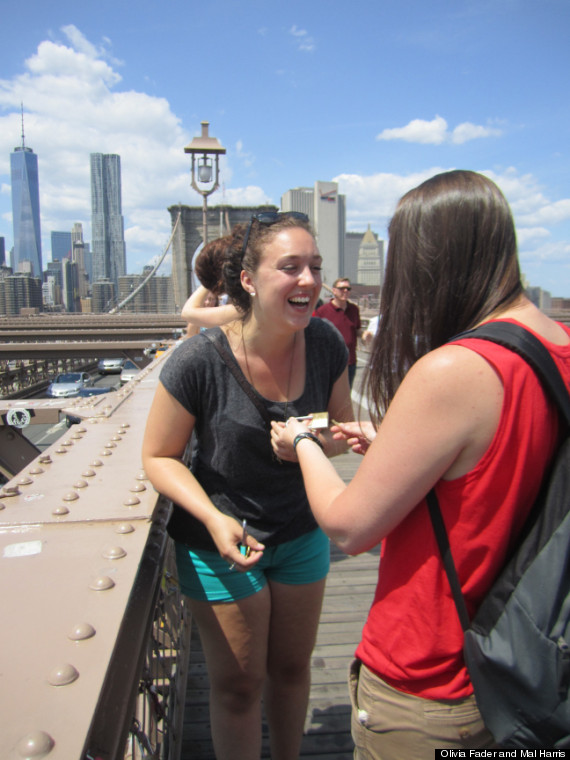 She carefully slid the key into the lock, and turned it. As Madeleine and Erin had both the ring and lock in their possession until this moment, Mal had never practiced this simple movement. As she turned the key, the lock popped open, and swung down. The ring slid off of the lock, and sat for a moment between two planks of the boardwalk.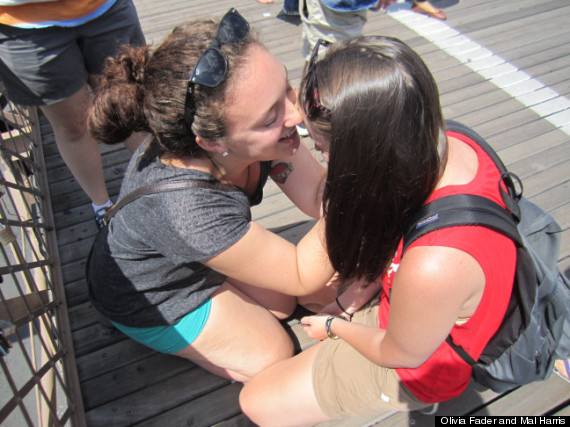 While the duration of time the ring sat there for is wholly unknown to us – time having been so distorted that afternoon -- it was long enough for Mal to think, "Huh. That will be tricky to pick up."
No sooner had this thought occurred, the ring slipped through the space and fell into oblivion.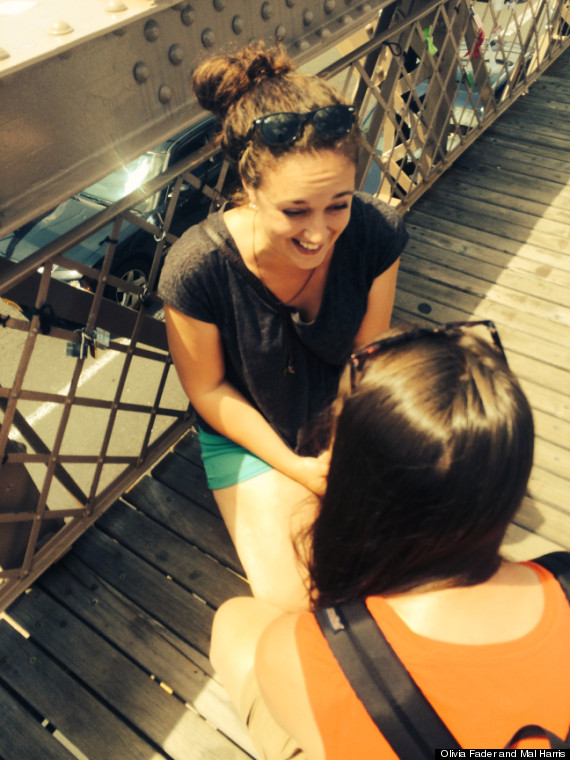 Within seconds we were all on our hands and knees, our eyes pressed between the wooden planks, searching for the delicate diamond ring – a diamond in the rough.
40 feet below us, on an industrial platform (inaccessible to the public) we spotted the ring. I attempted to keep Mal calm while Madeleine ran back to where she had seen NYPD officers.
Minutes later she returned with two officers, Manley and DeFazio. They were confused at first, but soon understood our plight and committed to getting the ring back to us if it was in their power to do so.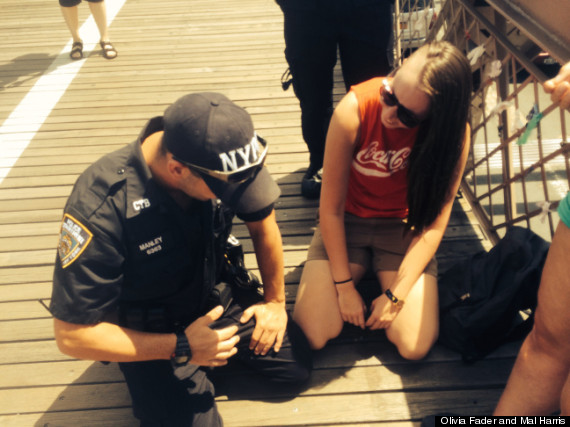 After much deliberation about their method, they walked back to Brooklyn, drove across the bridge, and stopped Saturday afternoon New York traffic so they could park and make their descent.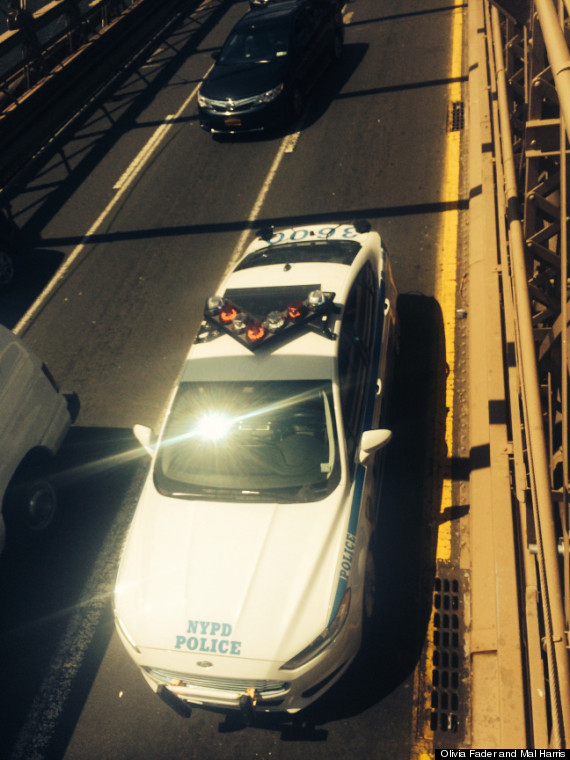 A few anxiety ridden minutes passed, and finally Officer Manley emerged with the ring in hand. Giving us the thumbs up, they then drove back to Brooklyn, and we met them to make the exchange.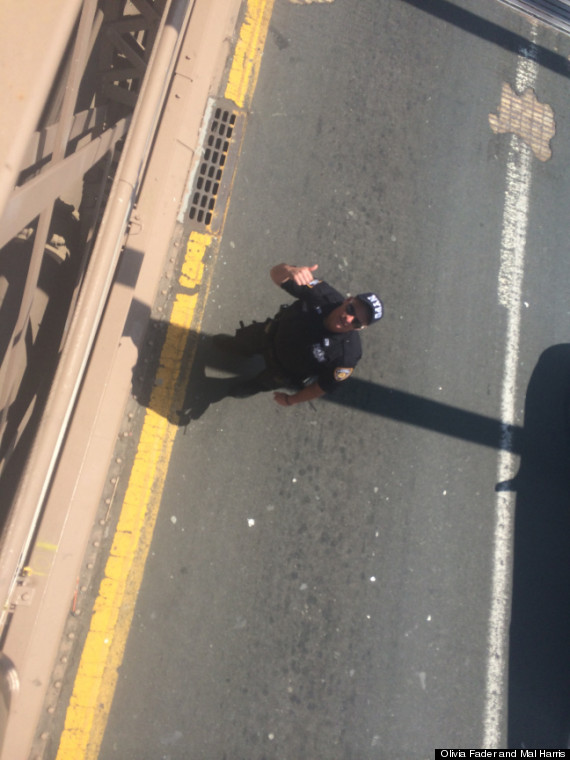 Upon meeting us, Manley asked Mal, "So, did she say yes?" To which Mal replied, "I think so?" Manley promptly high fived her.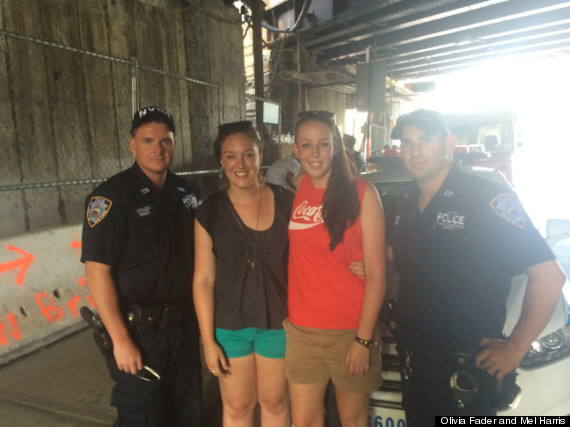 Exhausted by the bridge, we decided to walk our shaking selves back to the "Yes" graffiti we had found earlier.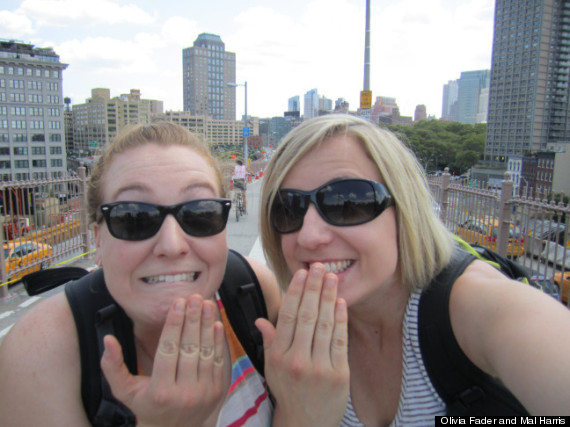 With Madeleine and Erin as diligent photographers, Mal properly asked me to marry her. She said that the first time I danced at her in a grocery store, something changed in her, and she wanted nothing more than to wake up next to me for the rest of our lives. It was my turn for ugly tears.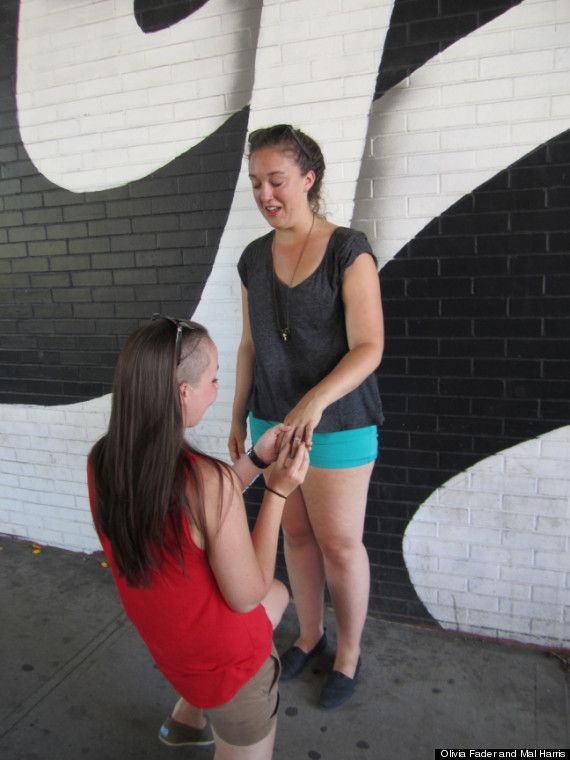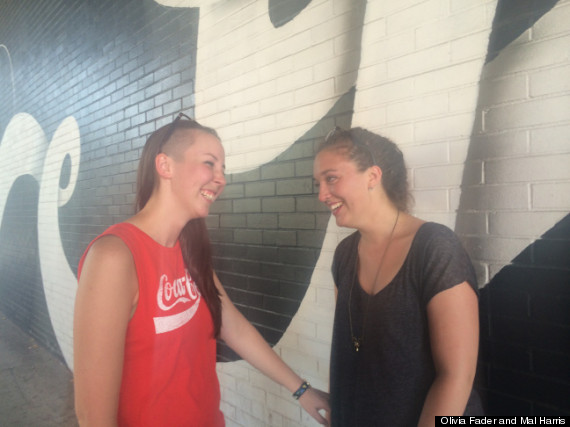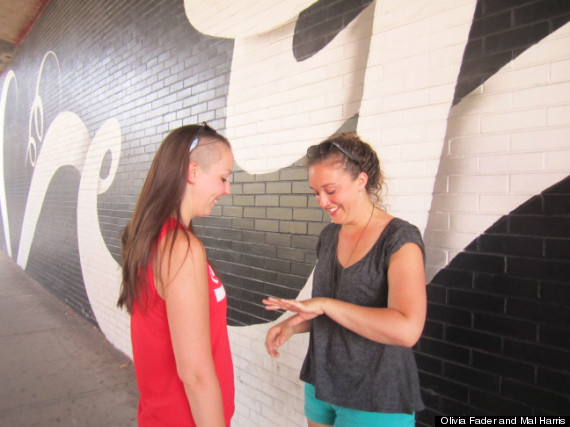 …I said yes.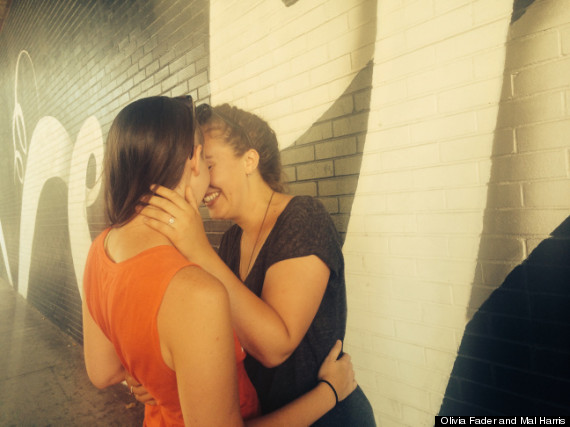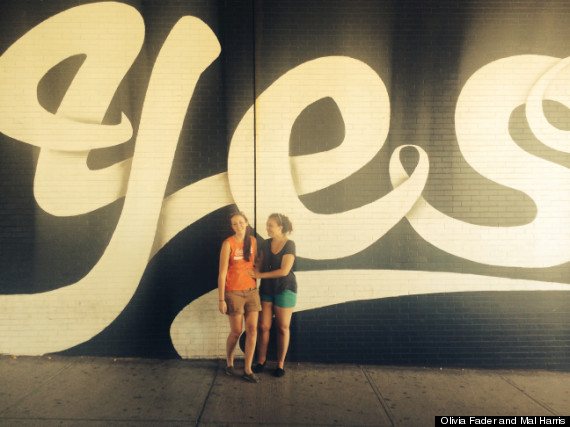 After making shaky calls to our family, we retreated to Ambrose Hall to find that Madeleine and Erin had ordered us a bottle of champagne. They had gone ahead to find the bar, and although they were closing, hearing our story they agreed to stay open and celebrate with us.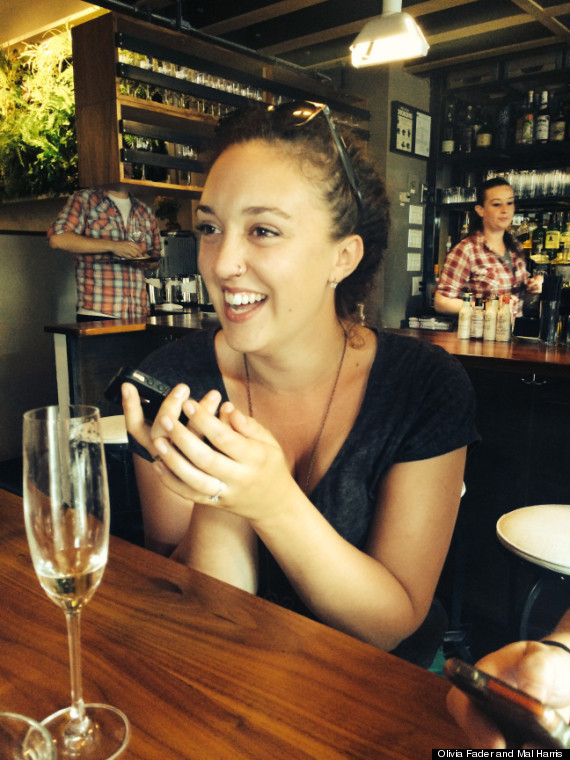 A few glasses of champagne later, we finally resolved to return to the Brooklyn Bridge to finish what we had started.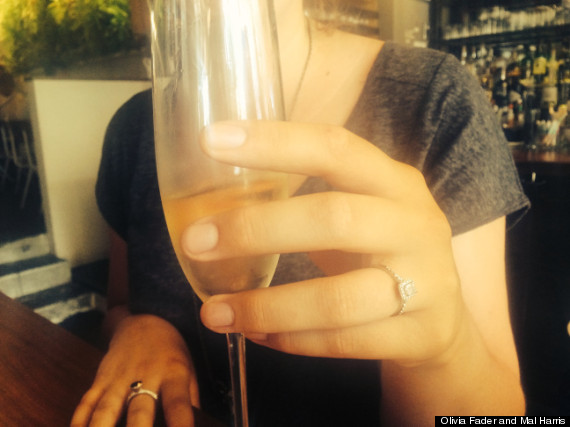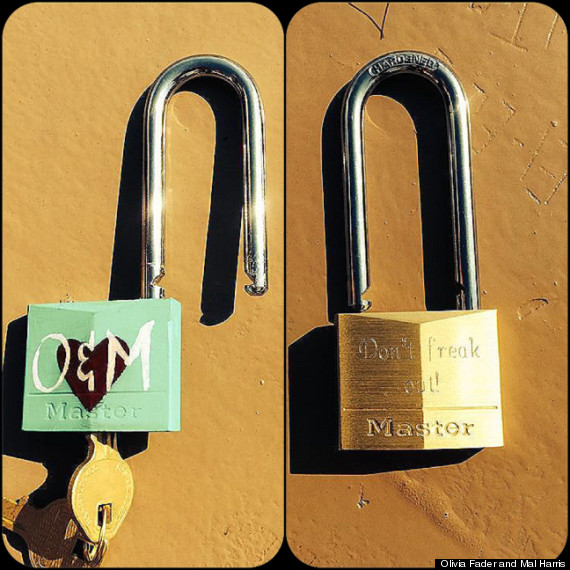 With the diamond securely on my finger, we trekked across, and fastened our lock onto the bridge, sealing our love and commitment to each other.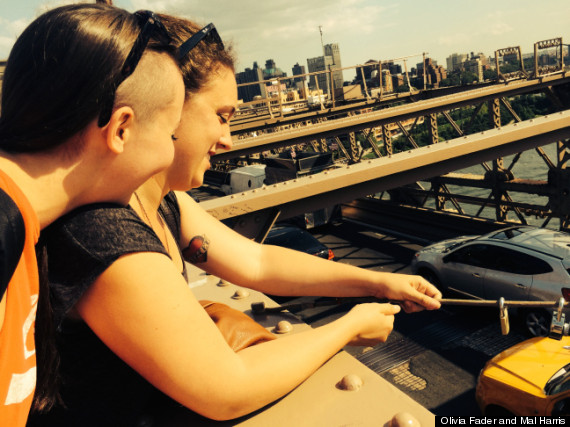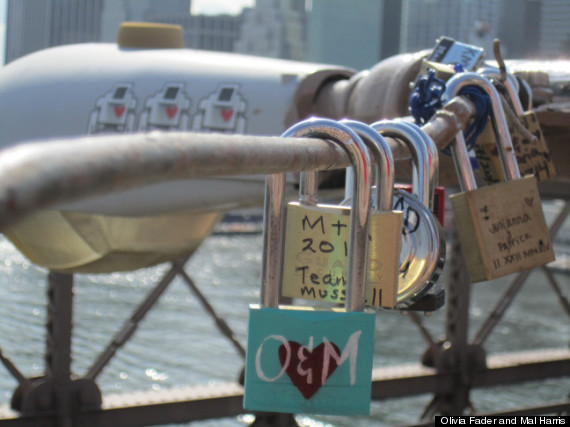 Let's go back to this early picture of the Brooklyn Bridge.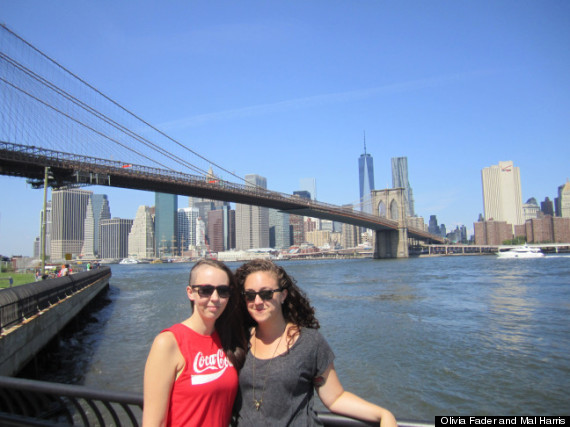 This is where the ring fell. Had we chosen a spot even 10 feet earlier, the ring would have landed in the East River, instead of the platform.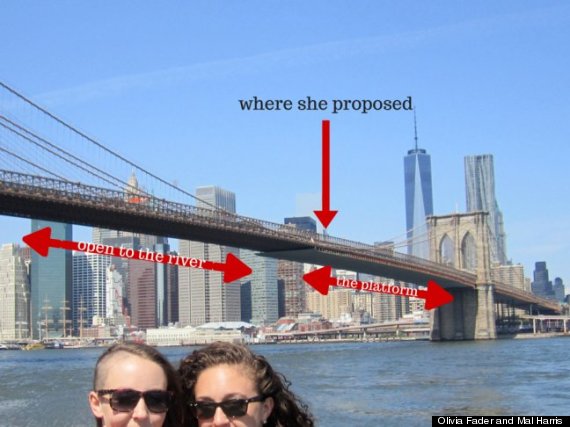 We spent the rest of the trip in a dream like state, still in disbelief at our luck. We are so deeply grateful for all of the people who came together and helped us that day, especially the NYPD officers who went above and beyond for some unlucky tourists.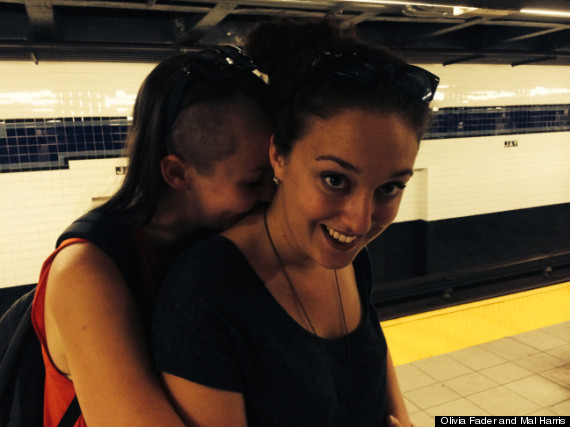 The Universe works in mysterious ways; we both certainly believe that now.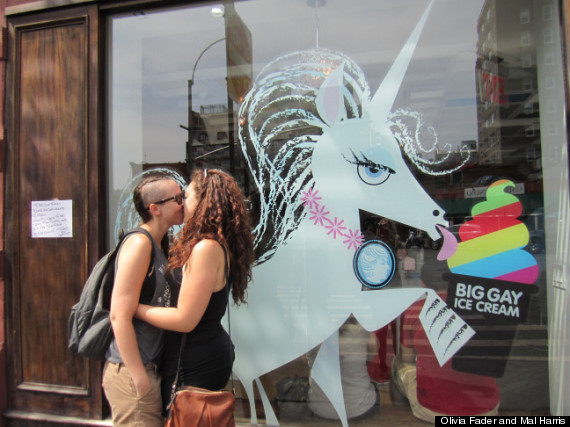 There's a lot of hatred and negativity towards our community; we're certain it will be generations before that is eradicated. That's why we felt it important to share our story, to provide a bit of hope that there is good out there too.
NYPD Information:
Officer DeFazio and Officer Manley, 122 Precinct in Staten Island, New York.