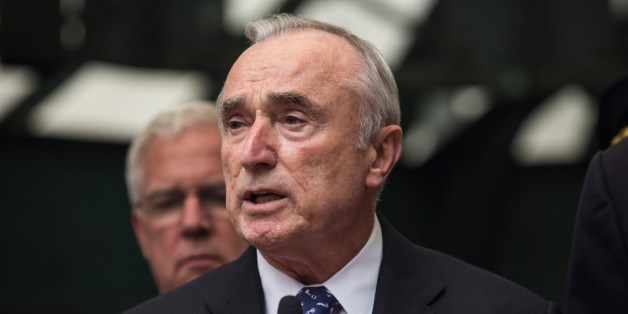 BROOKLYN, N.Y. -- When organizers turned off the lights Wednesday night, signaling the start of the town hall meeting at the Sunset Park Play Center, a projector beamed a video onto the gymnasium wall. The images appeared just to the left of a basketball hoop, and just above five stony-faced, high-ranking NYPD officers sitting at a long table facing the capacity crowd of a few hundred. The officers turned around in their seats to watch.
Anxiety-inducing, watching clips of arrest and crowd videos filmed by El Grito De Sunset Park. #sunsetparktownhall pic.twitter.com/V2et5e42qD

-- Home Reporter (@home_reporter) October 1, 2014
The video started with a short montage of chaotic confrontations between police and members of the Sunset Park community. "It's not news! They've been doing this all summer!" someone in the crowd shouted. Others chimed in, calling the cops "pigs."
The montage was followed by footage of Jonathan Daza, a food vendor, being thrown to the ground by NYPD officers during an arrest at a Sunset Park street festival last month. At one point in the video, an officer can be seen walking up to a prostrate Daza and kicking him in the back, apparently unprovoked. The crowd let out an audible gasp.
And then there was the video, taken two weeks ago, of NYPD officers in the same precinct throwing a pregnant woman named Sandra Amezquita to the ground.
When the gymnasium lights came on again, Dennis Flores took the microphone. Flores is the founder of El Grito de Sunset Park, the police watchdog group that shot the videos over the past few months. "That's the reality we live in, in Sunset Park," Flores said in both English and Spanish, drawing loud cheers from the crowd.
He then handed off the mic to police Chief Philip Banks, the NYPD's highest-ranking uniformed officer. When the crowd booed, Banks kept his composure and introduced some of the other top NYPD brass in attendance. He told the crowd he was "very interested" in hearing their concerns.
"The overwhelming majority of police officers do their job right," Banks said, to more booing. "Their biggest enemy is the police officers that do it wrong, because it brings them down."
The videos of Daza's and Amezquita's arrests led to protests in Sunset Park last weekend, capping off a summer marked by a slew of viral police brutality videos in New York and across the country.
It was about 2 a.m. on September 20 when Amezquita, 44, allegedly tried to intervene in the arrest of her 17-year-old son Johan Lemos, whom police say was in possession of an illegal knife. Amezquita, who is five months pregnant, claims she was only trying to "console" her son when police slammed her to the ground, then pressed her abdomen against the pavement. Her lawyer later said that she suffered vaginal bleeding from the takedown.
At a press conference last week, Amezquita showed a photo of cut on her stomach, which she said came from a police baton. "I'm afraid of what happen to my baby," she said, according to CBS. "I pray to God that nothing happens to him."
NYPD Internal Affairs is investigating the incident, and Amezquita, who was charged with disorderly conduct, met with the Brooklyn district attorney's office this week.
At Wednesday's town hall, Darren Fields, one of Amezquita's attorneys, told the crowd that she was still "dealing with complications from this whole ordeal." Another video then played, showing Lemos, Amezquita's son, displaying the bruises and cuts on his body from his run-in with the cops that night. His beating, Fields said, wasn't captured on camera.
"Police need to be held accountable for everything that happens, not just what happens on camera," he said to loud cheers.
Some members of Amezquita's and Daza's families were sitting in the front row of the meeting. On the advice of their lawyers, however, they mostly kept silent.
For three full hours, a steady stream of activists and concerned Sunset Park residents berated Banks and his colleagues, demanding that the officers involved in Amezquita's and Daza's arrests be harshly disciplined or fired. They complained of being harassed on the street by cops, and criticized the department's "Broken Windows" strategy of policing. Broken Windows is a strategy of aggressively targeting low-level offenses with the aim of deterring more serious crime. At Wednesday's meeting, many complained that Broken Windows brings disproportionate police attention to minority communities, such as the predominantly Latino population of Sunset Park.
At the end of the meeting, Flores said that El Grito de Sunset Park had four demands for the police department: Replace NYPD Commissioner William Bratton; replace the captain of Sunset Park's 72nd Precinct; drop all charges against Amezquita, Daza and their families related to last month's incidents; and launch an investigation into corruption in the police department over the last 20 years.
Banks didn't directly address those demands, but told reporters after the meeting that he felt the community's frustration.
"I heard the temperature. I felt it. I understand what the concerns are," he said. "And we're looking to see what changes need to be made."
Banks' presence at Wednesday's town hall made more conspicuous the absence of Commissioner Bratton, whom Flores and other organizers originally thought would attend.
"The commissioner should be here," said New York state Assemblyman Felix Ortiz (D-Brooklyn), echoing the sentiments of many in the crowd. Banks' only mention of Bratton Wednesday was to say that the commissioner was "concerned" about the videos of Amezquita's and Daza's arrests.
Josmar Trujillo, founder of a group called New Yorkers Against Bratton, said he wasn't surprised that Bratton was a no-show.
"Bratton didn't come to [the] Sunset Park town hall tonight for good reason: he can't face the community," Trujillo said in a statement. "For all the talk of 'community policing,' the top cop prefers media interviews and speeches far away from the people affected by his policies. His enabler, the Mayor [Bill de Blasio], spent the night at Al Sharpton's birthday party chumming it up with celebrity activists who won't hold his commissioner accountable."
The NYPD didn't return a HuffPost request for comment on Bratton's absence.

BEFORE YOU GO
PHOTO GALLERY
Mayors Of America's Largest Cities