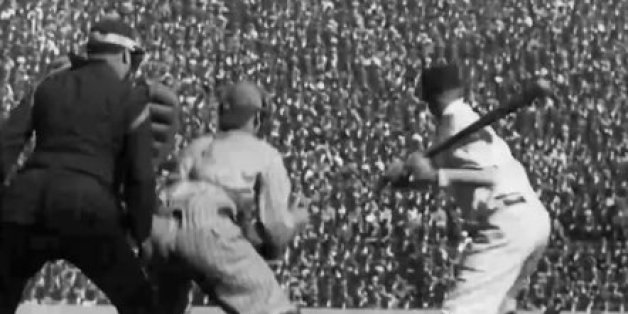 Finally, proof that baseball passion existed in D.C. long before the arrival of "Natitude."
The Library of Congress recently discovered rare footage of the 1924 World Series played between the Washington Senators and the New York Giants. The well-preserved newsreel footage includes highlights from the Senators' extra-inning, walk-off win over the Giants in the decisive seventh game of the '24 series. Fans at Griffith Stadium can be seen rushing the field after Earl McNeeley drove in Muddy Ruel for the Senators' winning run in the 12th inning. The incredible find also includes a glimpse of legendary pitcher Walter Johnson during his legendary four-inning relief appearance.
As noted by Dan Steinberg at DC Sports Bog, the backstory and condition of the Nitrate film after 90 years is incredible. The timing of the find is also quite amazing as it came just before the Washington Nationals and San Francisco Giants began play in a 2014 National League Division Series.
"Like any right-minded individual, I rejoiced in the return of baseball to the Nation's Capital in 2005 and have certainly reveled in the Washington Nationals' fabulous 2014 season," wrote Mike Mashon, head of the Library of Congress Moving Image Section, in a blog post about the discovery. "Exciting as it has been (the post All-Star Game surge, Jordan Zimmermann's no-hitter on the last day of the season, the eager anticipation of post-season glory) I never imagined that a perfectly timed film find–the only footage yet discovered of the Washington Senators' 1924 World Series victory–would be the icing on an already delicious cake."
The '24 Senators were the last D.C. team to win the World Series but the '14 Nationals are the choice of many experts to pull it off this year.
H/T DC Sports Bog