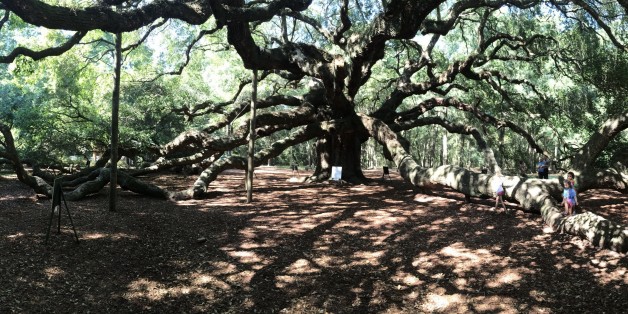 There's never a wrong time to go to Charleston, but as the colder months approach, now is as good a time as any to head down to South Carolina for sweet tea and warmer temps.
And while you're exploring one of the prettiest cities in the South, there are a few things you absolutely must do -- get a Big Nasty for breakfast at Hominy Grill, go shopping on King Street, venture down to City Market and check out this really old, really gorgeous oak tree just a few miles outside of the city.
Located about a half hour from Charleston on John's Island, the Angel Oak rises out of the ground -- winding limbs twist and turn to ensure that the tree is basically the prettiest thing you could put on your Instagram feed.
Settled comfortably on three acres of land, the Charleston Park Conservancy says that "the Angel Oak is thought to be one of the oldest living things east of the Mississippi River." Most sources estimate the tree is 1,500 years old. Other sources think it's closer to 400 or 500 years old.
No matter how old it is, nobody can deny the tree is TALL, coming in at more than 65 feet with a trunk that's truly massive.
The tree offers up a lot of shade -- around 17,000 square feet of it -- but you should still lather up on the sunscreen and bug spray (visitors say the mosquitos are vicious here!).
Once you wipe most of the bug spray off, stick to John's Island for food, and dine at the Angel Oak Restaurant after your trip to see the historic tree. Bon Appe-TREE-t!
BEFORE YOU GO
PHOTO GALLERY
Charleston, S.C.