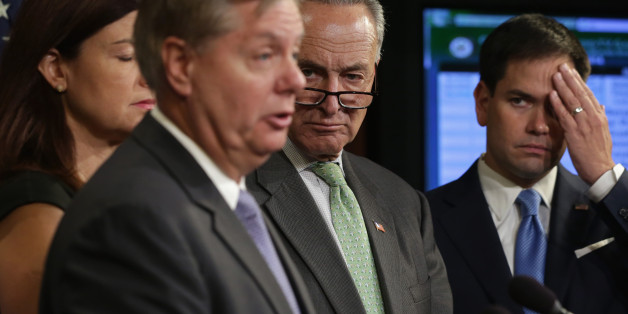 Et tu, Lindsey Graham?
The GOP senator from South Carolina unloaded on fellow Sen. Marco Rubio in a recent interview, telling The Weekly Standard that the Florida Republican is "not quite ready" to become president.
"He's a good guy, but after doing immigration with him -- we don't need another young guy not quite ready," Graham said of Rubio. "He's no Obama by any means, but he's so afraid of the right, and I've let that go."
As members of the so-called Gang of Eight, Graham and Rubio worked closely together to draft last year's Senate immigration bill that included a contentious pathway to citizenship for the nation's 11 million undocumented immigrants. Conservatives pilloried Rubio in the aftermath, and the first-term senator has struggled to get back in their good graces ever since. He pulled his support for comprehensive reform, to the dismay of many activists who hoped he could bridge the gap between lawmakers in a heavily polarized Congress.
Graham, a reliable GOP hawk who walks lockstep with Sen. John McCain (R-Ariz.), escaped the brunt of criticism. But he, too, could face similar backlash if he decides to follow Rubio into the 2016 presidential mix.
He told the Standard that should no able candidate emerge, he would do so.
"If I get through my general election, if nobody steps up in the presidential mix, if nobody's out there talking -- me and McCain have been talking -- I may just jump in to get to make these arguments," he said.
Asked for his thoughts on Rubio, McCain offered some faint praise.
"He's articulate, intelligent, and has all the right instincts. He doesn't have the background that Lindsey does, but he's probably as articulate as anyone in our party," he said. I've watched him carefully on the Foreign Relations Committee -- he's excellent. Very impressive."
BEFORE YOU GO
PHOTO GALLERY
Potential 2016 Presidential Contenders