Joe Biden said the job of being vice president is "a bitch," at which point he cracked opened a beer, donned a pair of aviators, and walked away while humming "Bang The Drum All Day." The unemployment rate fell to 5.9 percent because Americans scurried back to work after John Boehner scolded them for being lazy. And David Perdue bluntly said he "spent most of my career" outsourcing jobs. Somewhere, sad Mitt Romney looked up from his fast food and smiled, comforted by the knowledge that someone is more economically aloof than him. This is HUFFPOST HILL for Friday, October 3rd, 2014:
FAKE CONGRESSMAN WAS ALL TOO REAL - Will the fake Donald Payne please leave the room? Jonathan Allen: "An unidentified man posing as a member of Congress made it into a secure area backstage at President Barack Obama's appearance at a Congressional Black Caucus Foundation awards dinner in Washington Sept. 27, according to a White House official. The man entered the backstage area during or just after Obama's speech at the Walter E. Washington Convention Center as members of Congress gathered there to have their pictures taken with the president, said the official, who asked for anonymity to discuss the incident, which has not previously been made public….The unidentified man said he was Representative Donald Payne Jr., a Democrat from New Jersey, the official said. One member of the White House staff determined that the man wasn't Payne, and another asked him to leave, the official said. He did so without incident and wasn't detained." [Bloomberg]
FAKE CONGRESSMAN II - Tough day at the office edition. Hadas Gold: "A Congressional Quarterly reporter published an exclusive sit-down interview with House Majority Leader Kevin McCarthy (R-Calif.) this week. The only problem with the piece, was that the reporter never actually interviewed House Majority Leader Kevin McCarthy….On Friday, the majority leader's office told POLITICO that McCarthy had never sat for an interview. Soon after CQ removed the story and replaced it with an editor's note: 'A story posted earlier mistakenly attributed remarks to Majority Leader Kevin McCarthy, R-Calif. The story has been removed and we apologize for the error.' Sources with knowledge of the mixup told POLITICO it was a case of mistaken identity." [Politico]
TREAD CAREFULLY, DARRELL - Rachel Lienesch: "A new HuffPost/YouGov poll finds that Americans still have a largely positive opinion of the Secret Service, even after a recent string of embarrassing incidents for the agency that included a man scaling the White House fence and making it deep inside the mansion before being apprehended. Most Americans are aware of the recent security breach at the White House, with 52 percent saying they have heard a lot about the incident and 35 percent saying they have heard a little about it. Only 13 percent of Americans said they have not heard anything about the fence-jumping incident." [HuffPost]
Life imitating art imitating life: "If you were relying on the White House transcript of Vice President Joseph R. Biden Jr.'s visit to Harvard, you would have missed the best quote. Biden's joke to a student body vice president about the No. 2 job being 'a bitch?' It took place during a question-and-answer session following the speech at the John F. Kennedy Forum at the Harvard Institute of Politics that followed the remarks, which ended at 7:20 p.m. The official transcript of the Thursday evening event ends, 'God bless you all and may God protect our troops. Thank you.'" [Roll Call]

To Reince Priebus, [joke about your tweet]
WOAH JOBS REPORT GOOD - Mark Gongloff: "U.S. employers added 248,000 new jobs to nonfarm payrolls in September, the Bureau of Labor Statistics reported on Friday, marking the 48th straight month of job growth. That ties the longest stretch since the Bureau of Labor Statistics started keeping track in 1939. The only other uninterrupted four-year run came during the Reagan administration in 1986-1990. The unemployment rate dropped to 5.9 percent from 6.1, the first time unemployment has been below 6 percent since July 2008 before the financial crisis." [HuffPost]
DAILY DELANEY DOWNER - A new study suggests suicide and unemployment became more closely linked in the last two decades. Robert DeFina and Lance Hannon of Villanova University examined state data from 1979 to 2010 and report the link between state unemployment and suicide rates strengthened after the 1990s. The authors say decreased economic security might explain the stronger correlation. [HuffPost]
Does somebody keep forwarding you this newsletter? Get your own copy. It's free! Sign up here. Send tips/stories/photos/events/fundraisers/job movement/juicy miscellanea to huffposthill@huffingtonpost.com. Follow us on Twitter - @HuffPostHill
MICHELLE OBAMA STILL AROUND: REPORT - Times: "[U]nlike Hillary Rodham Clinton, who as first lady crisscrossed the country for Democrats in 1998, visiting about 20 states, Mrs. Obama will keep to a fairly limited path...Democratic Senate candidates there worry that Mrs. Obama's presence would tie them too closely to the president they are trying to distance themselves from, just as undecided voters are making up their minds...Last month, the only candidate Mrs. Obama campaigned for was Michelle Nunn, who will need a larger-than-usual turnout of African-American and female voters to win Georgia's open Senate seat. Mrs. Obama has no plans to go to Arkansas, Louisiana or North Carolina, three of the states with the most competitive races that will decide whether Democrats hold their Senate majority. She will, however, lead a rally on Oct. 23 in Colorado for Mark Udall, the embattled incumbent senator." [NYT]
Meanwhile: "Hillary Clinton has mapped out much of her political schedule through Election Day, an itinerary that focuses on helping Senate candidates and includes trips to a half-dozen states, including Kentucky and presidential early states Iowa and New Hampshire, according to details obtained by POLITICO...She is also giving attention to certain races that are personally important to her. One the Kentucky Senate contest, where Democrat Allison Lundergan Grimes is trying to unseat Minority Leader Mitch McConnell. The Clintons are longtime friends with the candidate's father, Jerry Lundergan, and it's a signature race involving a woman running statewide...She will also seek to help incumbent Democratic Sens. Kay Hagan in North Carolina and Mark Udall in Colorado and Michelle Nunn in Georgia. And she'll travel to New Hampshire for an event for the all-women statewide ticket featuring Sen. Jeanne Shaheen, a longtime friend, and Gov. Maggie Hassan." [Politico]
HuffPost Hill wrote a feature on the ascendent Christian film industry -- check it out.
"DAVID PERDUE SAYS HE'S FOR JOBS, BUT IN 2005..." - Why do political ad professionals even get paid? This crap writes itself. Politico: "[D]uring a controversial chapter in [Perdue's] record — a nine-month stint in 2002-03 as CEO of failed North Carolina textile manufacturer Pillowtex Corp. — Perdue said he was hired, at least in part, to cut costs by outsourcing manufacturing operations overseas. Perdue, who said the company had specialized throughout his career in finding low-cost manufacturing facilities and labor, usually in Asia. During a July 2005 deposition, a transcript of which was provided to POLITICO, Perdue spoke at length about his role in Pillowtex's collapse, which led to the loss of more than 7,600 jobs. Perdue was asked about his 'experience with outsourcing,' and his response was blunt. 'Yeah, I spent most of my career doing that,' Perdue said, according to the 186-page transcript of his sworn testimony." [Politico]
@nealobermeyer: Good to see @LEETERRYNE promoting @BoystownTweets this afternoon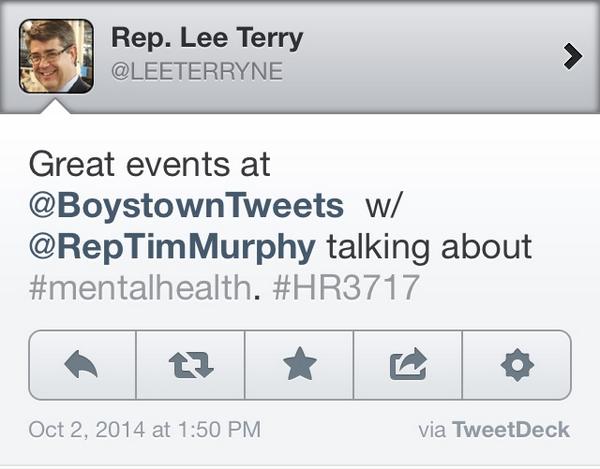 It's becomes readily apparent why this is funny when you check out @BoystownTweets
Are there aces in throwing people under the bus? Cause Lindsey Graham just served up a doozy: "The GOP senator from South Carolina unloaded on fellow Sen. Marco Rubio in a recent interview, telling The Weekly Standard that the Florida Republican is 'not quite ready' to become president. 'He's a good guy, but after doing immigration with him -- we don't need another young guy not quite ready,' Graham said of Rubio. 'He's no Obama by any means, but he's so afraid of the right, and I've let that go.'...'If I get through my general election, if nobody steps up in the presidential mix, if nobody's out there talking -- me and McCain have been talking -- I may just jump in to get to make these arguments,' he said." [HuffPost's Igor Bobic]
ON THE LEFT: NOBODY; ON THE RIGHT: NOBODY; IN THE CROSSFIRE: NOBODY - Times: "Twenty months after taking over one of the most prominent news brands,Mr. Zucker is still trying to define CNN's place in a world of unlimited, real-time information. He is laying off journalists and cutting expenses while trying to keep a once-leading cable network relevant in the digital age. The efforts largely remain a work in progress, underlining the stark challenges facing the news business...Mr. Zucker continues to tinker with CNN's programming. He has increased live news coverage on CNN by five hours a day, largely through the addition of an overnight feed of CNN International. After some initial experiments, the 'New Day' morning show now focuses less on fluff and more on news.'Crossfire,' a once-popular current event debate program that Mr. Zucker revived with hosts like Newt Gingrich, has been pulled. He also ended Piers Morgan's live talk show. And still on Mr. Zucker's to-do list is determining the fate of HLN, a sister network.'" [NYT]

CROSSFIRE!!! CROSSFIAAAAHHHHH!!!
BECAUSE YOU'VE READ THIS FAR - Here's a puppy with hiccups.
TOM DELAY: EXONERATED, FEELING ESPECIALLY TEA PARTY-Y - And giving interviews to World Net Daily: "After learning the overturning of his felony conviction had been upheld by an appeals court, former Majority Leader Tom DeLay told WND he is considering bringing charges against the Travis County District Attorney's Office for prosecutorial misconduct and he might run again for political office. DeLay said the Democratic Party's attempt to destroy him over the past 11 years because of his conservative political views is a direct reflection of the Marxist philosophy that shapes the political forces controlling the party..."I'm very excited that I can now get on with my life, and whatever the Lord has got for me, that's where I'm headed," he said. 'And I'm coming back to Washington; now that the clouds have cleared, Washington very well could be where I'm headed.'" [WND]
COMFORT FOOD
- Sad tweets is a Twitter app that will find your most pathetic tweets.
- A collection of photos taken illegally by urban climbers.
- You can now check to see if your used iPhone is stolen.
- Will Ferrell berating Derek Jeter for four minutes straight.
TWITTERAMA
@MikeElk: #ff @politico - just love this place!
@indecision: "Ebola is a serious threat to my health!" -An American watching cable news while eating another bucket of cheesy bacon poppers.
ggreeneva: Senate GOP: 'You need a point person on Ebola.'
WH: 'Confirm our surgeon general?'
GOP: 'No.'
Got something to add? Send tips/quotes/stories/photos/events/fundraisers/job movement/juicy miscellanea to Eliot Nelson (eliot@huffingtonpost.com) or Arthur Delaney (arthur@huffingtonpost.com). Follow us on Twitter @HuffPostHill (twitter.com/HuffPostHill). Sign up here: http://huff.to/an2k2e