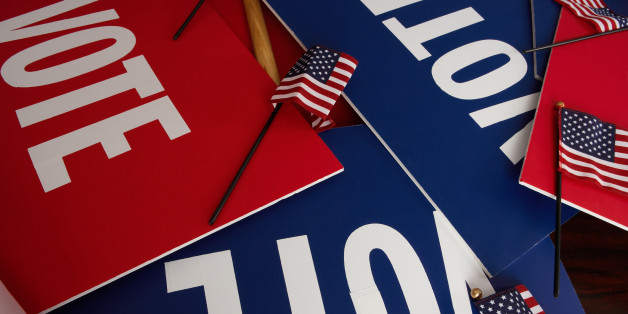 As Election Day nears, new surveys find a closely-fought political environment but an edge for the GOP. Two campaign pollsters talk turnout. And the polling industry could be more transparent about its weighting and sampling methods. This is HuffPollster for Friday, October 3, 2014.
MIDTERM REMAINS 'ANYBODY'S GAME' - Mara Liasson: "With fewer than five weeks until election day, the political landscape continues to be tilted against the president and his party. The battle for control of the Senate — the biggest prize this year — remains close and could tip either way. Those are the findings of NPR's latest bipartisan poll of likely voters, conducted by Republican Whit Ayres of Resurgent Republic and Democrat Stan Greenberg of Democracy Corps. The poll concentrated on the Senate battleground — the 12 states that will determine control of the Senate next year. It found an electorate where nobody likes anybody. The president, the Republicans, and the Democrats were viewed with equal disgust — their favorability ratings all in the low 40s….There's another phenomenon this year that shows up in the poll. In the battleground, Democrats and Republicans are equally energized, highly likely to vote, and they are not up for grabs. Big majorities of both parties say their minds are made up….This year things look very good for a Republican Senate takeover, but the battleground races are still too close to call to make that guarantee." [NPR]
...but GOP may have the edge - Dana Blanton on the latest Fox News national poll: "Voters' sour mood continues. They give bad grades to current leaders. Few feel they're better off since Barack Obama became president. And most lament that his 840 days remaining in office is 'too long a time,' according to a Fox News poll released Thursday. It all adds up to greater support for the party that doesn't hold the White House, as the GOP shows significant strength in the Senate battleground ballot test a month before the election." [Fox]
Reviewing some of yesterday's polls:
Michigan governor - Two new polls found Gov. Rick Snyder (R) hanging onto a lead against opponent Mark Schauer (D) -- by 6 points in an EPIC-MRA poll and by 4 points in a Mitchell Research survey for Fox 2 Detroit. (Mitchell also gave Democratic Senate candidate Gary Peter an unusually strong 13-point lead over Republican Terri Lynn Land.) The Pollster model has Snyder about 3 points ahead of Schauer, with a nearly 58 percent chance of winning. [Michigan chart, EPIC-MRA, Mitchell]
Iowa Senate - A GQR (D) poll for the Senate Majority PAC found Bruce Braley (D) 1 point ahead of Joni Ernst (R), his best showing since early September. Non-partisan polling in the last few weeks has ranged from a tied or nearly-tied race (Fox, Rasmussen, CNN) to a significant lead for Ernst (Quinnipiac, Selzer/Des Moines Register). The Pollster model gives Ernst an edge of just under 2 points, and a slightly better than 50 percent chance of winning. [Iowa chart, GQR]
South Dakota Senate - An internal PPP (D) survey for Democrat Rick Weiland found him at 28 percent to Republican Mike Rounds' 35 percent, with independent Larry Pressler taking 24 percent. Unsurprisingly for an internal poll, PPP's results have consistently looked better for Weiland than most other surveys. The Pollster model has Rounds ahead by about 17 points, with a nearly 96 percent chance of winning the race. [South Dakota chart, PPP]
THE POLLING INDUSTRY HAS A DISCLOSURE PROBLEM - Rachel Lienesch and Natalie Jackson, with HuffPollster: "Between fewer landline phones and falling response rates, it's harder than ever to contact and interview a true random sample of Americans. That makes the key to assessing survey quality a better understanding of the ways pollsters draw and 'weight' their samples to correct for the statistical bias that can creep into raw data. Yet according to an extensive Huffington Post analysis, the published results from statewide polls on U.S. Senate and gubernatorial races in 2014 have frequently omitted crucial methodological details about sample frame, sample design and weighting procedures. Just 16 percent of the polls we looked at provided information on all three of these items, while just 48 percent provided information on at least one of them….Pollsters tend to judge each other by their methods, and so should the public." [HuffPost]
TWO CAMPAIGN POLLSTERS TALK 2014 & CELL PHONES - The National Journal's Charlie Cook hosted a pre-election discussion with two prominent campaign pollsters, Republican Neil Newhouse and Democrat Stanley Greenberg. Below, some excerpts for their discussion. [National Journal]
On 2014 turnout and enthusiasm:
-Newhouse: "Republican voters are significantly more enthusiastic, are pumped up for this election and you'll have to hold them back from the polls on election day. So Republicans have a significant advantage in intensity. Well, you know what? I did the Romney campaign two years ago. I've seen those numbers before. We had that same intensity advantage in 2012. I've learned a lot of valuable lessons from working the Romney campaign. One of the valuable lessons I've learned is that an unenthusiastic vote counts just as much as an enthusiastic vote. And so when Democrats are able to, because of their ground operation, turn out voters who are low propensity, who are unlikely, who are low interest voters, their votes count just as much as my Republican 45-year old man in the suburbs who rushes to the polls on election day. They count the same. So all this you hear about the Republican intensity advantage. A cautionary tale: I saw those numbers, and we don't have President Romney now, unfortunately, we have President Obama, so take that with a grain of salt. On the ground does matter in these campaigns."
-Greenberg: In the last poll we did [with] Whit Ayres, who did the polling for Resurgent Republic in that poll, we found no difference on consolidation, likelihood of shifting you vote and intention to vote amongst Democratic and Republican voters in the the battleground states. They've been so bombarded with media that they are kind of in a different place. If you go back to the 2004 election and what happened in Bush's re-election, there was a shift of his vote [from 2000], around 3 points ahead, that shifted his vote nationally. In the battleground where it was fought out, no change. Not a point of change. Not a decimal point of change from one election to the next where the advertising and the intense campaign centered.
On conducting polls via cell phone
-Greenberg: "The cost of national poll, with a cell phone sample, [is] ten thousand dollars more just for dealing with the cell phone question…There's a cost issue, but it's actually saved polling. I thought we'd be gone by now. I thought we would have [done] so badly, had polls that were so unrepresentative of the country. What's happened is that increasingly you can get cell phones [on samples], they do cost less, people are increasingly using it as their number that's on their voter file, so increasingly you're able to get the people with their cell phones. That means you're getting these young people and minority voters who are particularly high with cell phones. I thought people would not do long surveys on cell phones, and I was wrong. The drop off rate on our polls on cell phones is no greater than on land lines. And so, I think it's saved polling. We're still pontificating because we've made that transition."
-Newhouse: "Remember 8 to 10 years ago, nobody gave out their cell phone number….now it's just automatic, of course you give out your cell phone number. It's just where people can be reached…I can't remember the last time the phone rang at home with a personal phone call. It doesn't happen, so it's what Stan said, ten years ago, we never would have dreamed we would make a living calling people on their cell phones. We do, but boy that increases costs, at least 30 percent of surveys we do is by cell. You need to make sure we have enough younger voters — we set quotas on this stuff so that we make sure we have younger voters in our sample. It is much more expensive, it's more difficult, more time consuming. I remember when I first started in this business we did volunteer survey research at the Republican National Committee in the late 1970s. I ran these phone banks and we pulled for every interview we wanted to complete, we pulled five phone numbers. It's probably up to 150 numbers now for an interview. That's why it costs so much."
HUFFPOLLSTER VIA EMAIL! - You can receive this daily update every weekday morning via email! Just click here, enter your email address, and and click "sign up." That's all there is to it (and you can unsubscribe anytime).
FRIDAY'S 'OUTLIERS' - Links to the best of news at the intersection of polling, politics and political data:
-Nate Silver responds to Sam Wang. [Political Wire]
-Tea Party support holds steady at about one in four Americans. [Gallup]
-Scott Bland notes a widening gender gap in midterm Senate races. [National Journal]
-Harry Enten offers reasons to be skeptical that Greg Orman (i) is leading Sen. Pat Roberts (R) by a large margin in Kansas. [538]
-David Jarman notes there's an 8% chance that Republicans take the Senate but McConnell loses to Grimes. [DailyKos via @DrewLinzer]
-Republicans Chris Wilson and Partner Bryon Allen predict how they think the midterm election will play out. [WPA]
-Michael Barone expects a Republican wave. [RCP]
-Support for same-sex marriage isn't likely to decline. [The Atlantic]
-Peter J. Woolley and John W. Schiemann look at the potential for a backlash against torture. [HuffPost]
-Americans are divided on hate speech laws. [YouGov]
-Pew tests the public's news IQ. [Pew]
-John Garrett finds differences between online and phone respondents. [HuffPost]
-Philip Bump shows just how polarized the Senate has become. [WashPost]
-Female entrepreneurs are more likely than their male colleagues to be thriving. [Gallup]